Scandia Review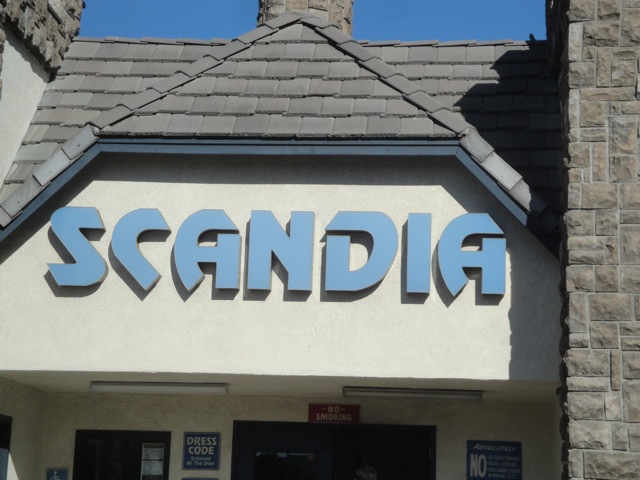 Scandia is not the kind of park that most people have high expectations for. It may be in Southern California, but I procrastinated so much in getting here that I ended up coming here in 2011 for credit whoring. My plan was just to get the credits, maybe try another ride or two, and then move on. But nope, I really enjoyed Scandia. This is a fantastic little park. Yeah, it totally has a Golf'N'Stuff feel to the place where everything is cheap and its mostly just for locals and whores. But no. This place is really freaking fun. In fact, we stopped here every single year since we first visited. All of the stuff here is insane. It may not look crazy, but its crazy. Scandia Screamer, Crazy. Cliff Jumper, Crazy. Bumper Boats, Crazy. Gravitron, Crazy. Those are not just an ordinary roller coaster, or an ordinary drop tower, or ordinary bumper boats, or an ordinary gravitron. ITS ALL INSANE!!!! And thats what we love about this place. Its just a great place to have a great time for a fun night. Its fairly out of the way in Southern California. So it's not exactly something you can just easily hit up along the way to Disneyland or Six Flags Magic Mountain. But hey. If you're a credit whore, or just want to go to a crazy little small park, don't forget to check out Scandia.
Rollercoasters
There is a link to a review of all the Rollercoasters at Scandia.
Top Coasters
Scandia Screamer Review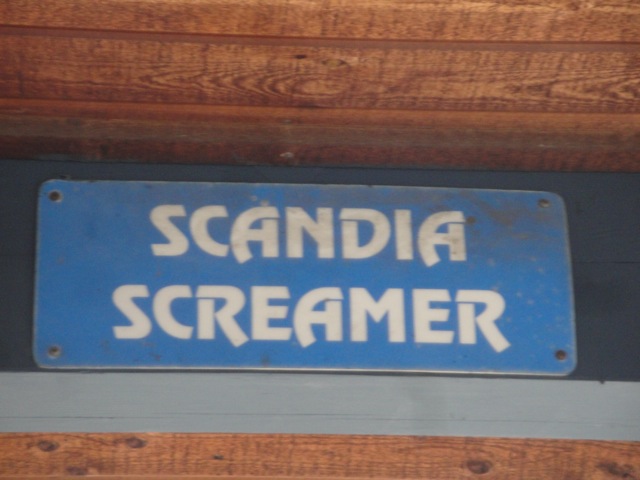 Kiddy Coasters
Little Dipper Review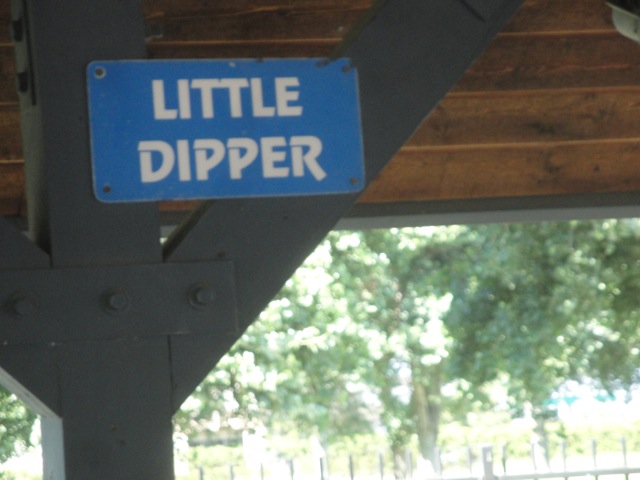 Flat Rides
All right. Here are all of the flat rides that are found at Scandia. All right, lets start off with their drop tower. Cliff Jumper. First off, I LOVE the theme of this drop tower. Anything themed after cliff jumping has to be awesome. And as for the drop tower itself, its really damn good. Its a Shock Drop, which means that you have no idea when its going to drop. You just climb up and immedietly drop when you get to the top, making it a very fun drop tower for its size and it packs quite a powerful punch. They also have a Screamin Swing here. Yeah, its a small model, but its not an upcharge. =) I was told in advance that it ran a sh*tty program, but it ran GREAT for me. It felt like it was nearly going to flip. And then of course, there is the Gravitron. HOLY CRAP!!! THIS THING IS BOUNCING OFF THE WALLS INSANE!!! There are no rules inside, you can do whatever you want. We were riding it sideways, upsidedown, rolling across the walls, kids were running around, we made a human bridge for them to run under, and they sometimes play Smash Mouth Videos during the ride. Yeah. This thing is freaking awesome. They also have a tilt a whirl, a pirate ship, a scrambler, and a slide.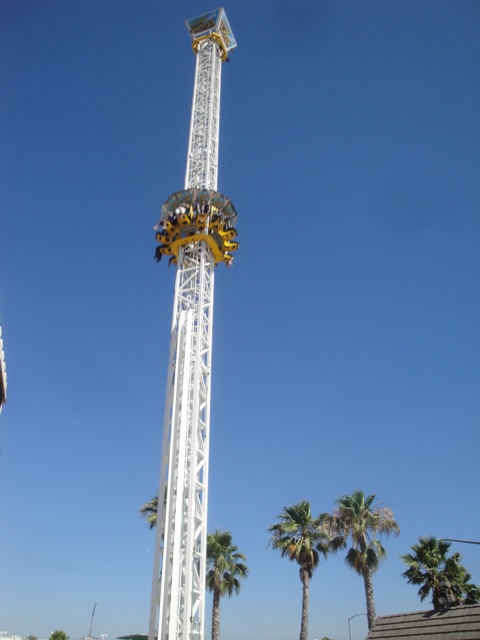 You know I've cliff jumped over half of the height of the Cliff Jumper. =)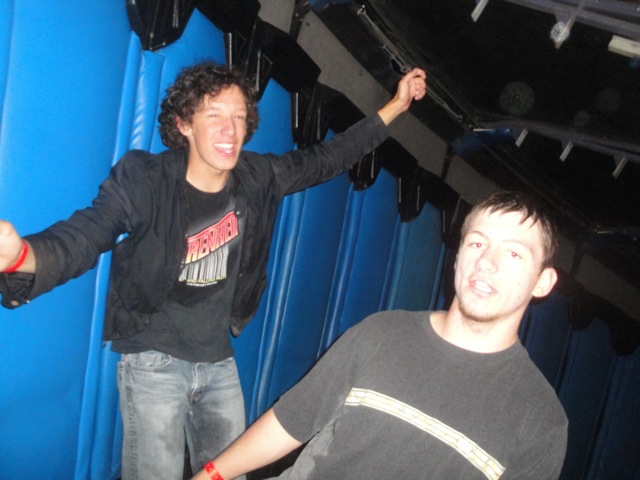 "Who needs drugs when we have the Gravitron?"
Water Rides
There is only one water ride at Scandia. The Bumper Boats. Now I know that bumper boats are SUPER EASY TO SKIP!!!! And I mean SUPER EASY!!!!! It's almost second nature to do so. But with every rule comes an exception. This is the exception to that rule. THESE THINGS ARE FREAKING AMAZING!!!!! They have water guns on the boats so you're constantly shooting other people. The boats are hard to steer so you'll be stuck and you'll all be spraying each other. And look out for the waterfall, you're likely to get pushed under it. Don't skip it thinking they're just bumper boats. They are awesome.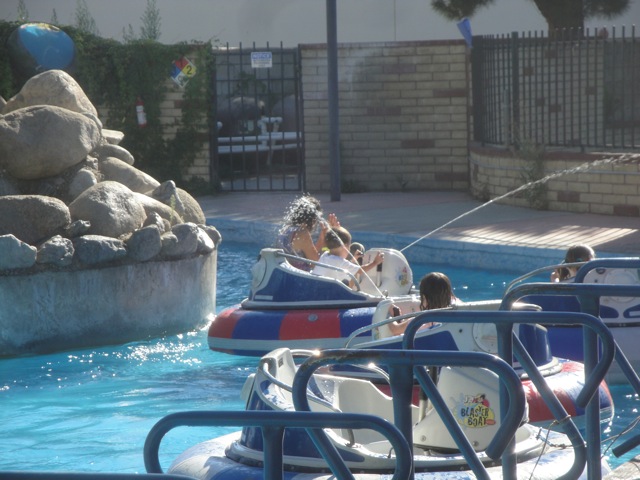 You're likely to end up just like this poor woman and be the target for everyone else.
Dining
I did not eat at Scandia.
Theming and Other Attractions
Here are the reviews of all the other stuff at Scandia. Now when it comes to theming, theres pretty much none at Scandia. The theming at Scandia is pretty much the equivelant to the theming at your local Golf'N'Stuff style place. Which is basically saying, there is no theming here. Now as for other stuff to do, there are options. Well, of course, they do have mini golf. So I'm sure thats got to be a lot of fun. It looks like a nice course. Now like all Golf'N'Stuff style places, they do indeed have an arcade. But what I definetly find most intersting are the Go-Karts. Yep, they have Go-Karts here. While thats not totally original as many Golf'N'Stuff places have Go-Karts, but hey. They are fun, provided the stupid kids aren't rear-ending you Mt. Olympus style.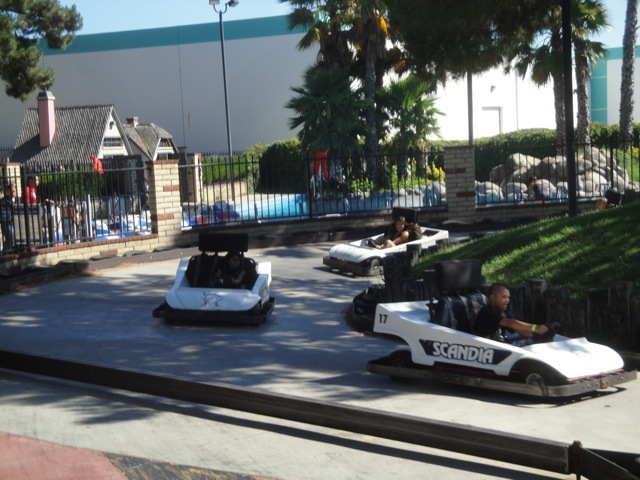 "Hey!!! Where did you guys learn to drive!!? Wisconson!!!? Get off the road!!!!!!"
In Conclusion
Scandia is a fun little park with a lot of crazy things to do. From a far, it seems like a boring little credit whoring stop. But once you get inside and try everything for yourself, its all crazy and a ton of fun. Its by far from one of the best theme parks in the world. Not even close, but they do have a lot of fun stuff to do. Scandia Screamer is a fun little coaster, the bumper boats are insane, and the gravitron is insane. Everything here is basically just insane. I wouldn't really go out of the way for it, but if you are in the area, into credit whoring, or just want to check out a crazy underrated coaster, then definetly check out Scandia.

Enthusiast FAQs.

*Are there kiddy coaster restrictions? - No. There are no restrictions for the Little Dipper.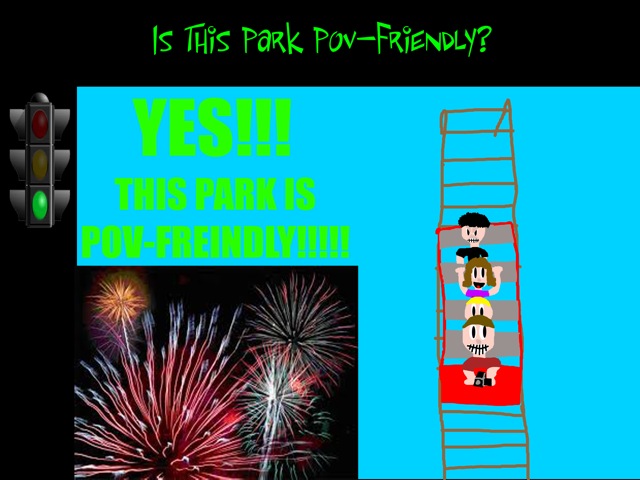 Tips
*Don't forget about the Bumper Boats or the Gravitron.

*Get an unlimited ride wristband.

*Have Fun!!!!

Theme Park Category:

Small Park

Location

Ontario, California, USA

Last Day Visited

November 18, 2018

Video

Here's my video for Scandia.

Complete Update List

2018

Scandia 2018

2014

Scandia 2014

2013

Knotts Summer 2013

2012

Big Bear 2012

2011

Credit Whoring Day

Here's a link to the parks website.

Home