Wet 'N' Wild Palm Springs Review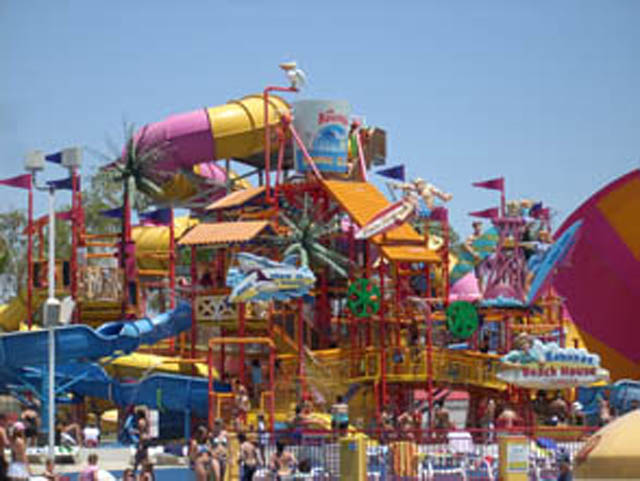 Wet'N'Wild Palm Springs is one of those water parks that you look at and it doesn't seem that great, but thanks to nostalgia and childhood memories, I have a real soft spot for this park. I remember when I first began coming, it was the Oasis Water Park way back then. I remember back in 2001 when it became a Cedar Fair Waterpark. I remember the transition from the black and white Oasis Water Park to the colorful Soak City Palm Springs. While it may be a tiny out of the way water park far far away, I have a lot of memories here. I have far more memories of this place then I do of my local water pak, Six Flags Hurricane Harbor. I really enjoy the few slides they have to offer and the whole atmosphere of the place with the desert nearby. And now, Cedar Fair sold the water park, so now it's Wet'N'Wild Palm Springs. I'm not sure if this is the same people who run the Wet'N'Wild in Orlando that I hear so much about, but if it is, I certainly hope they do this park good. I have faith that this place will still survive with all its charm still in tact. If you are in Palm Springs or Palm Desert, I highly reccomend visiting this small waterpark. I may have conquered the place in 30 minutes, but my last visit was good.

The Major Waterslides

There is a link to a review of all the Major Waterslides at Wet'N'Wild Palm Springs.

Pacific Spin Review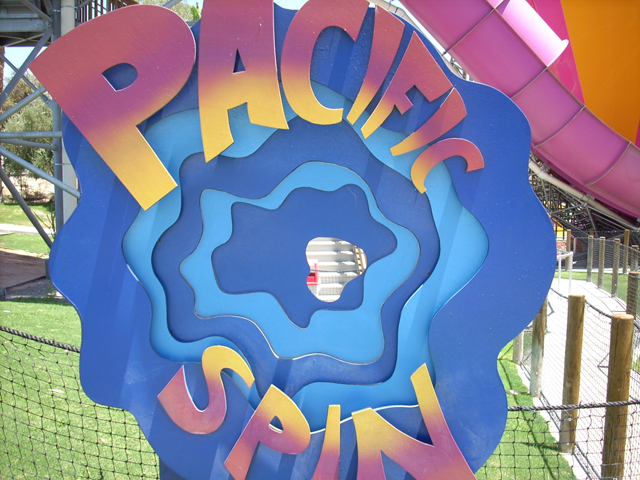 Surf Rider Rapids Review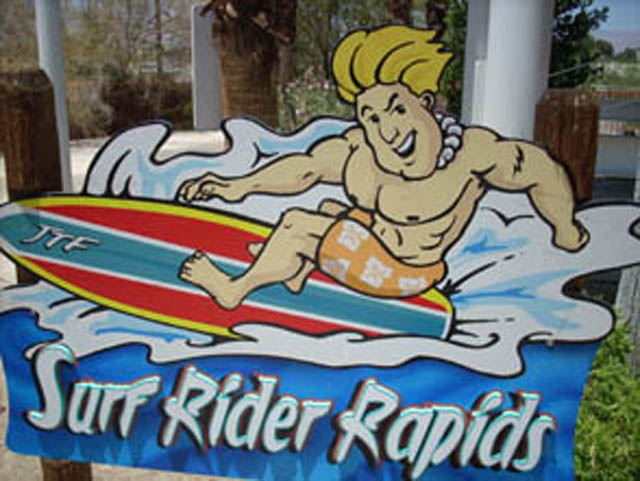 Tidal Wave Tower Review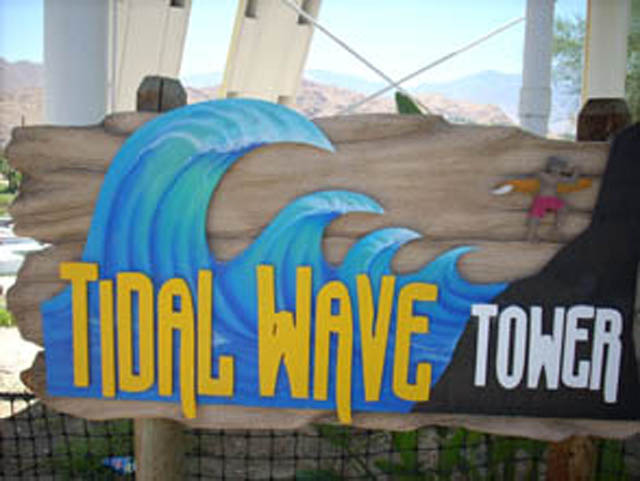 All the Other Waterslides
Here are the reviews of all the other water slides at Wet 'N' Wild Palm Springs. While Wet 'N' Wild Palm Springs is a small waterpark, there are a lot of waterslides I didn't feature in the Major Waterslides Section. The best waterslide at Wet 'N' Wild Palm Springs without an offical review would be Sea Snake. Sea Snake is an enclosed tube slide. You go through alot of turns on the ride. It's a nice fun slide. The pitch black also makes it better. They also have the Pipeline Point Tower, which includes 3 slides. The best of those slides is Undertow. Undertow is fun because it actually has a little speed and tubes where you can reverse yourself on. Unfortunetly, the speed bumps at the end of the ride really piss me off. But oh well. The second slide there is Pipeline. Pipeline is not a real fun slide as it is just such a backscratcher. Not to mention it's hot and humid in the tube and it's not very fast. But the worst slide of them all is Wipeout. There's slow, boring, and forceless water slides. And then, there's Wipeout. I seriously got stuck multiple times on it. I think it has a blood relation to the Abyss and High Extreme. In addition to those, there are alot of slides in Kahunas Beach House. However, 90% of those slides are closed 90% of the time.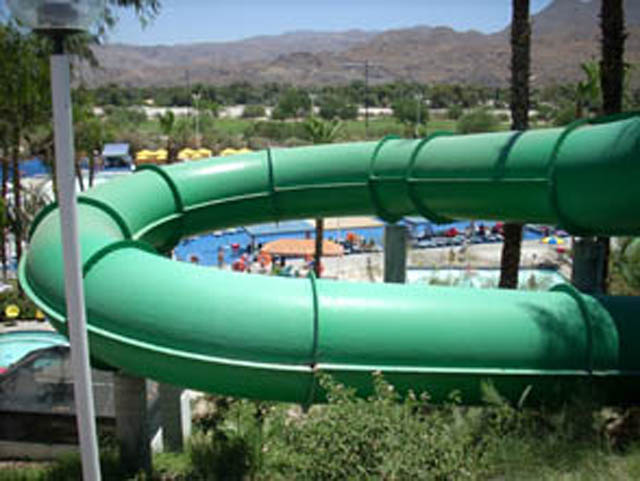 Here's the beginning of Sea Snake.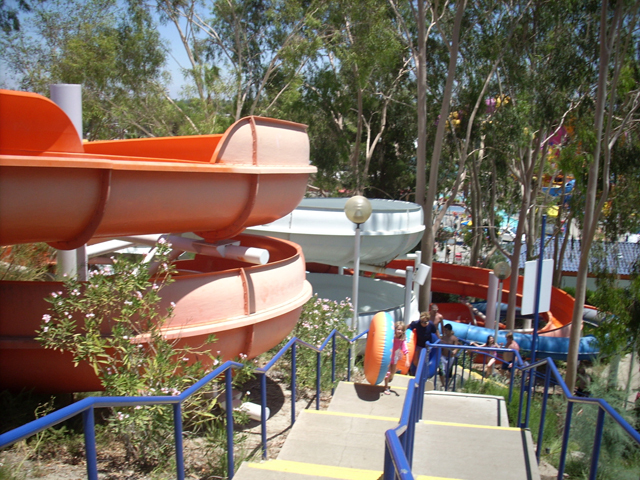 Here's Pipeline Point Tower. The white slide is Undertow, The orange slide is the awful forceless Wipeout, and the blue slide hiding in the bushes is the backscratching Pipeline.
Dining
Here are the reviews of all the Resteraunts at Wet 'N' Wild Palm Springs. I've got to be honest. The food here is expensive and terrible. Although most places don't have any better food. They pretty much have one food joint and that place serves your typical amusement park crap. I usually just eat lunch in the parking lot when I go there. You can bring whatever you want there. Sunchips are tasty and addicting.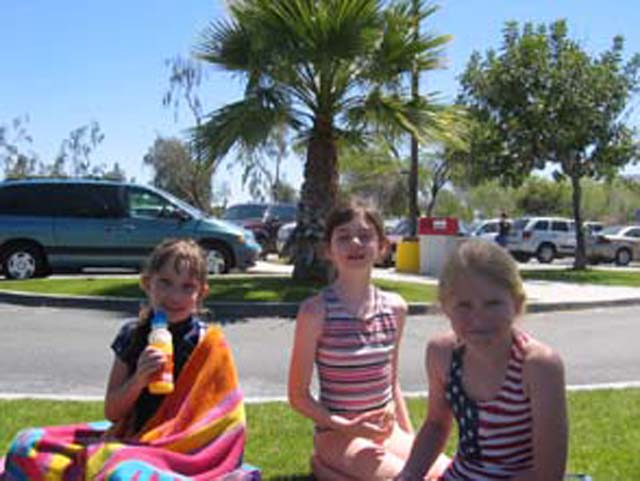 Emily, Rachel, and Celeste eat in Wet 'N' Wild Palm Springs Parking Lot.
Theming and Other Attractions
Here are the reviews of all the other stuff at Wet 'N' Wild Palm Springs. Well, aside from pretty colors, there is NO theming at Wet 'N' Wild Palm Springs. If you look around, you'll just see desert everywhere (From the top of Tidal wave Tower, you can see the Palm Springs Windmills). As far as other attractions, there's just a typical wave pool and a simple lazy river. And since my last visit, they seemed to have gotten a Flow Rider. Awesome. However, at a place like Wet 'N' Wild Palm Springs, you can see everything in less than an hour. So if you're staying for 2 hours or longer, I'd reccomend checking out both their lazy river and wave pool.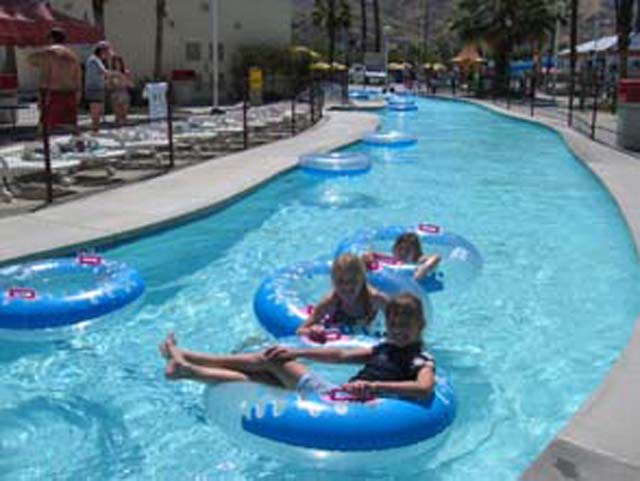 Wet 'N' Wild Palm Springs Lazy River.
In Conclusion
Wet 'N' Wild Palm Springs is a great waterpark to visit if you're taking a vacation to Palm Springs. It's a small little water park with not very many slides, but alot of fun. You can get your speed fix on Tidal Wave Tower, enjoy a just overall fun waterslide on Surf Rider Rapids, or you can just float around in the parks lazy river. And while it's a great waterpark to visit if you're in Palm Springs, I wouldn't go out of the way to visit this little waterpark. But if you're taking a vacation to Palm Springs, be sure to squeeze a couple hours for Wet 'N' Wild Palm Springs.

Tips

*Get to the park early for walk ons. If you wait later in the day, most slides will have 5-10 minute waits

*Wear flip flops and sunscreen. It'll most likely be hot when you visit.

*Have Fun!!!

Location

Palm Springs, California, USA

Last Day Visited

June 26, 2007

Video

My official Video of Palm Springs, featuring Wet 'N' Wild Palm Springs

Complete Update List

2007

Palm Springs 2007

2005

Palm Springs 2005

Here's a link to the parks website.

Home