Galveston Pier Review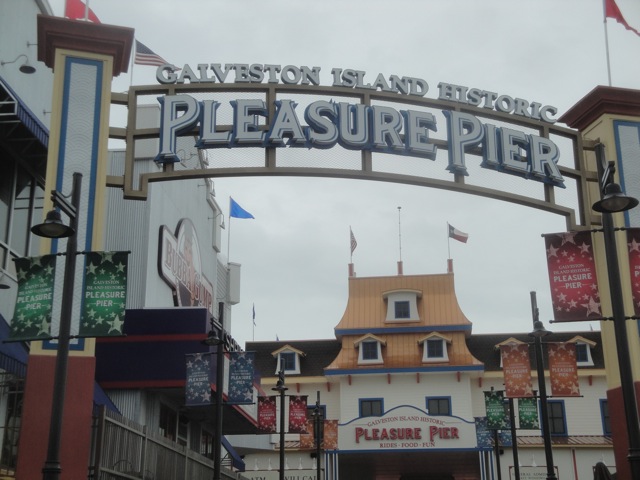 Galveston Pier may not really look like much, but this is a really fun little park. Yeah, it's just a sort of seaside park and a pier. But you know what? It's a damn good one. I know when people think of famous seaside parks, they'll usally think about places like the Santa Monica Pier. Well this place CRUSHES it. It is MUCH better. First off, they may only have one roller coaster there, but Iron Shark is a really good coaster. I don't want to go into too much detail since I have an Iron Shark review that you can read for yourself, but yeah. I like it. And it just has a lot of cool rides squeezed into the pier. And it just has a really pleasent and cool boardwalk feel. Like this is a place you can go for a couple hours and just soak in the atmosphere and enjoy the beach. Granted, the beach is terrible (I'm not sure if it just is naturally brown and nasty, or if the echo of the BP Deepwater Horizon Oil Spill was still noticable 3 years later. But even so, it's just a really cool place to spend a couple hours and just have a good time down in Texas. If you're ever in Galveston, or just want to get away from Houston, then I'd definetly recommend checking out Galveston Pier. Keeping reading down below for more cool details. =)
Rollercoasters
There is a link to a review of all the Rollercoasters at the Galveston Pier.
Top Coasters
Iron Shark Review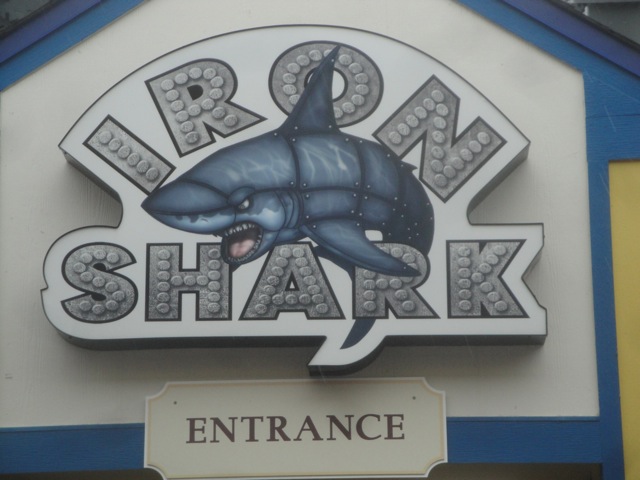 Flat Rides
All right. Here are all of the flat rides that are found at the Galveston Pier. Now I never rode any of the flat rides at the Galveston Pier. But hey. It does look like a great flat ride collection. First off, they have a Star Flyer. It's not a huge one, but it does look pretty cool. And hey. It has a great view of the Gulf of Mexico. Oh boy!! I'm sure you'll get a great view of the leftover oil from BP. =) They also have a frisbee, a Larson Super Loop, a pirate ship, some chairswings, a carousel, and a ferris wheel that I'm sure has a great view. If I wasn't so poor, I would've ridden it.
I love Starflyers over the ocean. =)
Water Rides
There is only one water ride at the Galveston Pier. Its just a log flume, and not a very good one at that. It has a couple drops, and a flimsy pirate theme, but it's just your standard RCT Log Flume. But hey. It should get you wet. And the water is probably cleaner than the ocean water down below the pier. So that's at least good news. Sort of. ;)
Dining
I never ate at the Galveston Pier. I can't imagine that the food is anything special. I assume that it's the same as what you'd find at a typical theme park. Nothing to talk about here folks.
Theming and Other Attractions
Here are the reviews of all the other stuff at the Galveston Pier. As far as theming goes, there's literally none. It's a pier. No theming at all. But as far as atmosphere goes, it's a pier. So you get the ocean. I know I mentioned that I'm not crazy about the oceans and beaches of Galveston, but hey. Even so, I'll take the crappy Galveston beaches over the bland boring nothingness of the cornfields in the Midwest. So thumbs up for the atmosphere and setting of the Galveston Pier.
In Conclusion
Galveston Pier may not be one of the best parks ever, but you know what? For what it is, it's a really fun little place. Galveston Pier is meant to be a small little seaside park with a fun roller coaster, some flat rides, and just a place to have fun for a couple hours if you are visiting and just hanging out in Galveston anytime. And the Galveston Pier succeeds with flying colors in that regard. Iron Shark is a really fun coaster, I love that they have a Starflyer here, and this just seems like a place to hang for a couple hours, ride some rides, eat some dinner, and just have a fun evening. I know I pretty much said everything and not much needs to be more since the Galveston Pier is not a complicated place, but it just really works as a pier. It's certainly much better than the much more famous Santa Monica Pier. So yeah. If you're in Galveston, be sure to stop on by the Galveston Pier.

Enthusiast FAQs.

*Are there kiddy coaster restrictions? - Galveston Pier doesn't have a kiddy coaster,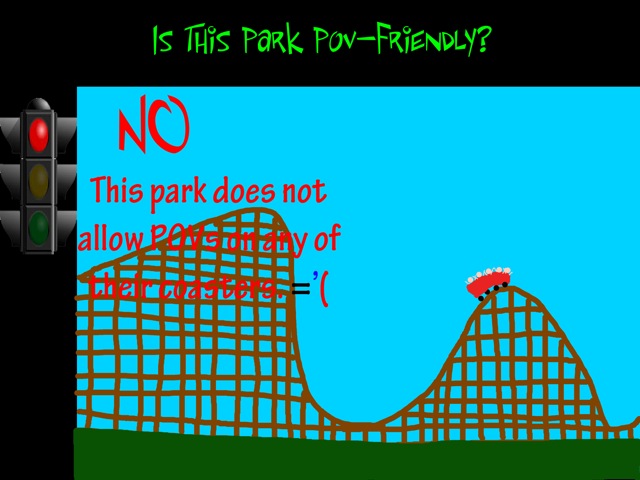 Tips
*Make sure you get on Iron Shark.

*Get an unlimited ride wristband.

*Have Fun!!!!

Theme Park Category:

Piers & Boardwalks

Location

Galveston, Texas, U.S.A

Last Day Visited

July 17, 2013

Video

It's not likely that I'll get to make a Galveston Pier video. But I'd like to make perhaps a mini video of the park, or maybe do a two park video with the nearby Kemah Boardwalk.

Complete Update List

2013

Texas/Rocky Mtn Road Trip

Here's a link to the parks website.

Home