La Ronde Review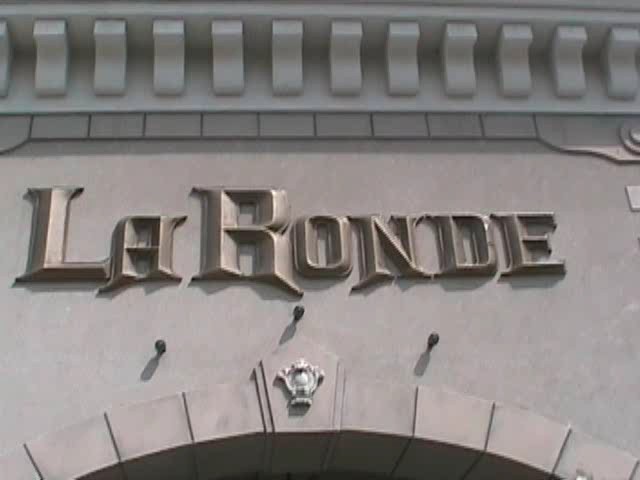 Now from pictures and videos, La Ronde looks like an awesome park. The roller coasters they have look really fun and pretty intense. The park, has a semi decent flat ride collection, and it has a beautiful setting on an island in the St. Lawrence River. However, despite all this, La Ronde still reamains one of the worse parks visited by Incrediblecoasters. Fun little fact about La Ronde. It was the first ever park outside the U.S visited by Incrediblecoasters. So now you're probably thinking "Why?" One simple word. Operations. The operations here are some of the worst I have ever seen in my life. All the lines move by VERY slowly. It was just awful in 2008. None of the lines moved, and the very small line for the Vekoma Corkscrew took 1.5 hours due to how god awful the operations were. People were smoking and line cutting in line, and the operators were all chatting to each other and texting on their cell phones. In 2011, it wasn't nearly as bad, in fact, a couple of the rides shockingly enough had decent operations. There were barely any smokers and it was definetly much more pleasent. But it was still pretty damn bad. And of course, there's there "We close the line 2 hours before the park closes" policy." Now, I'm not sure if that policy is still in place since we left too early in 2011 to find out. It may very well have left due to park improvements, or maybe we were kept away from it due to good planning. Either way, it was much better.
Rollercoasters
There is a link to a review of all the Rollercoasters at La Ronde.
Top Coasters
Goliath Review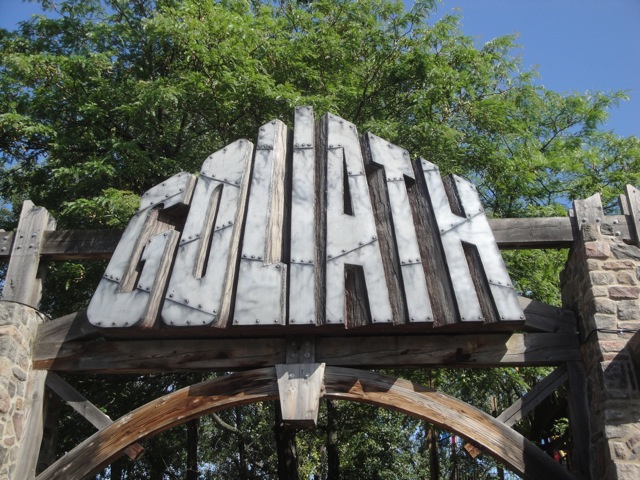 Vampire Review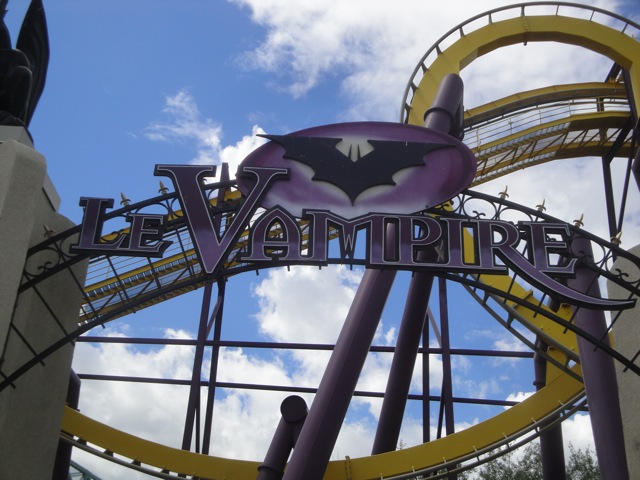 Meh Coasters
Boomerang Review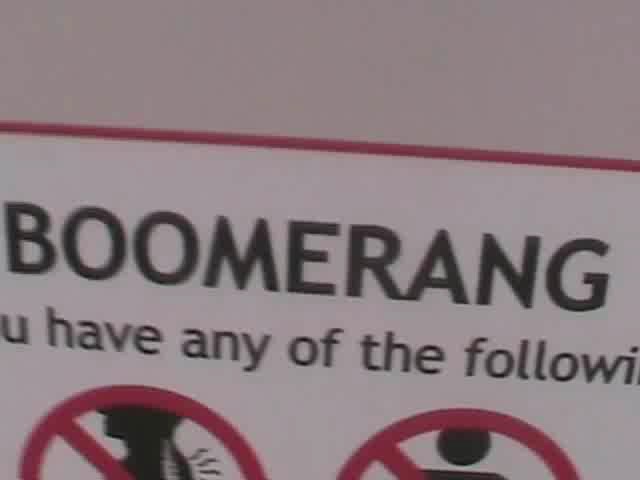 Ednor Review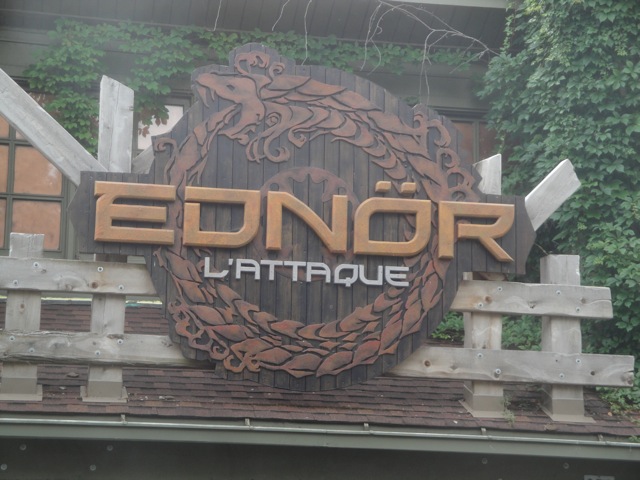 Monstre Review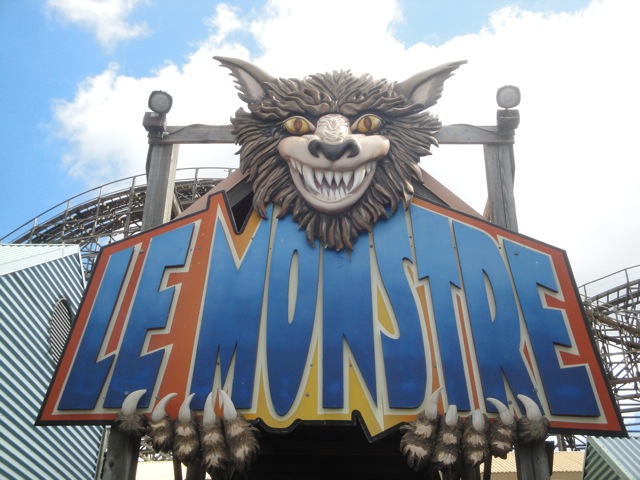 Vipère Review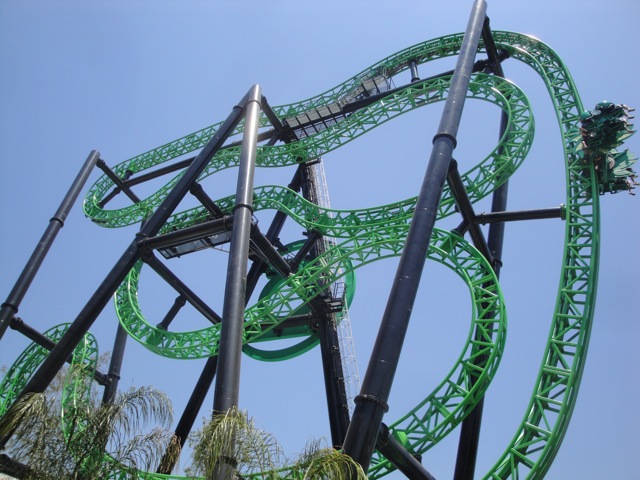 Family Coasters
Dragon Review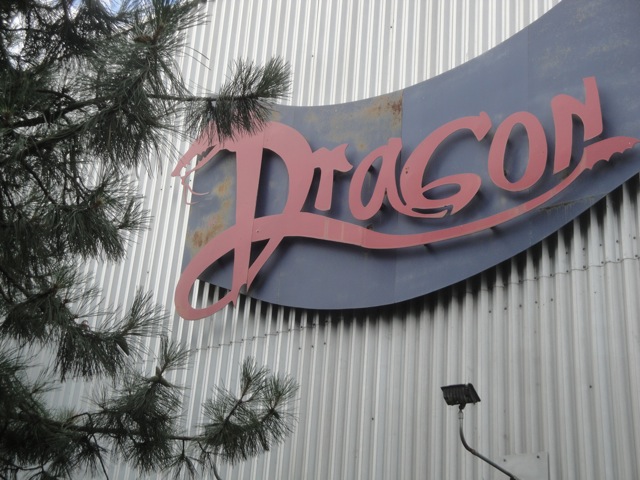 Toboggan Nordique Review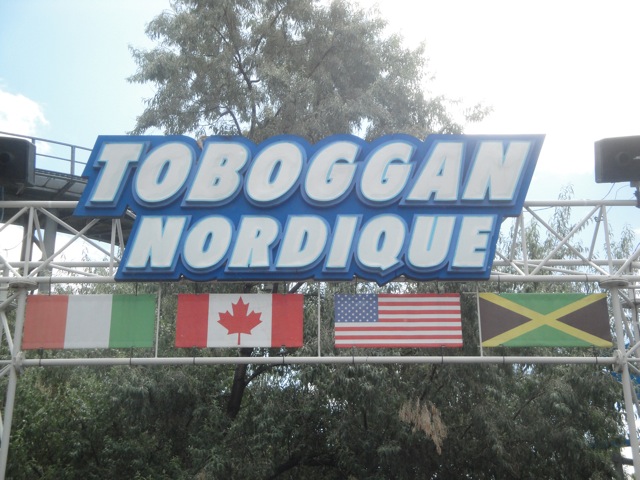 Kiddy Coasters
Marche du Mille Pattes Review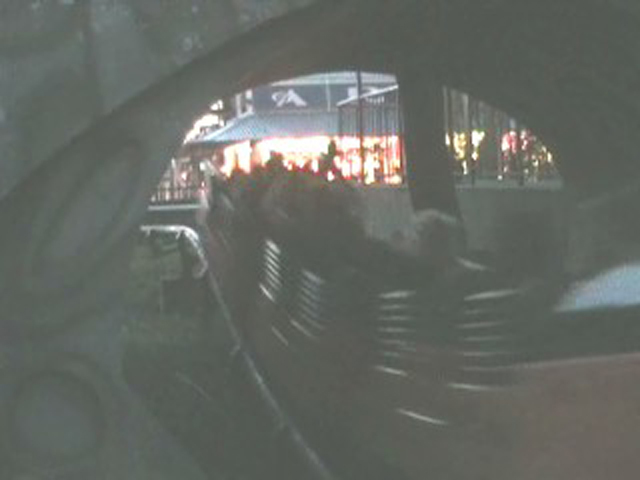 Past Coasters
Cobra Review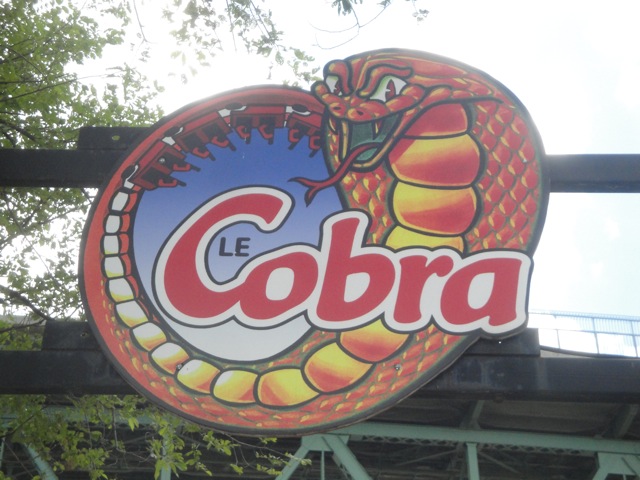 Super Manège Review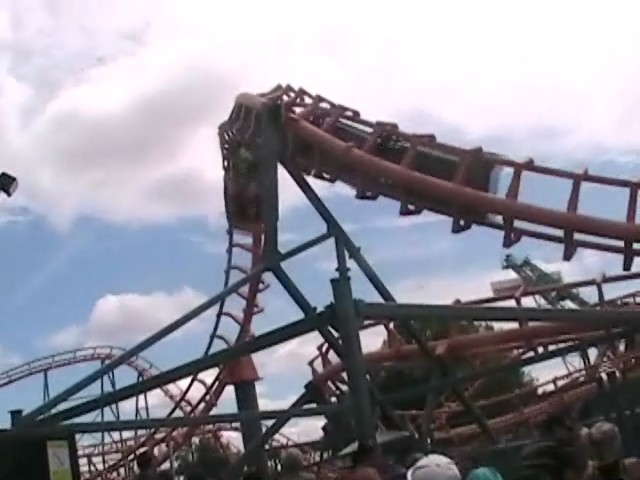 Flat Rides
Here are the reviews of all the Flat Rides at La Ronde. First up, we rode Vertigo, which is a Zamperala Hawk Ride. Like all Zamperla Hawk Rides, its fun and has some decent hang time. I also checked out their S&S Space Shot. Many people claim this to be an amazing Space Shot that is one of the best of its kind. I rode it and can safely cry "BULLSH*T!!!!!!" I mean, it's fun and all, but best space shot ever? No. It's not any different from any other ordinary Space Shot. I also managed to check out the parks breakdance. It ran an ok program. It certainly didn't spin like crazy. But at least it spun. Oh, and just to let you know, the operations for all the flats sucked. It took them 5 minutes to load each of those flats. Ok, the Space Shot went by a little quicker, but it still had bad operations. Oh, and I also checked out their observation tower. That was really cool as it gave us a really good view of both La Ronde and the city of Montreal as well. And those are just the flat rides that I rode at La Ronde. They also have a giant frisbee, a KMG Fireball Frisbee, a Starflyer (it has to have a great view of Montreal), a weird split Top Spin-like , a Falling Star, a Condor, a big pirate ship, some chairswings, a bigass ferris wheel, and a car ride.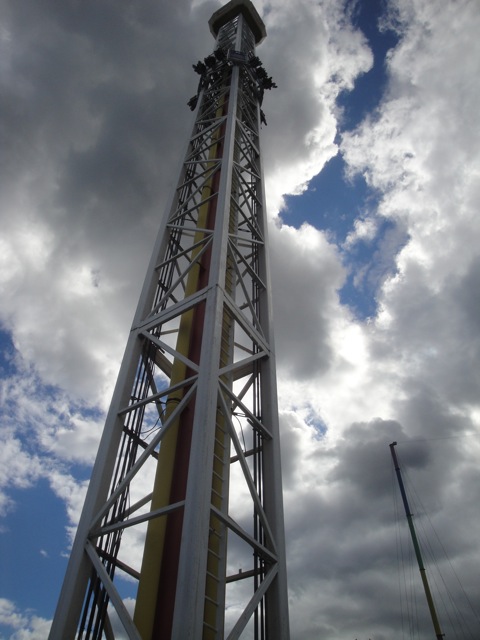 Fun? Yes. Best Space Shot ever? Go ride Dr. Doom and then talk to me.
Water Rides
I never rode any of the water rides at La Ronde. For Obvious reasons. But from what I saw, they have a shoot the chutes, and a Splah Battle. Neither of which look special. If you want a wet thrill and are in Montreal, I would recommend Jet Boating in the St. Lawrence River. It's awesome, doesn't have sh*tty operations, and is really really fun. F*ck La Ronde's crappy water rides. Go Jet Boating.
Dining
On a positive note, the food at La Ronde is actually quite good. They had some sort of crepes that looked really good. However, I didn't try out those. I ate some pizza at La Ronde, which is actually better than average pizza. While it's no Cesari's Pizza or anything, it is quite good. I also ate at a Subway there. While the Subway itself had sh*tty operations, it was still awesome because it was the only time I ever saw the BBQ Rib Sandwich at a Subway. And let me tell you something. The BBQ Rib Sandwich kicks ass! Now apparently it's at a few Subway locations, but it's definetly not mainstream. Really hope this makes it onto all the Subway menus. Or at the very least, the ones in SoCal please. But what really stands out in La Ronde are the oppertunites to get alcohol. They have alcohol all throughout this park. They even have a shot stand on the midway! No park in America would ever just sell shots out on the midway, but La Ronde does it. And that is just plain awesome. Maybe that's what causing the operations to suck. =) But whatever. That is awesome. More parks need shot stands. And did I mention that they didn't card me. I just ordered two shots, gave them my money, and got two shots.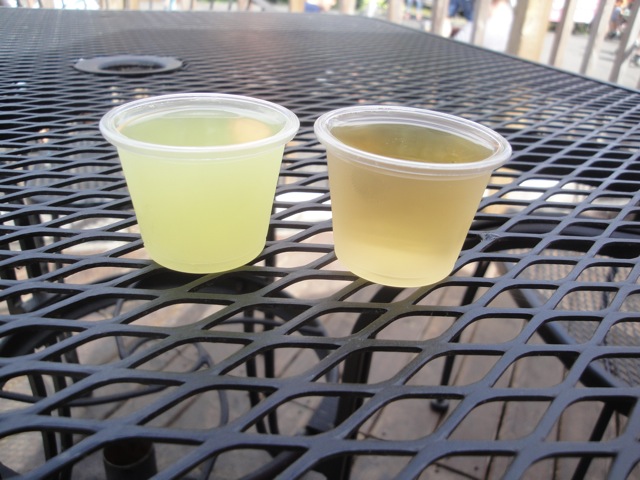 Hey MADD, F*ck off.
Theming and Other Attractions
Here are the reviews of all the other stuff at La Ronde. For theming, the park does have a lovely setting on an island in the St. Lawrence River surrounded by the city of Montreal. But as for actual theming, La Ronde doesn't have ANYTHING!!! The whole park is mostly just concrete and asphalt. No theming at all whatsoever. As for other stuff to do, I'm pretty sure La Ronde has stuff to do. But I don't have a clue what any of that is. So I can't help you in this department.
In Conclusion
While it cerainly improved in the last 3 years and is no longer the worst park visited by Incrediblecoasters, La Ronde is still in the bottom of the barrel as far as amusement parks go. The operations suck. Plain and simple. While now a couple of rides randomly had good operations, those were definetly isolated incidents. WITH Flashpass, and I repeat WITH FLASHPASS, we still waited over 30 minutes for Ednor, the crappy SLC! And that's with Flashpass! That's an unacceptable wait for a rough and painful SLC without flashpass. With Flashpass, that's just mind boggling. And if that's the flashpass wait, then just how long were the people in the regular line waiting? *shudders* That's just one of those things in life that I just don't want to know. And almost all the rides are like that! The lines here just become such a drag. Without Flashpass, your experience is a living hell, which is why my 2008 views on the park were so particuarly harsh. I will admit that the park really made improvements in the cleanliness department. While not a candidate for the cleanest park by any means, it was certainly an improvement from 2008, and there were far less smokers that I had to deal with in line. So these are both improvements that I'm happy to see in La Ronde. And in some good news, that was 9 years ago. And let's look at the bright side. If the park improved in the 3 years between 2008 and 2011, then surely the park has also been improving throughout the 2010s. I really hope so, cause this park really does have potential. However, I haven't been hearing that the park has improved like I have with other parks that left a sour taste in my mouth.

Enthusiast FAQs.

*Are there kiddy coaster restrictions? - Yes. Marche du Mille Pattes requires a kid to ride. Luckily they viewed me as a kid when I was 16 and I got the credit.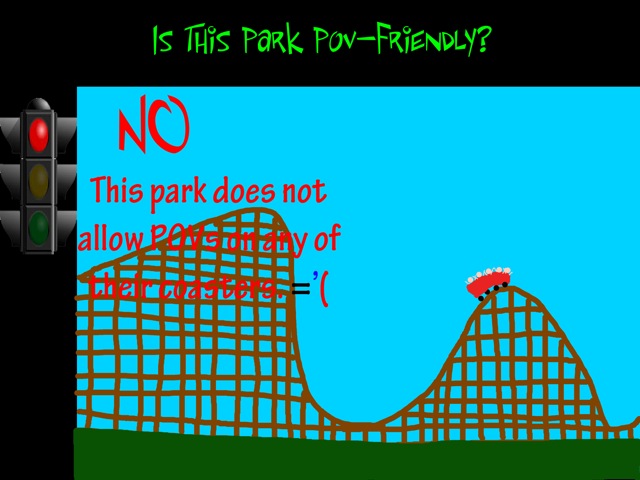 Tips
*GET THE GOLD FLASHPASS!!!!!! YOU NEED IT!!!!!! YOUR DAY WILL BE HELL WITHOUT IT!!!!!!!!

*Be prepared to stand in some long lines. Yes, even with the Flashpass, there are still incredibly long lines.

*Bring iPhone/iPad/Whatever you use for entertainment. It'll certainly help while in those lines.

*I'm not sure if the close everything 2 hours before the park closes policy is still in effect, so be prepared for it just in case.

*Don't get drunk from the alcohol stands. If you're the drunken idiot who causes the park to get rid of them, I'll come and kick your ass.

*I just want to repeat this because it's so important. GET THE GOLD FLASHPASS!!!!!!

*Have Fun!!!

Theme Park Category:

Parks that need SERIOUS Improvement

Location

Montreal, Quebec, Canada

Last Day Visited

August 2, 2011

Video

My official La Ronde Video

Complete Update List

2011

TPR's Northeast Trip

2008

North of the Border Tour

Here's a link to the parks website.

Home