Lakeside Park Review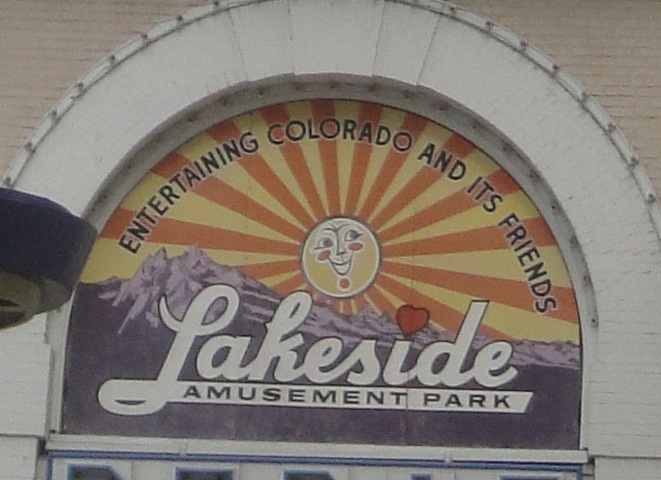 Lakeside Park is a park that you first look at it, and you have low expectations for this park. Seriously? An old wooden coaster and an old Wild Mouse? And all these flat rides? They're all generic. Nothing here is new. Nothing here is special. The park looks ghetto. This place just seems like a credit whoring stop. Elitch Gardens across town sounds like the much better park. Ah, but looks can be decieving, because Lakeside Park is actually a really fun little park. Those two coasters I mentioned are a lot of fun, especially Wild Chipmunk, and both of them are actually unique as Lakeside Cyclone has a unique layout, and old steel mice are incredibly rare. And those Elitch Gardens coasters are FAR more generic, but this isn't a place to complain about that. You can read my Elitch Gardens review for more on that. I don't want to talk much about the flat rides here as there's a whole flat ride section where I'll go over all those, but let's just say they're a lot of fun, and finally, there's just this atmosphere to Lakeside Park. It's like you're stuck in the 1920s. But you enjoy it. It's very retro, and it's very cool. I love that. There really aren't any parks like Lakeside Park left. It's almost like this is what amusement parks used to be like, but then they all died, and the new and modern amusement parks took over, but Lakeside Park never got the memo and just sort of chugs along, just existing and running like how it's always ran. So yeah. Keep on reading if you want to see just what it's like to visit an amusement park that's stuck in the 1920s. Seriously, being in Lakeside Park would make you think that Prohibition (for alcohol) was still a thing and that Calvin Coolidge was president.
Rollercoasters
There is a link to a review of all the Rollercoasters at Lakeside Park.
Top Coasters
Lakeside Cyclone Review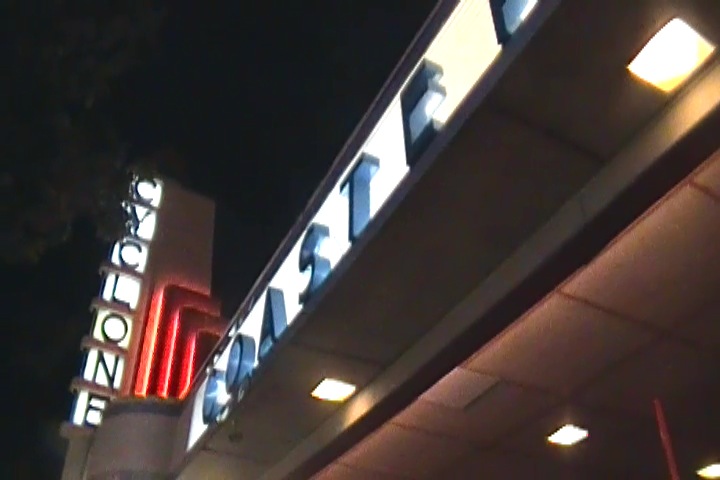 Wild Chipmunk Review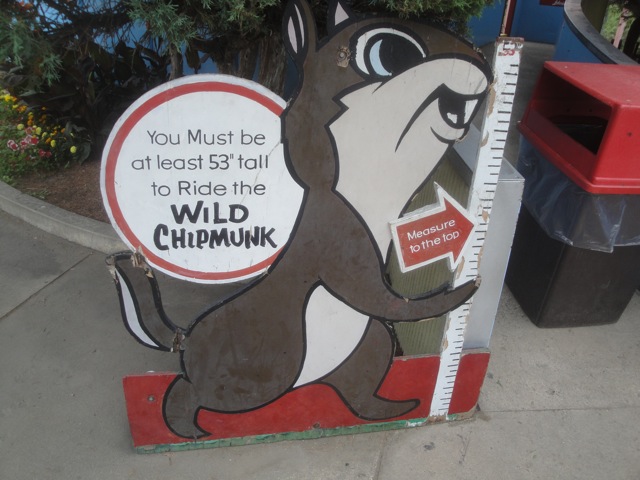 Flat Rides
All right. Here are all of the flat rides that are found at Lakeside Park. Now at Lakeside Park, almost all of the flat rides there are fairly generic and standard, however, they all are run at their full potential. So they're all just a ton of fun. Plus, there are a couple of rare flat rides. Like for instance, the Roll-O-Plane, which while I wouldn't necesarrily call a rare flat ride, it's definetly something that is restricted to older style parks, and it's a lot of fun. It's a retro version of those now crazy popular Larson Super Loops, except these are much better. They're faster, and just more fun. But yeah. I wouldn't scream for them to come to more parks thanks to their really bad capacity. I also rode their Rock-O-Plane, their round up, their flyers, their spider ride, their scrambler, and their whip. Some of these, like Whips, Rock-O-Planes, and Spiders are only found at old school theme parks. And some for good reasons. The Spider, as fun as it is, has hideous operations. Something like that could never thrive in a big theme park. But everything I listed, is ran EXTREMELY well. Their scrambler is very powerful, their round up is really fast, and their flyers are up there along with the ones at Carowinds as some of the best flyers ever. Oh, and when they all light up at night, it's practically hypnotic. They also have a Shock Drop that sadly was closed when I visited, as well as a tilt a whirl, a Tornado carnival ride, a classic carousel, and a ferris wheel.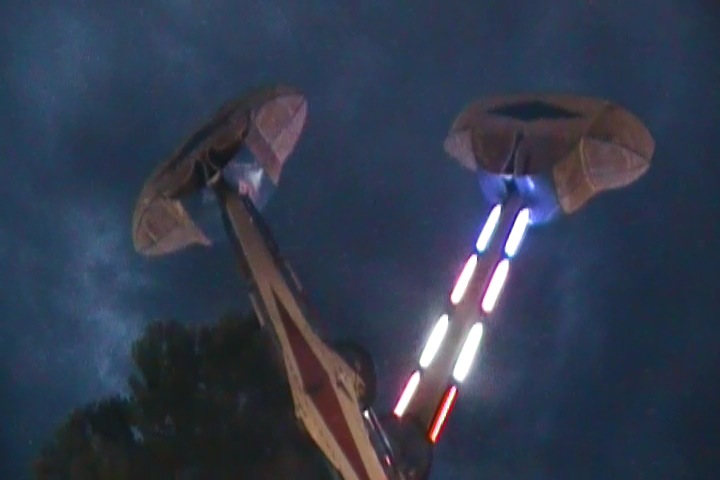 Not only is it a lot of fun, but it's pretty at night. =)
Water Rides
There is only one water ride at Lakeside Park, and that's just bumper boats. They don't even look like fun bumper boats. You're not going to get wet at Lakeside Park.
Dining
I just ate a burger at Lakeside Park along with some fries. Nothing special about it at all. Also got some soft serve ice cream as well. It's good, but nothing real impressive. The one good thing about the food at Lakeside Park are the prices. This place is F*CKING CHEAP!!! Not only is the park stuck in the 1920s, but it feels like all the prices are stuck in that time era as well. So there's no guilt about prices when eating at Lakeside Park. It may not be anything special you're eating, but eat up. This place is cheaper than Fast Food.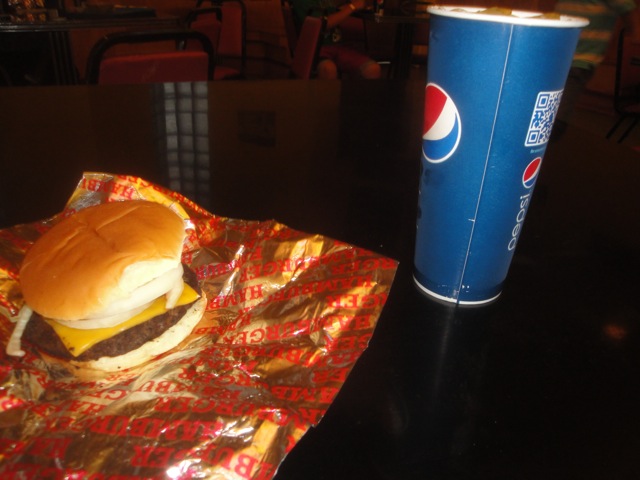 It may not be super good, but it is super cheap.
Theming and Other Attractions
Here are the reviews of all the other stuff at Lakeside Park. As far as theming goes, there's literally none. No theming at all. But as far as atmosphere goes, it's actually got a really nice atmosphere. Like I said, this park is pretty much an embodiment of the 1920s, and it shows. You can tell that this place is over 100 years old. And one thing to take note of, Lakeside Park is an evening park. And when the sun goes down, Lakeside Park lights up. And HOLY CRAP!!! It looks GREAT at night. It practically turns into the Main Street Electrical Parade. You just want to carry a glowstick with you. It's a really fun atmosphere filled with bright neon lights. There's something just intoxicating about it. I just really really really like it. I wish more parks would light up at night like Lakeside Park. Those lights really add something to the park.
In Conclusion
Lakeside Park is an odd park and easily one of the more unique parks in the country. It may not look like anything special, but trust me. It will really take you for a surprise. It has two coasters that may look old and busted, but both are actually a lot of fun. And it's a total night park, with just how much it lights up in the dark. And that coincides with the hours perfectly since Lakeside Park has an odd operating schedule, cause they know you're there to do the park at night. So you can easily do both Denver parks in one day, doing Elitch Gardens in the morning and Lakeside Park at night, which is exactly what I did. The stuck in the 1920s charm is just what makes Lakeside Park so delightfully quirky. And on top of all that, it's got really fun flat rides that may not look like anything special, but are some of the best of their kind. It's one of those parks that used to be really popular, but died off everywhere else except for Lakeside Park. I know some don't really like it, but it's a fun little park that's definetly worth your time if you're visiting the Denver area.

Enthusiast FAQs.

*Are there kiddy coaster restrictions? - Yes. There is a kiddy coaster that you are flat out not allowed on. No way around it. As far as I'm concerned, that ride doesn't exist. There's also a kiddy powered coaster that for some reason, the park calls a thrill ride. You can ride that, but it's not a credit, which is why I didn't even bother.
Tips
*The hours for Lakeside Park are funky. The park opens in the afternoon, but the rides themselves don't really open until around 6:00 PM. Lakeside Park really is a night time park. So if you're planning on going during the day, you're going to be screwed.

*Do not neglect the park just because it looks old and rusted. It's a lot of fun.

*Do not treat Lakeside Park like a credit whoring stop.

*Wild Chipmunk is brutal and agressive. Beware.

*I'm unsure about their policy on POVs.

*I've heard some really dark and ugly rumors about how some have had anti-camera experiences at Lakeside Park. I really don't want to believe this because I really like Lakeside Park, and that would SEVERELY f*ck over Lakeside Park and pretty much ruin them. Luckily I never had any problems like that, and not only did I take a lot of photos, but I also shot a decent amount of video to make a video you can see down below.

*Have Fun!!!!

Theme Park Category:

Small Park

Location

Denver, Colorado, U.S.A

Last Day Visited

July 24, 2013

Video

My official Lakeside Park Video

Complete Update List

2013

Texas/Rocky Mtn Road Trip

Here's a link to the parks website.

Home