NASCAR Speedpark Review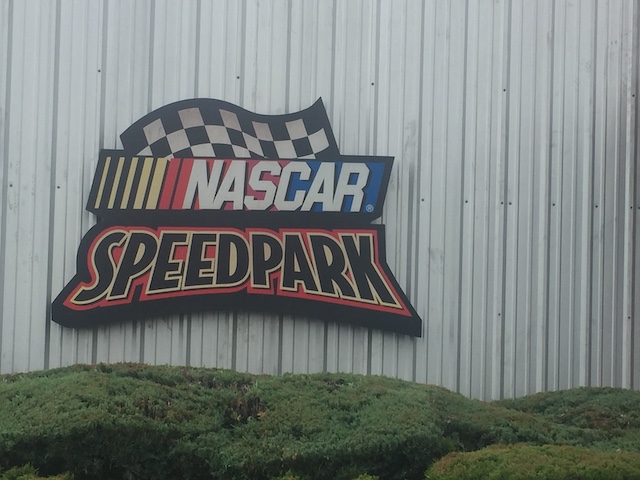 NASCAR Speedpark is NOT a theme park. No, that's what Dollywood is for. So what is the NASCAR Speedpark? Well, obviously, it's a credit whoring stop. That's why we're reviewing it. But putting that aside, NASCAR Speedpark is a Go-Kart Place. Yeah, this place is ALL about the Go-Karts, which....considering this is the NASCAR Speedpark, that makes perfect sense. Tacky tourist trap in a tacky tourist town (I really like Pigeon Forge, but it is tacky. There's no denying that). And oh god. The amount of Redneck in this place is....GOD DAMN!!! I felt like I was turning into White Trash just stepping foot in this place. But yeah. This is essentially just a credit whoring place.
Rollercoasters
There is a link to a review of all the Rollercoasters at NASCAR Speedpark.
Kiddy Coasters
Speedway Coaster Review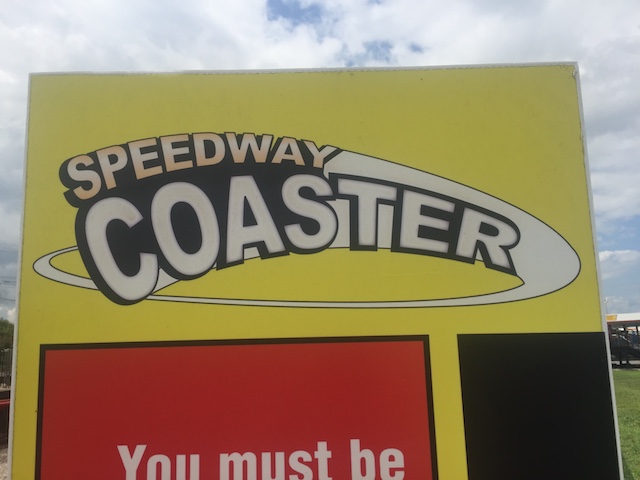 Flat Rides
Here are all the Flat Rides at NASCAR Speedpark. Cause...they actually have a few. A scrambler, a gravitron, a tilt a whirl, teacups, Bumper Cars, a carousel, and some kiddy car ride. Now I can not for the life of me remember if I rode the gravitron or not. I didn't remember riding it until I looked up the fact that they had one, then I did remember that. Same goes for the Tilt a Whirl. Did I ride them and just forget until reminded of it? Or did I just create a false memory for the purpose of saying I rode the gravitron and tilt a whirl? The correct answer is.....IT DOESN'T MATTER!!! They're just standard regardless, and if I rode them, they're so standard that they're easily forgotten. But hey. If you wanna ride flat rides, here's some for you.
Water Rides
They actually have a water ride here. No, there's no secret log flume or anything. It's the water ride ALL Golf'N'Stuff style places have. Bumper Boats. And...they're fun. But honestly, I want bumper boats like the ones they had back at Scandia before that place closed (Still holding out hope Scandia Screamer finds a new home. I keep hearing it's supposed to go to one of the Fun Spots in Florida. Fingers crossed that's true). That was just so fun. This was fun, but not to the same degree. Oh well. If you like bumper boats, then you'll enjoy this.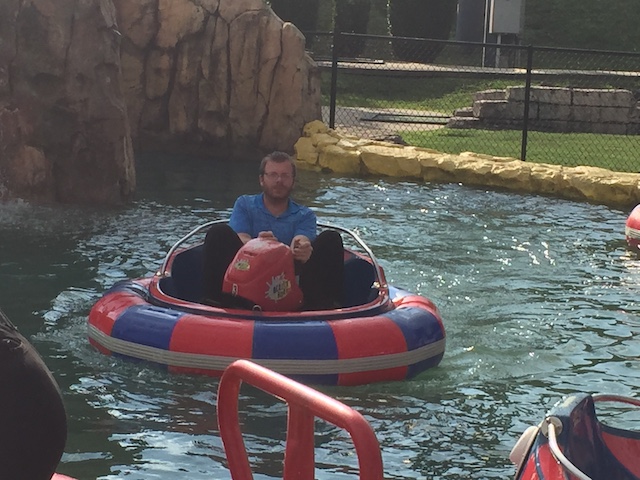 Fun, but standard.
Dining
I did not eat at NASCAR Speedpark, though I imagine its just typical Golf'N'Stuff Food. Come on, there's a lot of great resteraunts in Pigeon Forge. You don't need to eat here.
Theming and Other Attractions
Here are the reviews of all the other stuff at NASCAR Speedpark. Now like I mentioned before, this place is a Go-Kart place. And as such, the main thing they're known for here are Go-Karts. And boy does this place take their Go-Karts seriously. I mean, there's a reason this place is called the NASCAR Speedpark. The people here for the most part are BIG NASCAR fans. Since....we are in the South, where NASCAR is REALLY popular. And it's in Pigeon Forge, which some could call Redneck Heaven. And....they have A LOT of Go-Karts here. There are several tracks to choose from. None of them are anything too crazy. I mean, this isn't Mt. Olympus (I think this might be the first time I spoke positvely of that place on this site). The Go Karts don't have elevation changes or any of that stuff. Makes sense since....it's supposed to simulate NASCAR, and NASCAR is literally just drivers going in circles (Why do people, particuarly rednecks, like this again?). But you know what, I had a lot of fun on these Go-Karts. Also, this place doesn't have a pay-per-ride option since...they assume you're here for the Go-Karts. And....yeah. You should do them. Not only are they fun, but you gotta get your moneys worth in this place. Oh, and the other people drive HORRIBLY on here. I fear for my safety if that's how you drive on the actual road (Luckily, I never had any problems with other drivers in Tennessee). But if that's not enough for you, this place also has Mini-Golfing (I knew it! I knew this place was a Golf'N'Stuff!), and an arcade to waste money in.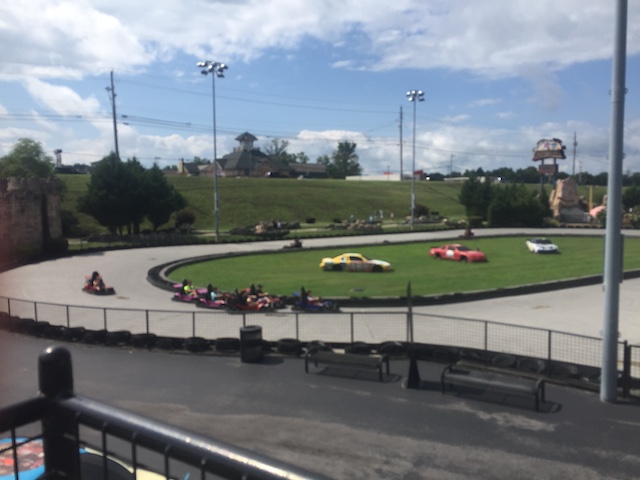 Honestly, this is the best thing (and main thing) to do at this place. Not the best Go-Karts, but still fun.
In Conclusion
NASCAR Speedpark is first and foremost, a Go-Karting place, and....honestly, as a Go-Kart place, it's a lot of fun. It's got a decent amount of Go Kart tracks that you can spend a couple hours doing. So if Go-Karting is your main mission, then you probably are gonna have a lot of fun at this place. Especially if you're also a redneck who loves NASCAR since....this entire place is themed to that. But if you don't care about go-karts, then you're not gonna have a good time. Go-Karts aside, this is ENTIRELY a credit-whoring place. And an expensive one at that given that they don't allow you to pay-per-ride. So you'll be shelling out $30 for a sh*tty kiddy credit that you'll pop in and out to get in 10 minutes. I had fun here doing all the Go-Karts since, I like them, and wanted my moneys worth. But while I had a fun couple hours here, I'm probably not gonna return since....there's better Go-Kart places, better things to do in Pigeon Forge, and it's just a credit whoring spot.

Enthusiast FAQs.

*Are there kiddy coaster restrictions? - If you couldn't ride the kiddy coaster here, I would not be reviewing the place.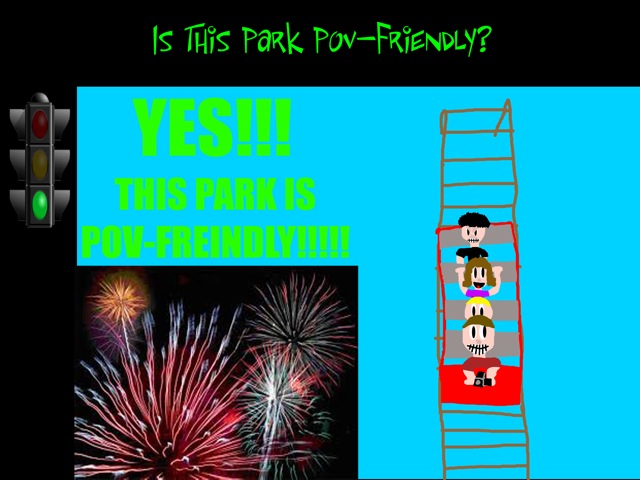 Tips
*Try to not look so ashamed doing your credit whoring.

*They don't have a pay-per-ride option. This place ain't cheap.

*Do some Go-Karts while you're here, otherwise you'll be spending $30 for just a sh*tty kiddy credit.

*Have Fun!!!

Theme Park Category:

Credit Whoring

Location

Pigeon Forge, Tennessee, USA

Last Day Visited

July 23, 2019

Video

There will NEVER be a NASCAR Speedpark Video.

Complete Update List

2019

Mid-Atlantic Trip 2019

Here's a link to the parks website.

Home