Tokyo Disney Resort Review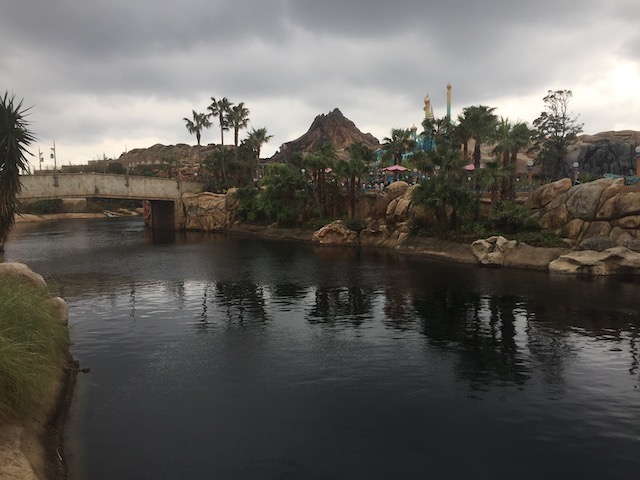 While the Disneyland Resort and the Walt Disney World Resort are the two most famous Disney resorts, since.....The Disney Parks in the United States are easily the most famous ones. However, if you've seen roller coaster enthusiasts and Disney fans talking on the internet, then you've heard everyone GUSHING over the Tokyo Disney Resort. And more specifically, Tokyo Disney Sea. Everyone LOVES Tokyo Disney Sea, and....yeah. That park is simply AMAZING!!!! And the whole resort is incredible. Yeah, it's only 2 parks and not the monsterous Disney World Resort in Orlando. But both of them are really good, and as I already mentioned, Tokyo Disney Sea is just dripping with awesomeness! Tokyo Disneyland itself is essentially, a highlight reel of all of the classics. You've got Space Mountain, Big Thunder Mountain, Splash Mountain, the Fantasyland Rides, and some unique stuff. They still have Country Bear Jamboree, they have Toontown, which is only at Disneyland aside from Tokyo Disneyland, and then there's Pooh's Hunny Hunt, which I'm going to talk A LOT more about later. Tokyo Disney Sea however, yeah. It has some famous Disney rides. Tower of Terror, Toy Story Mania, and Soarin' for example. But Tokyo Disney Sea has countless original and awesome rides. Raging Spirits, Sinbad's Storybook Voyage, and of course, Journey to the Center of the Earth. And yeah. I am going to be talking A LOT about all of these rides later on, since.....this is a park where there is just so much to talk about and so much to go over. So let's stop wasting time with the introduction and get cracking on our review. This is the Tokyo Disney Resort.
Rollercoasters
There is a link to a review of all the Rollercoasters at the Tokyo Disney Resort.
Please keep in mind that there is no review of Big Thunder Mountain because it was closed when I last visited.
Top Coasters
Raging Spirits Review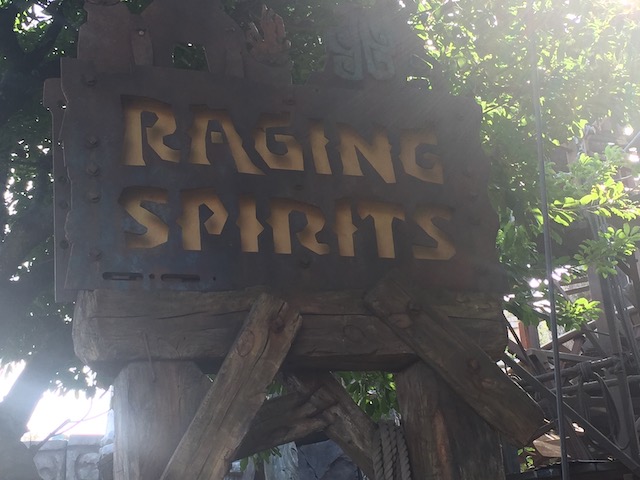 High Quality Classic Family Coasters
Space Mountain Review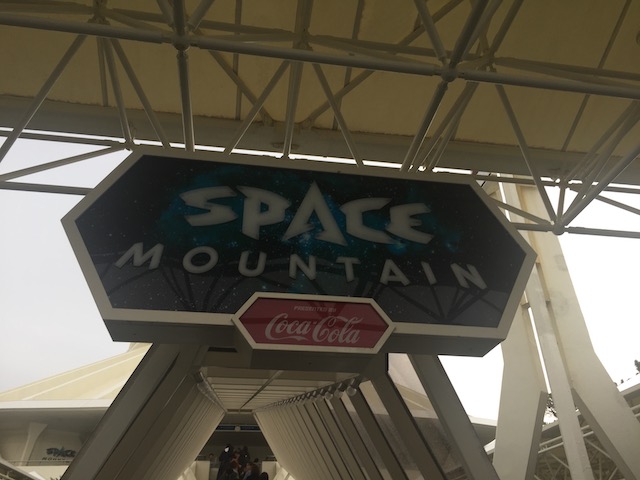 Kiddy Coasters
Flounder's Flying Fish Review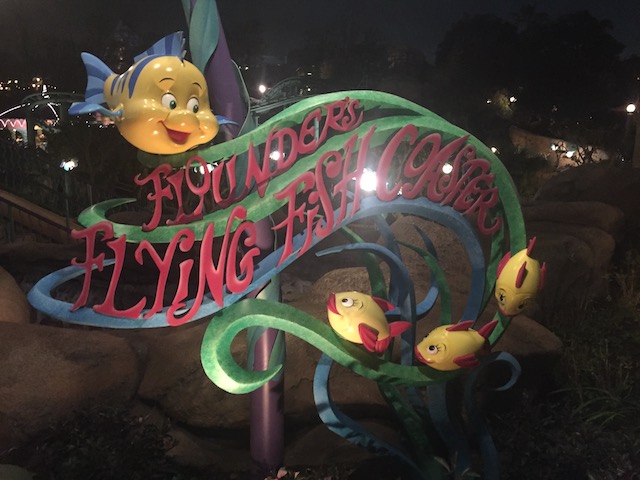 Gadgets Go Coaster Review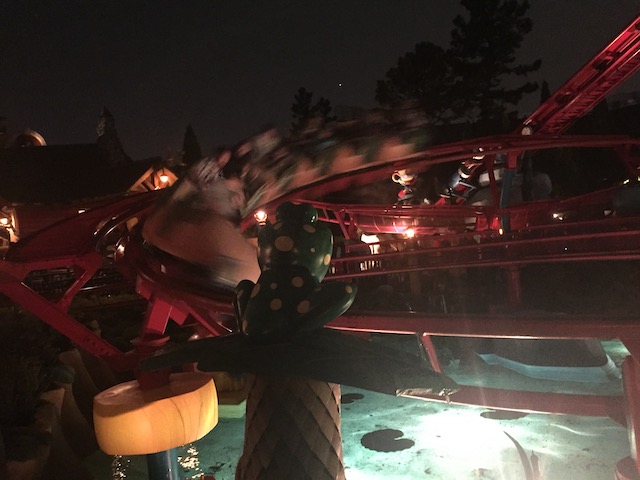 Major Flat Rides
Tower of Terror Review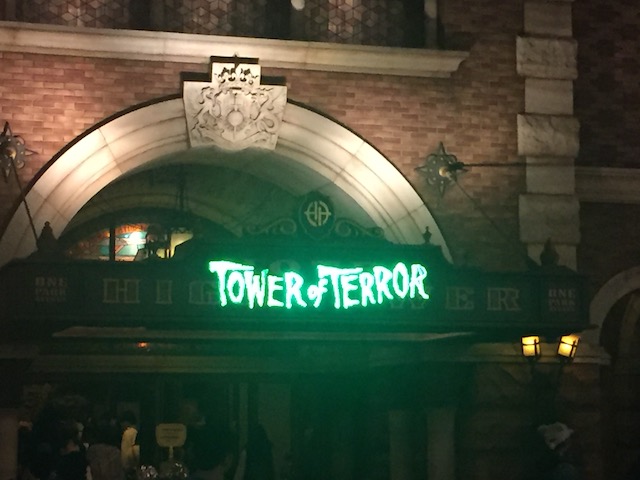 Flat Rides
Here are the reviews of all the Flat Rides at the Tokyo Disney Resort. Well, the best flat ride at Tokyo Disney would unquestionably be Tower of Terror. However, Tower of Terror is one of very few, very rare, non-coasters that manages to get a review of its own. So go read that if you want my full thoughts on Tower of Terror at Tokyo Disney Sea. But aside from that, much like all the Disney Parks, the Tokyo Disney Resort has BARELY any flat rides. When you look at Tokyo Disneyland, their flat rides are miniscule and standard. A carousel in Fantasyland, Mad Tea Party, and Astro Orbiter. All standard and common. Moving onto Tokyo Disney Sea, they essentially have the same rides. Instead of Astro Orbiter, they have Jasmine's Flying Carpets. Instead of the Fantasyland Carousel, they have the Caravan Carousel, which....is the 2nd best carousel I've done (only behind Derby Downs @ Cedar Point). Instead of the Mad Tea Party, they have Whirpool. Also, the Little Mermaid Port of Call (we'll talk about the area itself later) has the rest of the flat rides. Scuttles Scooters, and Jumpin' Jellyfish, which while does have a clone @ DCA, it looks MUCH better here due to its location. So yeah. Flat rides are lacking. But that's OK with me.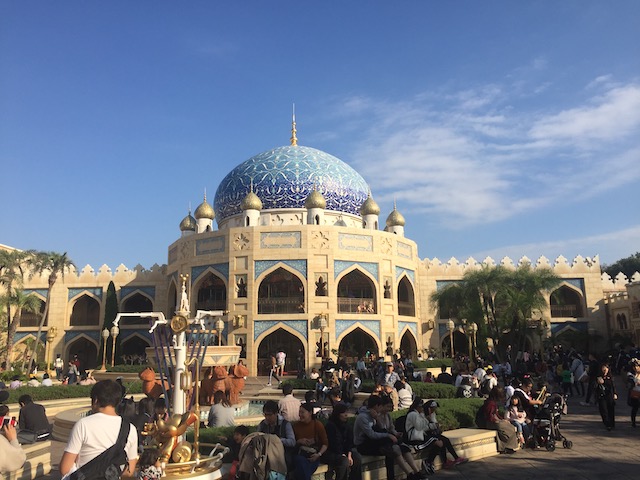 At Tokyo DisneySea, even the carousel is top-notch. =)
Major Dark Rides
Journey to the Center of the Earth Review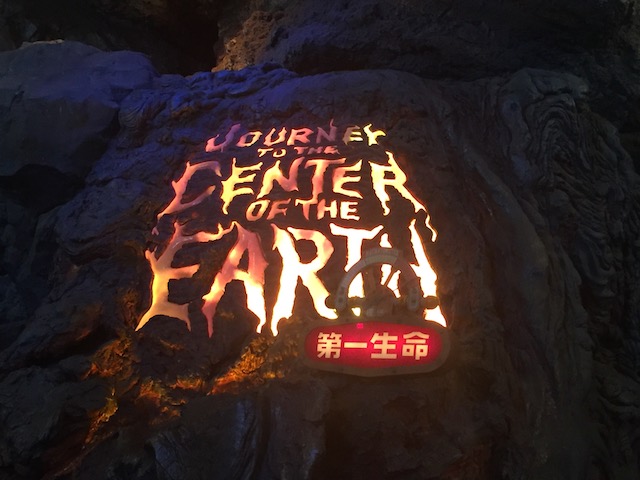 Dark Rides
Here are the reviews of all the Dark Rides at the Tokyo Disney Resort. And yeah. Tokyo Disney Resort without a doubt, does a phenomenal job in the dark ride department since...these are both Disney Parks. And we have A LOT of them to go over, so let's get started. Well first off, we have to talk about their star attraction, Journey to the Center of the Earth. Yeah. This is easily, without a doubt, the best dark ride ever. However, Journey to the Center of the Earth is one of the ultra-rare dark rides that actually gets its own review. So we'll discuss that over there (LOVE IT!!!). So let's talk about the other great dark rides. First off, Indiana Jones and the Temple of the Crystal Skull. A: No! This has nothing to do with the sh*tty movie of the same title. The ride came out 7 years before that movie. B: SWEET!!! THEY HAVE INDIANA JONES HERE!!! I LOVE it when it's at Disneyland in California. And it's actually a little bit better here at Tokyo Disney Sea. There's a few minor differences, such as the Tokyo version being themed to Mexico while the California version being themed to India. Also, there's a few effects that I really like here that they don't have in California, such as the Fire Ring. But all in all, they're mostly the same ride. Which is great since Indiana Jones is also one of my favorite dark rides. Next up, we have Pooh's Hunny Hunt. Now I may have lost some of you. Pooh's Hunny Hunt!? A Fantasyland Dark Ride is one of your favorite dark rides!? Yep, but Pooh's Hunny Hunt is NOT one of your standard Fantasyland Dark Rides. First off, it's a trackless dark ride. So you get all up close, and interact with the other cars. And on top of that, it has great rooms. Like the Tigger room where the whole ride just bounces with Tigger. So much fun. It's a shame that no trackless dark rides have made it to the American Disney Parks, because they are awesome! And for the final amazing dark ride, let's talk about Sinbad's Storybook Voyage. This is....GREAT!!! Again, this may seem surprising as this is just an ordinary dark ride. It's not trackless. It doesn't have any fancy technology. It's just a boat ride. In fact, it's like It's a Small World in MANY ways. Mainly in the sense that it's a travel dark ride about a guy (Sinbad) traveling to many places, and all with an extremely catchy earworm song. Except "Compass Of Your Heart" is AMAZING!!! LOVE that song! And I HAVE to listen to it again as I write it again, because the song is THAT good. The song is great! Sinbad's journey is great. And I just LOVE Chandu! I know I repeatedly rode this ride A LOT when at Tokyo DisneySea. And....there's something hypnotic about the ride. I would say its criminaly underrated, but a lot of people seem to be saying that and it FINALLY is getting the love and attention that it deserves. Those are what I would call the top quality dark rides at Tokyo Disney. But of course, they have countless more, including all of the Disney Staples. For instance, Haunted Mansion and Pirates of the Carribean. Haunted Mansion here is pretty good. It has a few extra features not found in Florida or California. But let's keep it real. Disneyland Paris easily wins when it comes to Haunted Mansions. Their Pirates is essentially like Florida's. Only one drop, and the standard ride. A lot of fun. But one thing that makes Japansese Pirates stand out is unlike all the others, you don't take a lifthill at the end. Much like on Haunted Mansion, you get off at the end after the pirates fire cannons at the end, and take an escelator up to the surface. Hmm. Not sure if I prefer this or the lifthill. But regardless, Paris also has the Pirates. Cartoon Spin is also here, which is once again, a ride that you can only find either in California or Japan. They're essentially the same ride, which is fine with me. It's a lot of fun, the spinning is good. And of course, being based on my favorite Disney Movie of all time (No, I'm not joking) really helps. Moving onto something completely unique, they also have Monsters Inc: Ride and Go Seek. No, this is NOT the same as the Monsters Inc. Dark Ride they have at Disney's California Adventure. This one isn't just a standard Fantasyland dark ride, and while this ride isn't amazing, it's definetly better. For instance, this is a standard shooting dark ride. Except here, you're using flashlights to find Boo. Fun ride, though make sure you get your fastpass early for this one. Cause this ride is POPULAR!!! OK. Let's change gears and go over all the simulators at both Tokyo Disneyland and Tokyo DisneySea. Well, they obviously have Star Tours, which is a lot of fun. But pretty standard. Easy to skip if you're not a huge fan of the ride, Star Wars, or are short on time. Going into something more unique, we have Nemo & Friends SeaRider. This simulator replaced the old StormRider ride (which got replaced before I visited), the ride basically combines the stories of both Finding Nemo and Finding Dory, and actually does it semi-well, and it's easily my favorite Finding Nemo ride. Better than both California's submarine and Florida's standard dark ride. And finally, there's Mickey's PhilharMagic. A fun 3D show (that's oddly more about Donald than Mickey), with Donald stealing Mickey's hat, and getting transported into different popular Disney Songs. I really like this show, and I'm happy that it's spreading in popularity. I actually managed to do their version of Buzz Lightyear, which for some reason, is much more difficult than the California version. Shockingly enough, their Jungle Cruise is actually REALLY GOOD!!! I know it's just Jungle Cruise, but this version has a lot more to it. More animals, and a weird trippy indoor section. I HIGHLY recommend it. Small World here is fun. Mainly because its fun to see how your home country is represented when riding Small World in a foreign country. And the rest of the Fantasyland Dark Rides, are pretty standard. Though somehow, Japanese Snow White has an even more abrupt ending than Californian Snow White. I missed Toy Story Mania, since....I love it, but I just didn't want to wait for it. Also, since my last visit, Tokyo DisneySea has gotten Soarin', which....is standard. Fun, but a clone. And they're building even more amazing dark rides. Can't wait to ride that Beauty and the Beast dark ride on my next visit.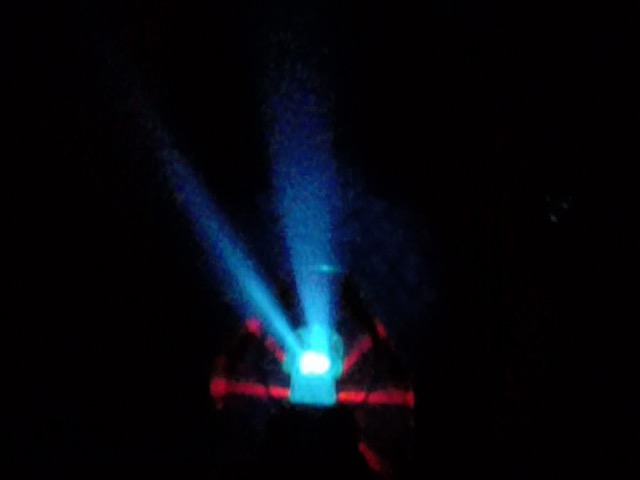 This has nothing to do with Indiana Jones 4. You may breathe a sigh of relief.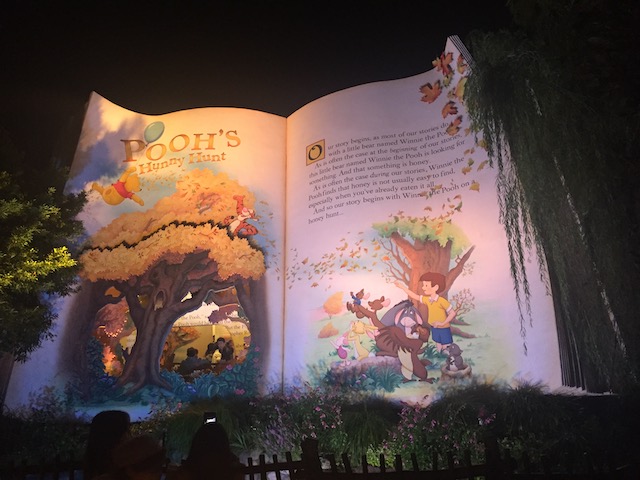 Why can't all the other Pooh rides be this good?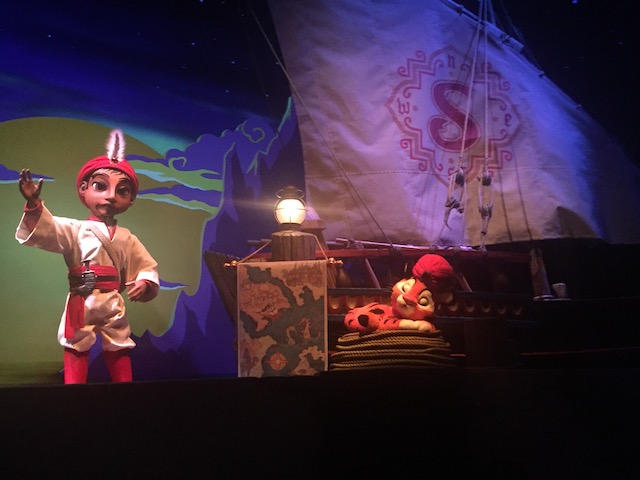 Gotta have more Chandu! And more Compass Of Your Heart too!
Water Rides
Here are the reviews of all the Water Rides at the Tokyo Disney Resort. I know there's only two of them. So let's talk about both of them. At Tokyo Disneyland, we have Splash Mountain. Now, this isn't anything special. Well, now it is. Yeah. Splash Mountain is a Disney Staple. However, in July 2020, Disney announced that they were retheming Splash Mountain at both Disneyland and Disney World to Princess and the Frog. And I know I'm going against the grain from a lot of my friends, but I do not approve of this change. However, my Tokyo Disney Review is not the place to discuss the messy details of that. What is worth noting is that the one Splash Mountain that they're leaving alone is the one at Tokyo Disneyland. So if I want to look at the upside to the whole Splash Mountain debacle in America, it's that now, Splash Mountain at Tokyo Disneyland is something unique, a treat, and another thing to really look foreward to when visiting Tokyo Disneyland. Japanese Splash Mountain was essentially a clone of Florida's Splash Mountain. The ONLY difference was that this one is in Japanese, and....you can still understand everything that's going on since....you know the story and the ride. You've ridden it so many times in English, that you can sort of auto-translate what they're saying in Japanese. The drops are great. the theming is great, and it's without a doubt, the best water ride ever! Moving onto the other water ride. At Tokyo DisneySea, they have Aquatopia. Now this ride looks...weird. It's just some boats, dancing and spinning on the water. I don't know why, but this ride is just a ton of fun.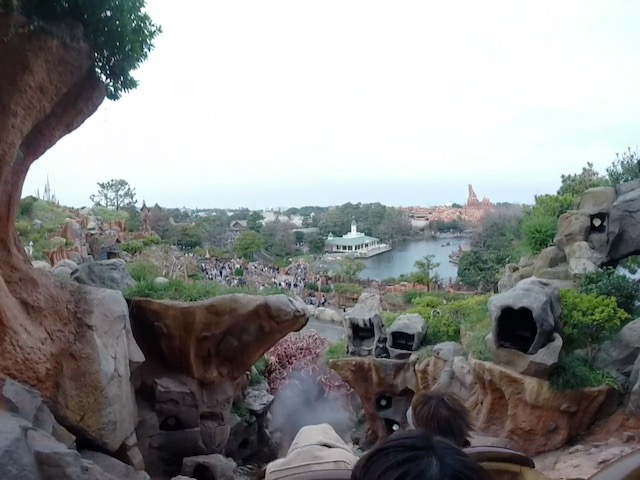 Come to Japan. There's no controversy over here. =)
Dining
Here are the reviews of all the Resteraunts at the Tokyo Disney Resort. And yeah. Time for more gushing, since....Tokyo Disney has some of the best food in any theme park. I know that Disney Park food is really good. But honestly, aside from the stuff at Epcot, you don't beat the stuff at Tokyo Disney. What sort of food do you want to eat? Well whatever cuisine you're looking for, they've got it at the Tokyo Disney Resort. If it's Chinese food you want, they have some fantastic stuff at the Vulcania resteraunt. Not only is the resteraunt itself in one of the coolest spots in Tokyo DisneySea, but the food itself is fantastic. Some of the best Chinese food I've ever had (And no, there's no chicken head here). If it's Mexican food you want, well, the Mexican food here is really good. I live in Southern California, so I'm a bit of a Mexican food snob. But the Mexican Food that they have over at Tokyo DisneySea is genuinely really good. And the options just continue to grow from there. Over at Tokyo Disneyland, they have strawberry Mickey Waffles, and those are really good. Though I'm pretty sure these are avaliable at all the Disney Parks. There are other really good foods, such as the Black Pepper Teriyaki Chicken Roll. Yes, that was really good. Pretty small, and mostly something you would eat as a snack rather than a full blown meal. But still really good. Also, they have really good curry. So if its Indian food you want, well they've got that here too. The ice cream is also really good. Specifically Sea Salt Ice Cream Monakas themed to Ariel's seashell. Now Monakas are a sort of Japanese treat, that's essentially a cookie with red bean filling (Speaking of which, red bean paste is REALLY good. I know it's mostly an Asian thing, hopefully I can find that somewhere in America). But it can also be made with Ice Cream. And the ones with the sea salt ice cream are incredibly good and highly recommended. I didn't have any of them, but the Ukiwa Bun is apparently good. And there's tons more treats that I didn't have that seem really good. But of course, we haven't talked about what is by far, the most unique aspect of Tokyo Disney's food. Popcorn. There are SO MANY different wacky popcorn flavors. Not only do they have unique sweet flavors, such as Strawberry and Honey popcorn. But their savory popcorn is even better, with flavors such as Black Pepper, Curry, and strangest and best of all, Soy Sauce & Butter. No joking. That popcorn is just so good. And they rotate the flavors, so there's probably even more wacky flavors that didn't exist when I visited. And there's just so much more good food to check out when visiting the parks.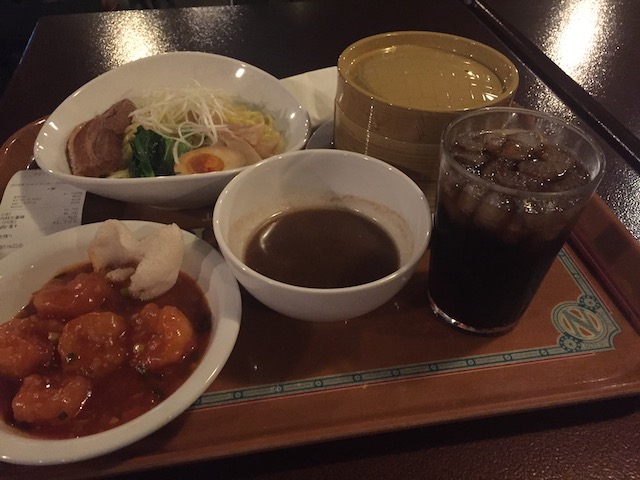 Some of the best Chinese food ever.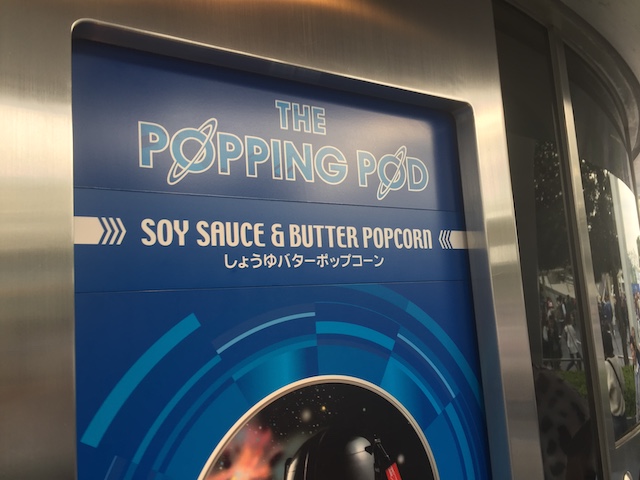 I know this doesn't sound good, but it really is.
Theming and Other Attractions
Here are the reviews of all the other stuff at the Tokyo Disney Resort. Now with most parks, the theming is barely mentioned. Primarily because most parks have little to no theming. Disney is essentially the one company where it's guaranteed to be good. And Tokyo Disney in particuar, is extremely good. Tokyo Disneyland itself is standard. Adventureland has jungle theming, Frontierland has Wild West theming, Tomorrowland has future theming, all the usual stuff. Yeah, Tokyo Disneyland itself has a sort of 70s feel to it (especially Fantasyland and Tomorrowland). But Tokyo Disney Sea! HOLY SH*T!!! BEST THEMING F*CKING EVER!!!! So Tokyo Disney Sea has ports. And they are just some of the best! First off, there's the Mediterranian Harbor, which is themed to Italy, particuarly Venice. And yeah. I love Italy. So I LOVE this area. There's the American Waterfront, which is themed to the Northeast, specifically Old New York and Cape Cod. And they have a real ship here, the S.S. Columbia. The ship itself was based off of the Queen Mary (and also the Titanic). And....the fact that there's a real ship here, just like those big old-school ocean liners is f*cking AWESOME!!! It seriously looks like an actual ocean liner that could sail across the Pacific Ocean (just stay away from all the icebergs near Alaska). There's the Port of Discovory, which is a land themed to the Future Marina, which basically a land based around Retrofuturism, which basically translates into future technology with old-school fashion. Which....I really like it. It blends in well. There's the Lost River Delta, which is their port that is themed to the tropical rainforests of Central America and Northern South America. It comes complete with a giant Aztec temple (so throw Mexico in there as well). It both looks really cool, and hosts Indiana Jones. So double whammy! There's the Arabian Coast, which is their Middle Eastern themed area. I know they're going more for an Agrabah theme, but it still makes me want to go to the Middle East (I know its essentially ruined because of our horrendous foreign policy and fundamentalist Islam, but DAMN IT!!! Dubai is on my to-visit list). There's the Little Marmaid Lagoon, which, I know is a fictional place, unlike Italy, New York, Mexico, or the Middle East. But god damn it! This place looks AMAZING!!! Its mostly indoors, and they use that lighting to really make it feel like you're underwater. They just do such a fantastic job! It really makes me nostalgic for old Little Mermaid stuff from the 90s that was big when I was a little kid. The fact that this doesn't win the award for best Kids Area really shows how pointless and America-Centric those awards are. And finally, we have Mysterious Island. This land is themed to Jules Verne's work, specifically "The Mysterious Island", as well as Vulcania from the movie "20,000 Leagues Under the Sea", complete with the 20,000 Leagues ride. The area by far, looks the most amazing. I mean, this park has a f*cking volcano in the middle of it! And despite what you may suspect, it doesn't look tacky, forced, or any of that stuff! It looks fantastic! Absolutely incredible! OK. I think I've gushed about the theming enough. What about other stuff to do? Well, first off, the shows! There's Fantasmic, which....is really good! A favorite of mine. Their version is better due to the World of Color technology, which I really like. The ONLY problem is the lack of villians. But on top of that, they have countless other shows. I know they had a version of the Main Street Electrical Parade when I was there, along with standard Fireworks, and countless different parades that I wound up missing due to time. But there were TONS of various different parades that seemed cool. Plus, countless other shows, such as Big Beat, which is a jazz show featuring Mickey and his friends. I know I saw it after it was recommended to me, and I wasn't a huge fan, but you might think differently. Shows aside, there's plenty more that is avaliable to do at the Tokyo Disney Resort.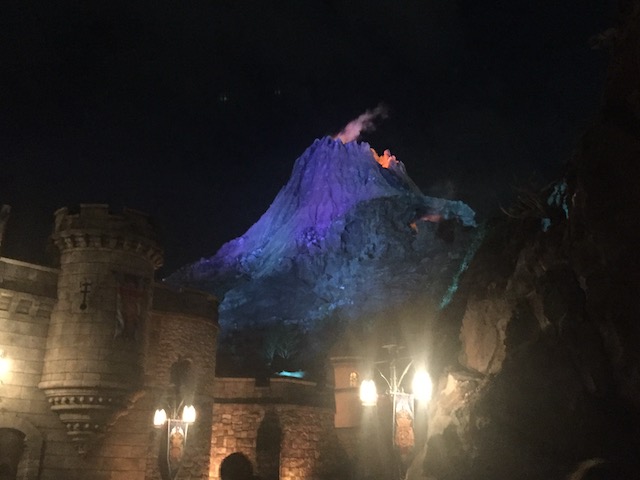 Still love that they have a f*cking volcano in the middle of this park!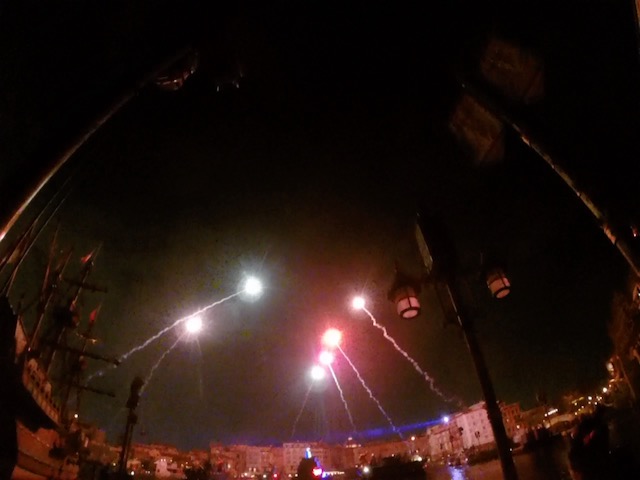 Fantasmic is awesome. =)
In Conclusion
The Tokyo Disney Resort is unquestionably, one of the best theme parks ever! Count Tokyo Disneyland and Tokyo DisneySea seperately? Then Tokyo DisneySea is one of the best theme parks ever! I mean, this park has pretty much everything! AMAZING THEMING!!! AMAZING FOOD!!! THE BEST DARK RIDE EVER!!! AND SO MANY MORE FUN RIDES!!! You want to ride a Disney Classic? They have them here. Space Mountain, Thunder Mountain, Small World, Pirates of the Carribean, Haunted Mansion, etc. it's here! Want to ride one of the more unique Disney rides that is only at a few of the parks? They've got Indiana Jones and Cartoon Spin here! You can still do some old school stuff, such as Splash Mountain (that still feels weird to say) and Country Bear Jamboree. And then we have all the special unique rides. Journey to the Center of the Earth, Pooh's Hunny Hunt, Sinbad's Storybook Voyage, etc. All rides that you can ONLY find at the Tokyo Disney Resort, and what a surprise. All the Tokyo Disney only rides are really freaking good and some of the best at the park! Yeah, there's no amazing stand out roller coasters. But....it's a Disney park! That's to be expected! If that's what you truly want, go ride Eejanaika at Fuji-Q Highlands. It's just an amazing and incredible park! This is a park that I can just relax, take it slow, and really enjoy myself at. And there's just so much to do. I can't wait to come back on my next Japan Trip.

Enthusiast FAQs.

*Are there kiddy coaster restrictions? - No. Gadgets Go Coaster and Flounder's Flying Fish don't have any restrictions.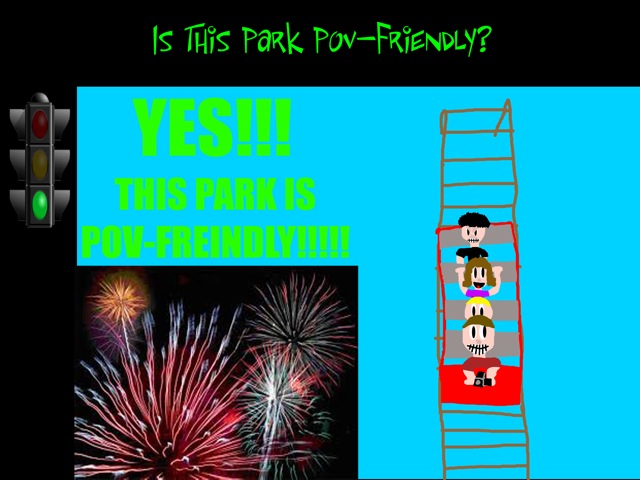 Tips
*Getting to Tokyo Disney is easy. From the Tokyo Station, just get on the Keiyō Line (It's a JR Line, so your JR Pass will work for it), and get off at the Maihama station, and you're pretty much there.

*This isn't Tokyo Disney Advice, but rather, just general Japan Trip advice. But get a JR Pass. They pay for themselves SO QUICKLY!!!

*GET HERE EARLY IN THE MORNING!!!

*For Tokyo Disneyland, get either a fastpass for Monsters Inc. Ride & Go Seek or Pooh's Hunny Hunt first thing in the morning. Both of those sell out QUICKLY!!!

*For Tokyo DisneySea, get a Journey fastpass first, and then get in line for it (You want LOTS of rides on this ride)!

*After getting your Tokyo Disneyland fastpasses, get in line for Space Mountian (that line is always early in the morning).

*Take Advantage of Single Rider Lines. Don't bother with fastpass for Indiana Jones or Raging Spirits.

*Both Gadgets Go Coaster & Flounder's Flying Fish have short lines during the fireworks and parades at night.

*The Fireworks is also a good time to do the Fantasyland dark rides as well as get on Pooh's Hunny Hunt (again).

*Sinbad's Storybook Voyage never has a long line. Ride that multiple times. It's awesome (Chandu commands you!)

*Spend multiple days here.

*Get your tickets in advance. The line for buying tickets in person is a BITCH!!! Though it may be tempted since buying them online is difficult and the site kept crashing and I was unable to buy them online (your experience may vary). So what I did was buy them at the Disney Store in Tokyo.

*Tokyo Disney Parkhoppers are different from other Disney Parks. You can only park-hop on your 3rd day. Before that, it acts like a normal ticket.

*A lot of the popcorn flavors are seasonal. So some flavors from the internet (including my massive update) may be unavaliable, and there may be new flavors that weren't there when I was there.

*Get yourself some cool merch.

*Get even more advice from other people. I'm doing the best I can with my review. But at the same time, I've only had one 3-day visit to the resort. Those who go frequently and live in the area do a much better job. A lot of my advice came from those people that helped me on my visit, and you should listen to some of those people. TDR Explorer is one person I recommend, and there's even more people. Unlike smaller parks, where my review is one of very few reviews and stand out, that's not the case with Disney Parks. There's TONS of reviews of these parks. My Disney Park reviews are just a drop in the bucket.

*Have Fun!!!

Location

Urayasu, Chiba, Japan

Theme Park Category:

Theme Park

Last Day Visited

November 13, 2018

Video

Tokyo Disney Video coming soon. Have a lot to work on before making that.

Complete Update List

2018

JAPAN 2018!!!

Here's a link to the parks website.

Home