Liseberg Review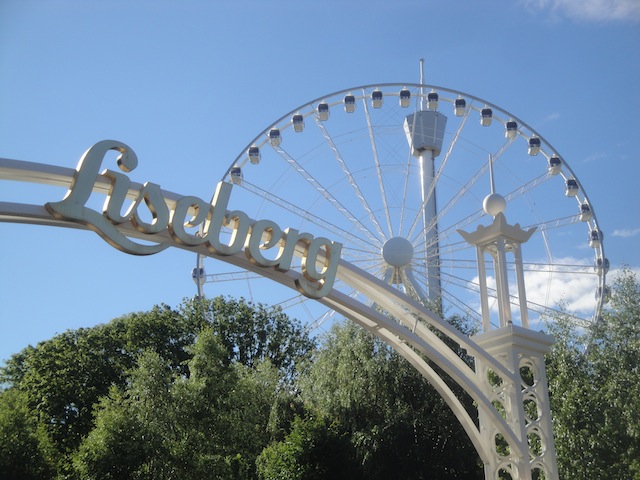 Liseberg is one of those parks that you probably haven't heard of if you're not a Swede or a roller coaster enthusiast. But if you are a roller coaster enthusiast, then you know about Liseberg. Cause this is a really well known park in the roller coaster community. It's another one of those European city parks where I think the park is actually owned by the city of Gothenburg, Sweden. And yeah. It's one of its biggest destinations. I know Gothenburg is only the 2nd biggest city in Sweden, and overshadowed by Stockholm, which has its own city park. But Gothenburg still is pretty good, and Liseberg is the biggest attraction in the city. Hell, it's the biggest tourist attraction in all of Sweden. And honestly, it's easy to see why. This park is great. It's easily up there with all the great parks in Europe, such as Europa Park and Tivoli Gardens. And a huge part of that is their roller coaster collection. They have one of the best wooden coasters in the world, a Mack launcher that is a ton of fun and with a large variety, and they just recently took out an Intamin Rocket Coaster (that was a lot of fun) to make room for a B&M Dive Machine coming soon. And there are so many other fun things. The flat ride collection is really good, they have a haunt, and just a ton of other rides. It's located right smack dab in the middle of the city and is very easy to get to. And with all the fun stuff it has to offer, it's easy to see why so many people head out to Liseberg. Now it's far easier for me to just keep going on about this and yeah. I can go into much further details about all that, so keep reading the rest of the review. But yeah. Definetly make sure to check out Liseberg when visiting Gothenburg.
Rollercoasters
There is a link to a review of all the Roller Coasters at Liseberg.
Top Coasters
Balder Review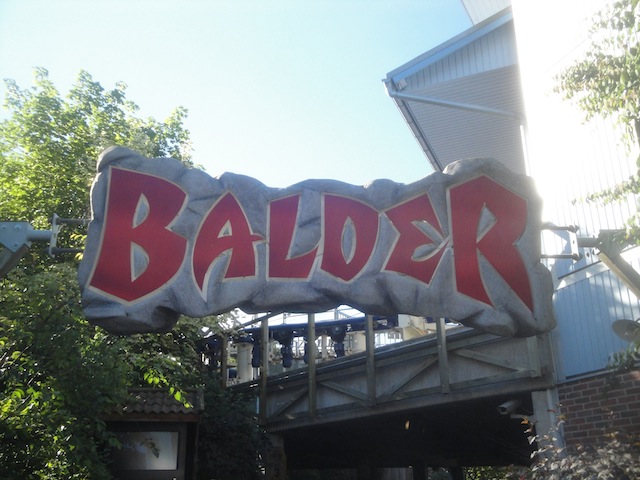 Helix Review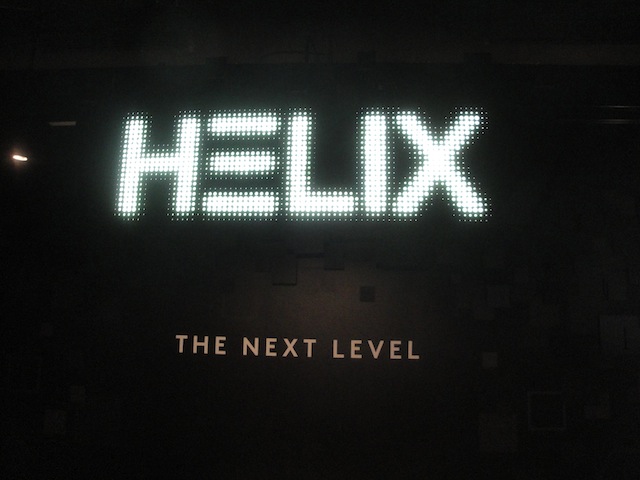 Really Fun Coasters
Lisebergbanan Review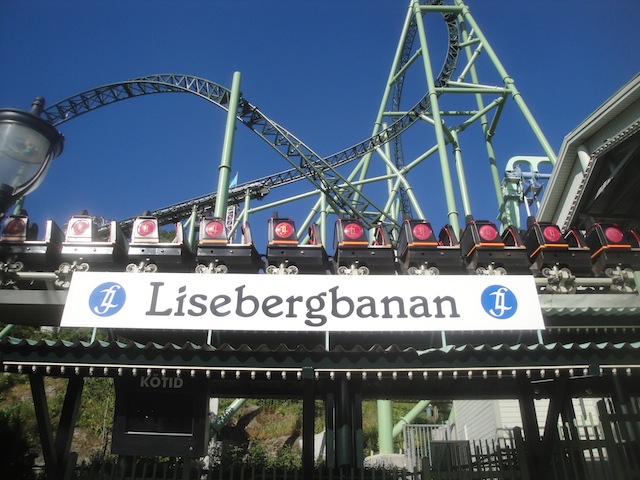 Kiddy Coasters
Rabalder Review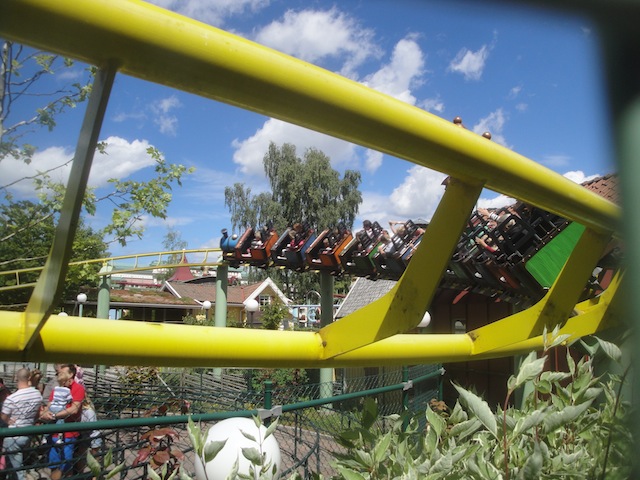 Stampbanan Review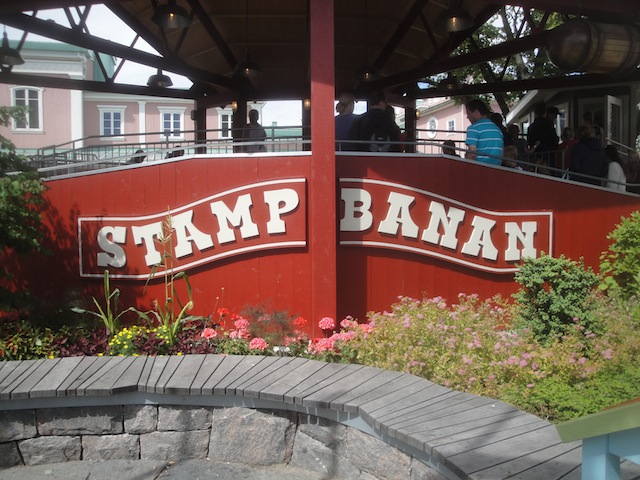 Past Coasters
Kanonen Review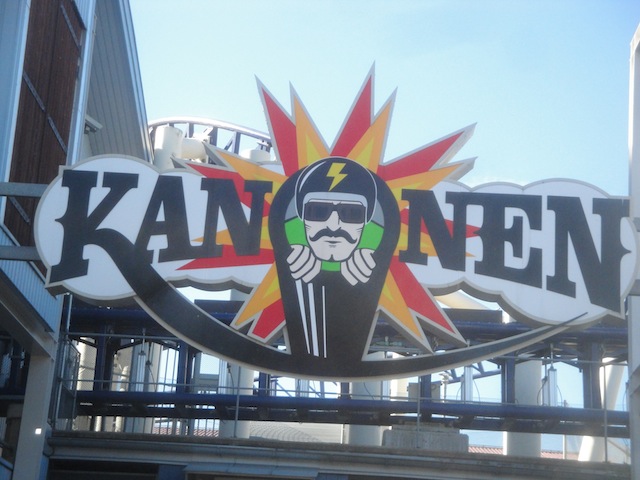 Flat Rides
Here are the reviews of all the Flat Rides at Liseberg. All right. Let's start out with their drop tower. Atmosfear (Nice pun). Cause it's a lot of fun. It's basically one of their observation towers, except they decided to convert it into a drop tower. So yeah. They basically pulled the same trick that Heide Park did with Scream. And yeah. It's a really fun ride. Then there's also their Screamin Swing. It's a screaming swing. They're a lot of fun. And hey, this one has a nice setting right over the edge of the hill. They also have a Waltzer here. It's sort of like a tilt a whirl, but European. A lot of fun. And those are just the two flat rides I rode. There's plenty more. First off, they're adding a Giant Frisbee for 2017. That should be a lot of fun. Apparently, I just learned that they added some sort of Top Scan since my last visit. Those rides are freaking awesome! They have another one of those weird Sky Roller rides. I'm sure they're a lot of fun, but I couldn't get it to spin for the life of me. They also have a Space Shot, a Disk-O, a troika, some chairswings, teacups, some bumper cars, a carousel, two ferris wheels (one with an awesome view of Liseberg and Gothenburg in general), and a rocking tug. So yeah. Liseberg has a pretty good flat ride collection. =)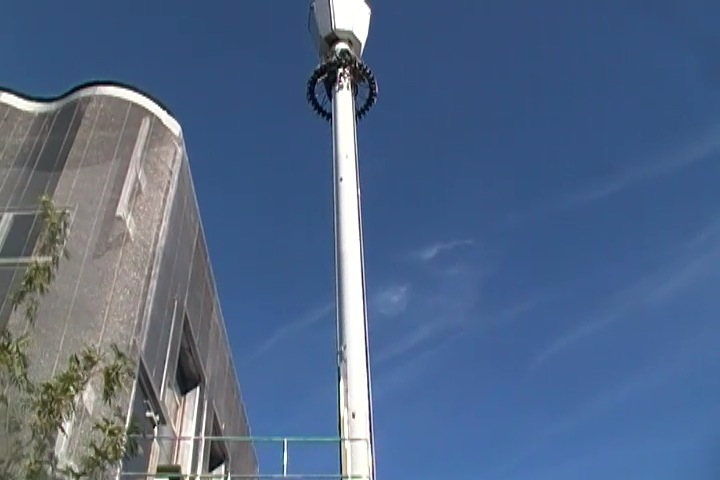 Your observation tower would work much better as a drop tower. ;)
Dark Rides
Here are the reviews of all the Dark Rides at Liseberg. Now there aren't exactly a whole lot of dark rides at Liseberg. Compared to other city European parks that Liseberg is often in the same league as, it's pretty tame in the dark ride collection. But that's not to say that they don't have a fun dark ride. They do have one fun dark ride for you to check out when visiting Liseberg. It's a fairy tale dark ride. So you get in these boats and fly in the sky (so it's very reminiscint of Peter Pan), and you then get to see a bunch of fairy tales (including Peter Pan). Yeah, it's not the best dark ride ever, but you know what. It works. It's a fun little dark ride worth a ride if there's not a long line.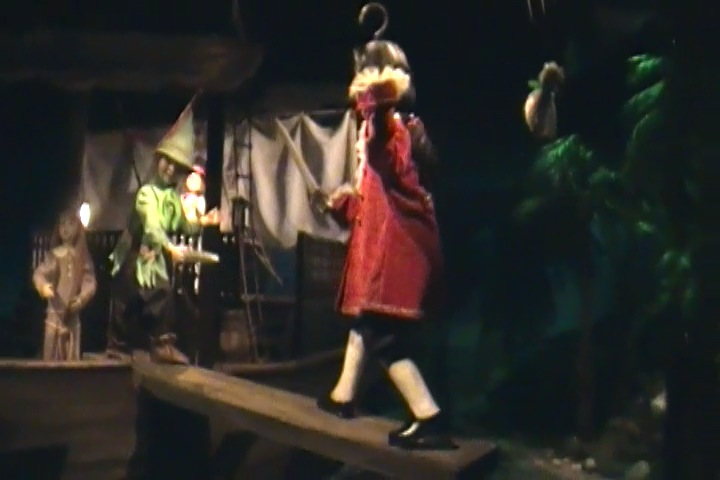 "Argh! How dare you dislike Balder! For that, you shall walk the plank Captain Hook!"
Water Rides
Liseberg has a decent water ride collection. Now none of the water rides here are Top 10 worthy. You're not going to find any of the water rides from Liseberg on our Top 10 Water Rides List. But they are fun. For instance, let's take a look at their log flume. Flume Ride. It's definetly one of the better log flumes with it being built into the hillside, and having a double drop ending. That's fun. And then they have a rapids ride. I never actually rode it, but what I did notice is just how many boats they send out on it. Seriously. This thing just spits out boats like mad. I really liked the log flume, so I'm assuming that their rapids ride is good as well.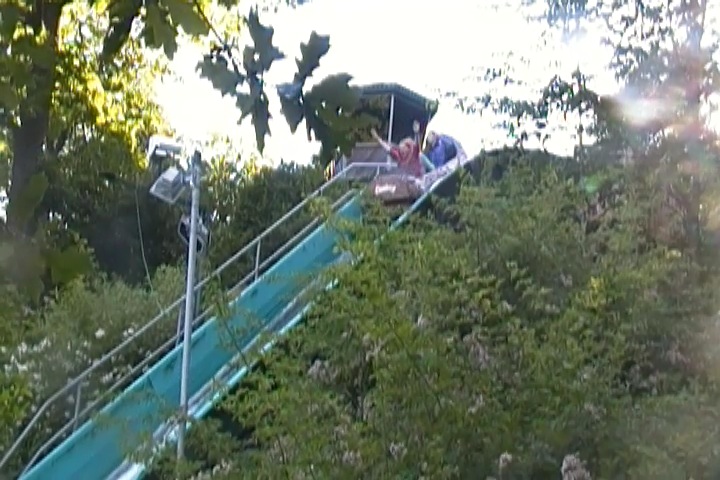 Double drop on the hill always makes your log ride better.
Dining
Here are the reviews of all the resteraunts at Liseberg. I forget exactly where in Liseberg I ate. What I do know is that it was pretty good food. The burgers they served were pretty decent. OK, they weren't the best burgers ever. But they were pretty good and definetly better than the average theme park burger. I'm not sure if all the burgers in Liseberg are like this, or if it was just a special burger for our visit. They also served us chocolate moose, and that was also really good. Seriously, it was very good and I'd recommend it if it's avaliable just within the park. And apparently, according to the park website, they have plenty of other dining options to choose from. Aside from gourmet burgers (which is what I'm assuming is what I had), they also have a seafood resteraunt that claims to sell the stuff that live off the shores of Sweden and then they also some vegetarian reasteraunt if you're a vegetarian and are unable to eat meat. Considering how the burger was really good, I have high expectations for the rest of the food at Liseberg.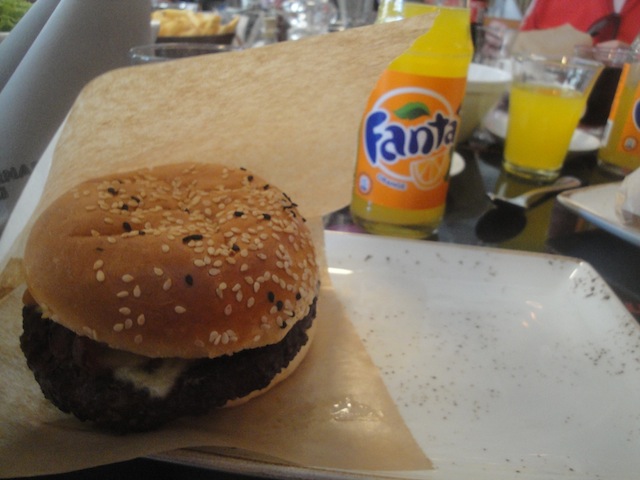 "I must say. That burger is quite fancy."
Theming and Other Attractions
Here are the reviews of all the other stuff at Liseberg. OK, as far as theming goes, there is none at Liseberg. At least nothing that really takes you into another land. Liseberg is very much, an amusement park. It doesn't take you to any places. It just showcases all the rides that the park has to offer. But the park does have a fantastic setting. It's a city park, which means that the park is nestled right in the heart of Gothenburg, which is a pretty nice city. But it's understandable why many people wouldn't be impressed when similar city parks are smack dab in the middle of cities such as Copenhagen, Stockholm, or Helsinki. And all of those are better cities, and hence, are much better park settings. Now as far as other stuff is concerned, Liseberg doesn't have quite as much as some of the other European parks, but it still has some stuff. For one thing, it's also quite well known for its gardens. I did not know that when visiting the park, but yeah. Liseberg has some really good gardens. So that'll satisfy the flower lover inside of you. The other main attraction they have that isn't a ride would be their year round haunted walk through. These things are much more common in Europe and it was a pretty good haunt. Finally, they have a mirror maze. Nothing special, but hey. Mirror Mazes are in fact, fun attractions. I'm sure there's more random fun stuff to do at Liseberg, but that's all I found for now.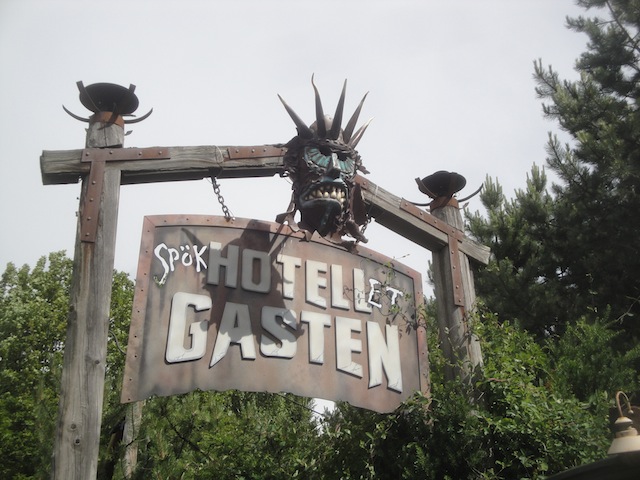 Make sure you do the year round haunt maze. You never know who might be a scare actor here. >=)
In Conclusion
Liseberg is just an all around fantastic park. It's easily one of my favorite parks in Europe and definetly up there as one of the best parks that I've been to. And from a roller coaster enthusiasts perspective. Yeah. It's pretty easy to see why. It has one of the best wooden coasters on the planet, a fantastic coaster with a ton of variety, a great Schwarzkoph, and they're building a B&M Dive Machine for next year. That is seriously an impressive coaster line up. But it's not just the coasters that make Liseberg so good. It's just got this fantastic balance. It has a really good flat ride collection, a fun dark ride, some good water rides, some other fun stuff, good food, a nice setting in the heart of Gothenburg, and some of the coolest park staff ever. No really, these people are awesome and they treated us wonderfully. It's because of all that that you're going to see Liseberg on our Top 10 Theme Parks List. There's just so much for you to do here. Sure, it could be improved with perhaps a better dark ride and a couple more things, but hey. That's just more stuff for them to add. So if you're ever in Gothenburg, I very highly recommend taking a visit to Liseberg. Not only are some of the coasters just the absolute best, but the park itself is just great and you'll have an awesome time.

Enthusiast FAQs.

*Are there kiddy coaster restrictions? - No. There are no restrictions on either of the kiddy coasters.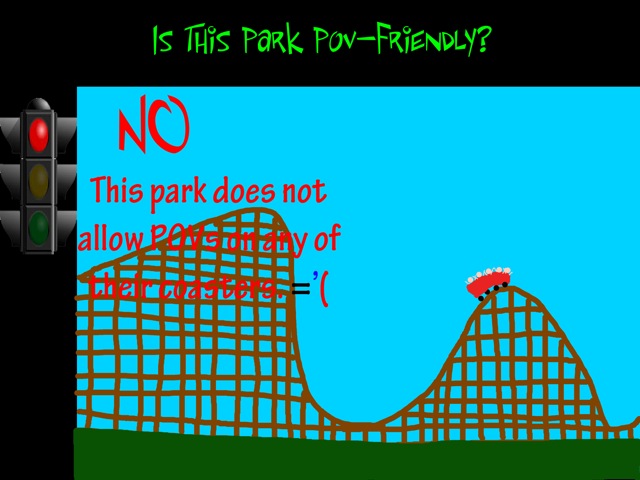 Tips
*Get plenty of rides on Balder and Helix

*The main reason I have POV shots of the coasters is because I was there for a special event. The park is not POV friendly in normal operating hours.

*Check out all the other fun stuff at Liseberg. Don't just treat it as a credit whoring stop.

*No seriously. Marathon Balder. It's one of the best wooden coasters ever.

*Have Fun!!!

Theme Park Category:

Theme Park

Location

Gothenburg, Gothenburg, Sweden

Last Day Visited

June 22, 2014

Video

Complete Update List

2014

TPR's Scandinavia Trip

Here's a link to the parks website.

Home