East Coast Trip 2021
Lake Compounce Six Flags New England New York City American Dream Coney Island Six Flags Great Adventure
Casino Pier & Playland's Castaway Cove
Dorney Park
Cedar Point
Kings Island
Columbus Zoo & Waldameer
Kennywood
Idlewild & Lakemont Park
Hersheypark
Knoebels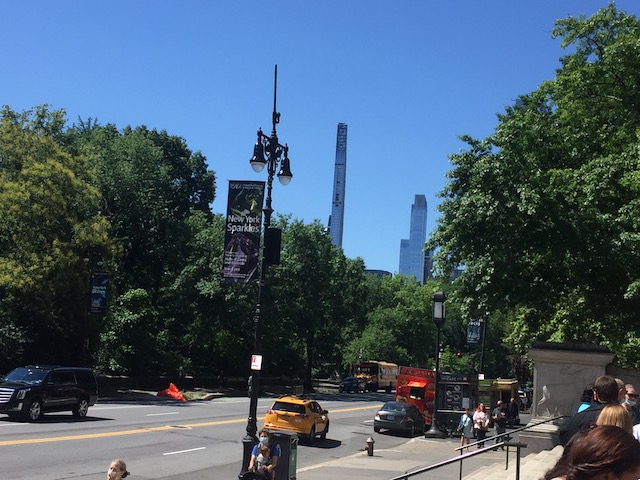 All right. Today is our Coney Island day in New York City. But that's not until the afternoon. So we've gotta come up with something fun to do in the morning.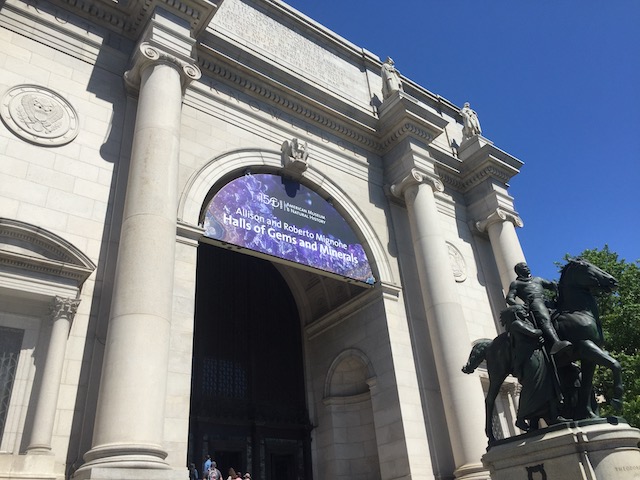 So while Scott & Steve checked out the Museum of Modern Art, AJ & I decided to do the Natural History Museum.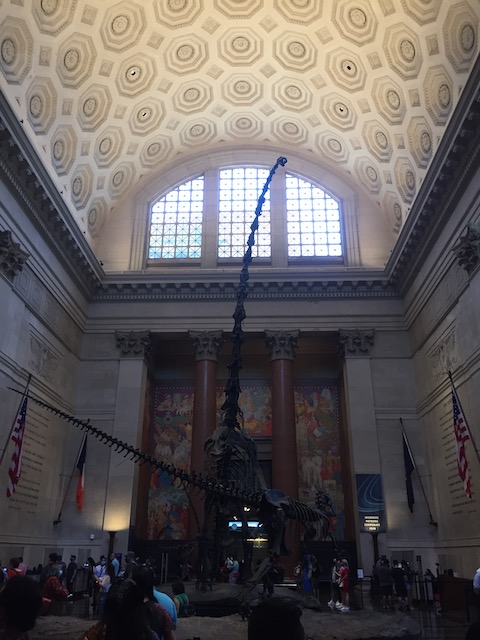 This place has been around so long that literal dinosaurs were able to attend. Clearly, they never found the exit. >=)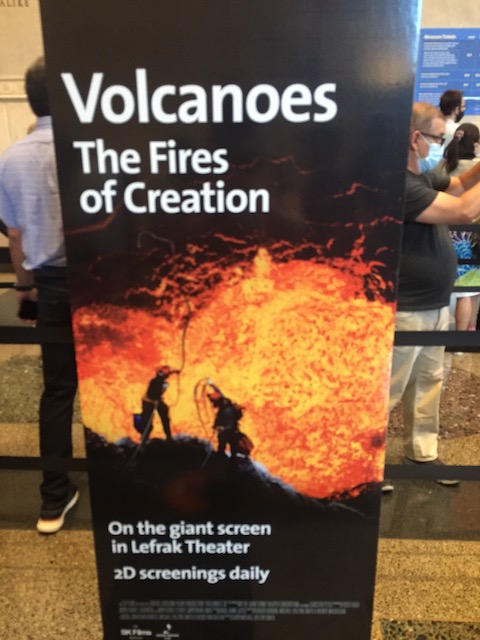 The Six Flags lesson of "Fire makes everything better" is so successful that even nature is stealing it from them.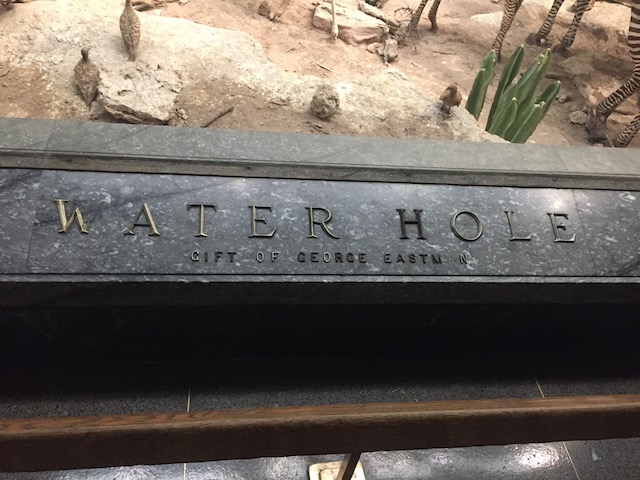 So we've done museums on trips many different times, including earlier this trip. But hey is a museum I'm really loking foreward to exploring.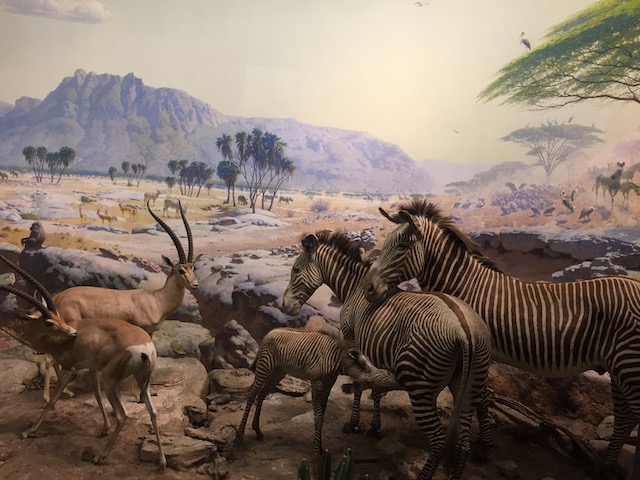 "Shouldn't you guys be in the gorge stampeding with the rest of the wildebeest?"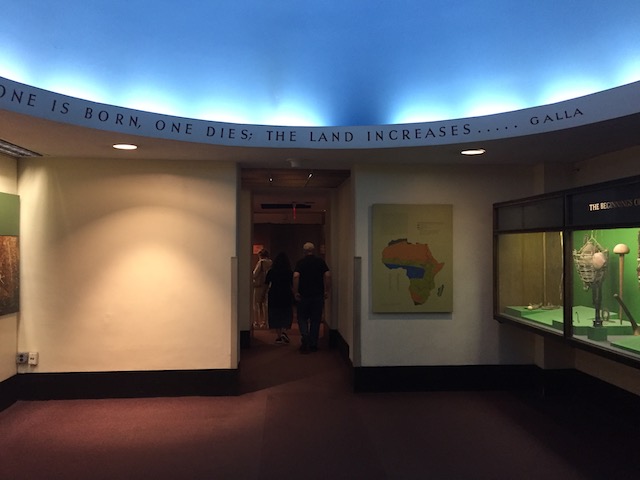 This is something that really appeals to my nerdy side. There are going to be a lot of photos from here. Just a fair warning for those of you wanting to just go straight to the Coney Island part of the update.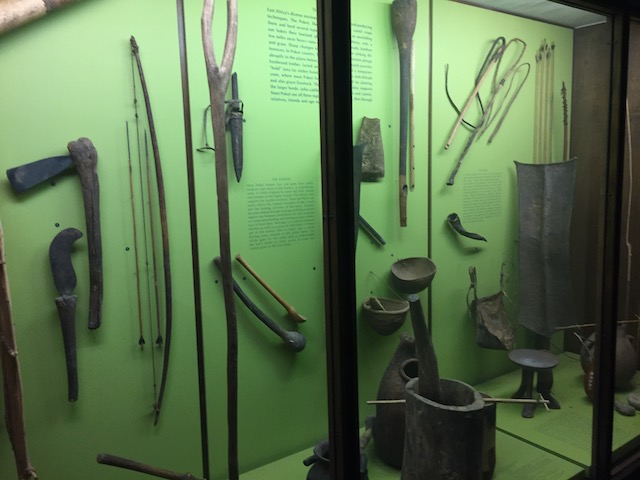 Many of the tools used by Native Africans. How many of these can be used as a weapon?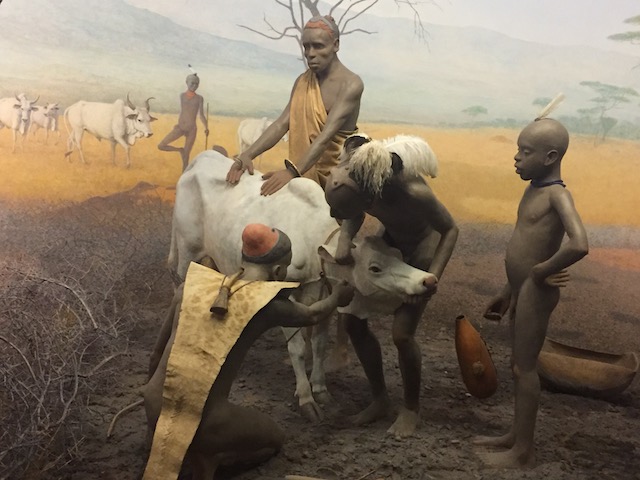 That cow is not fat enough. Keep feeding him so that there'll be enough steak for everyone.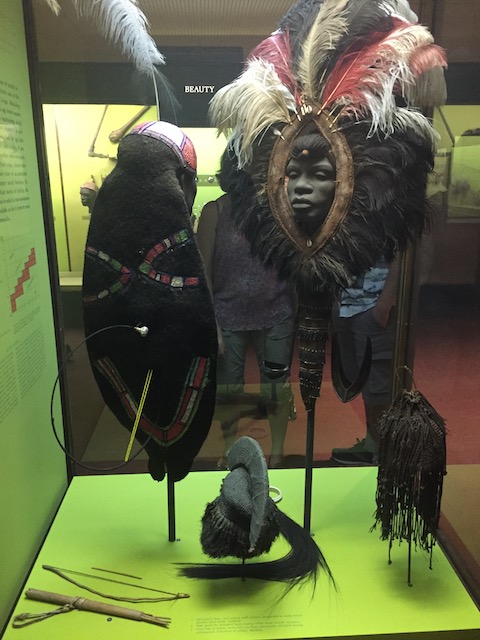 Some more cultural artifacts from this tribe in Africa.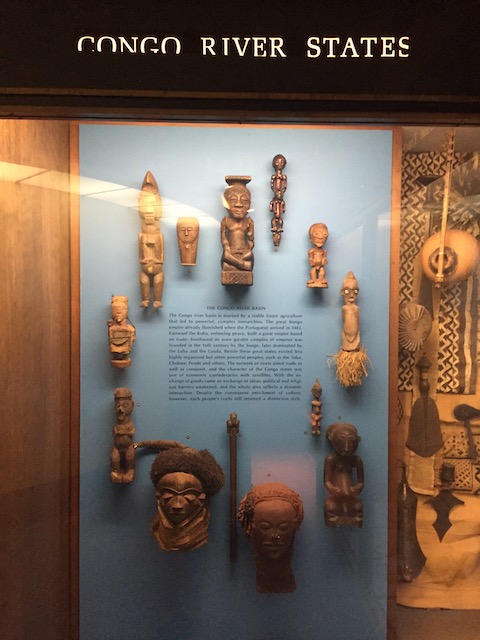 Forget the old stereotypes from the Jungle Cruise. This is where the real information is! =P (Seriously though, the natives on Jungle Cruise that I think are gone now, genuinely are problematic lol)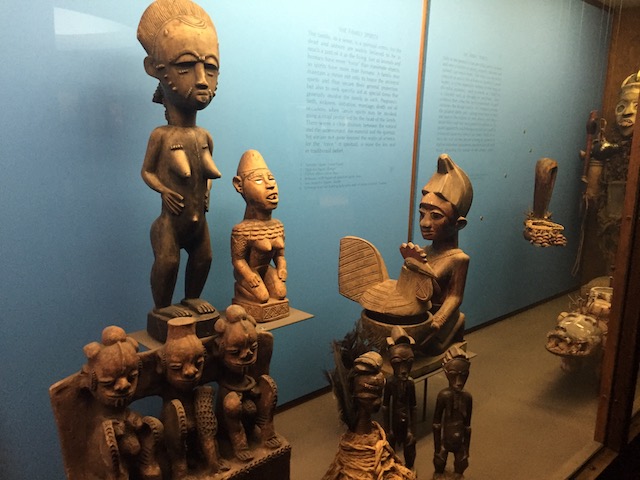 Holy Crap! These people have spiked tits! That can't be comfortable!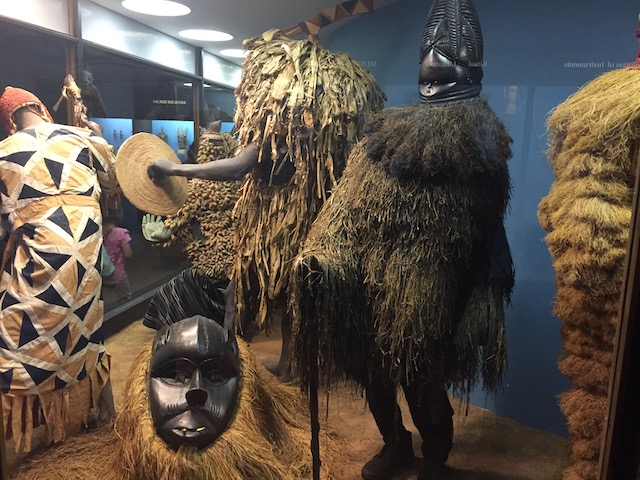 I know it may not seem like it thanks to the amount of stupid jokes I've written as captions (I want this site to be fun and silly. Not serious and drab), but I genuinely enjoyed learning about all this and seeing all of the exhibits (as demonstrated by the sheer number of photos).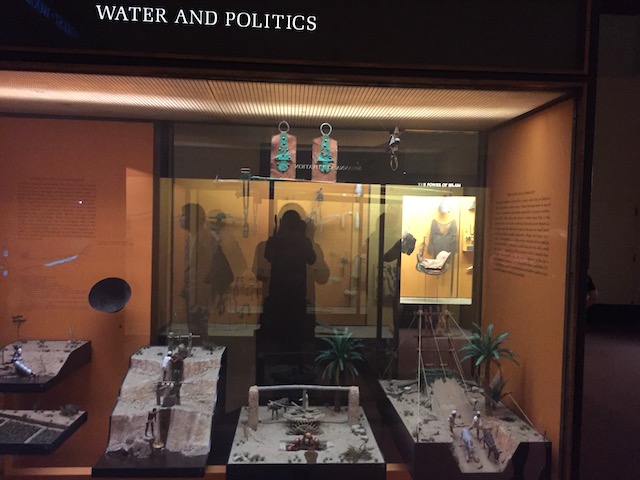 Wars over water coming soon.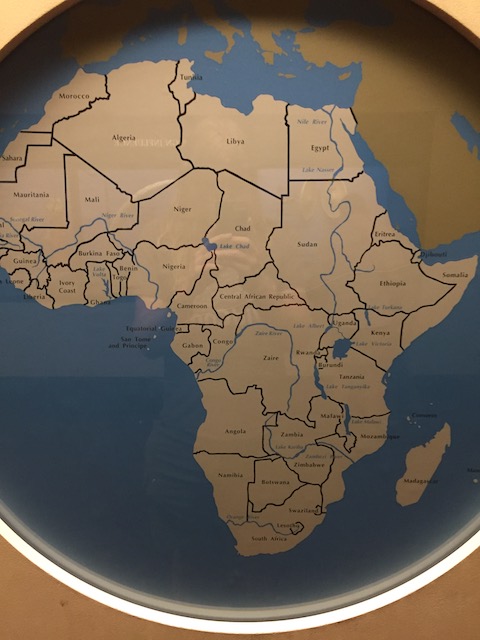 Just a quick reminder that Africa is f*cking big.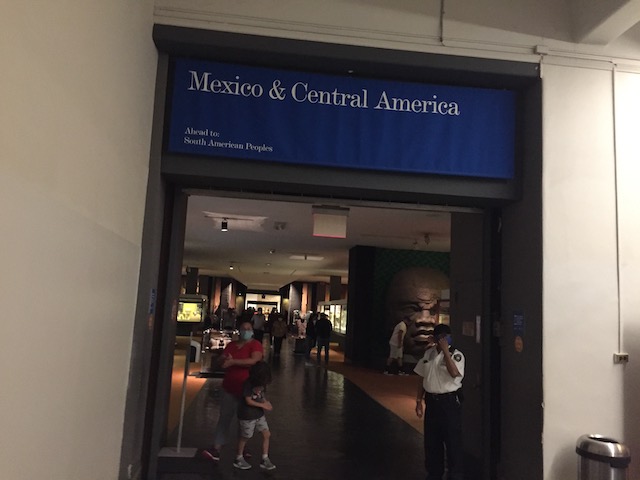 OK. That's enough Africa. Time to move onto Mexico & Central America.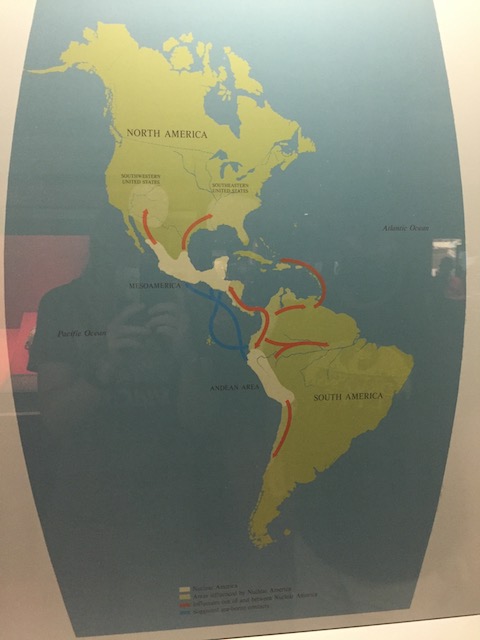 Showing off the migration patterns into North and South America.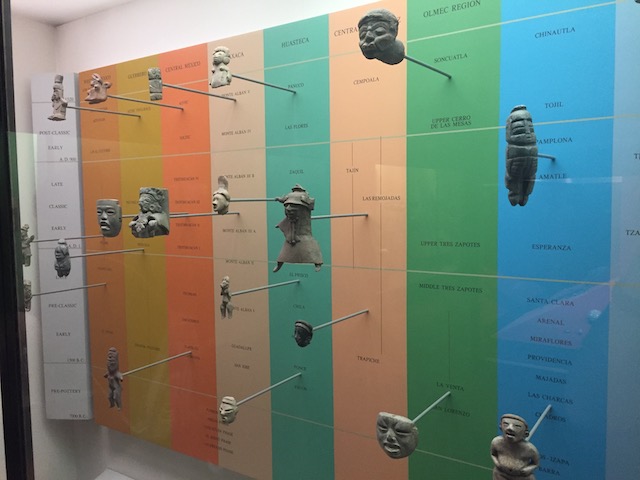 Each piece of artwork relating to which tribe it came from.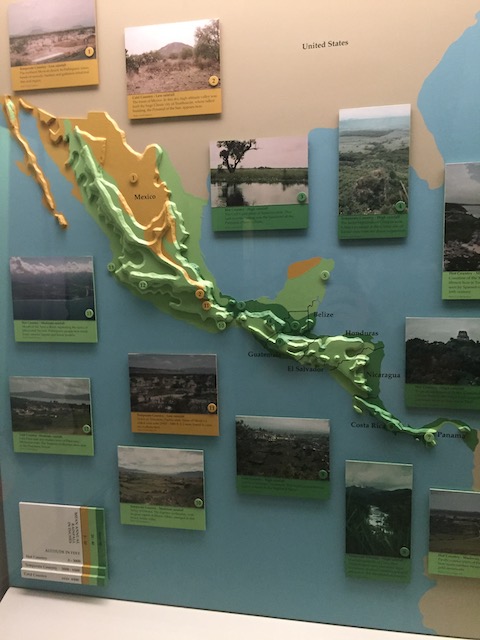 Here's a map showing off the migration patterns of the Indians into Mexico & Latin America.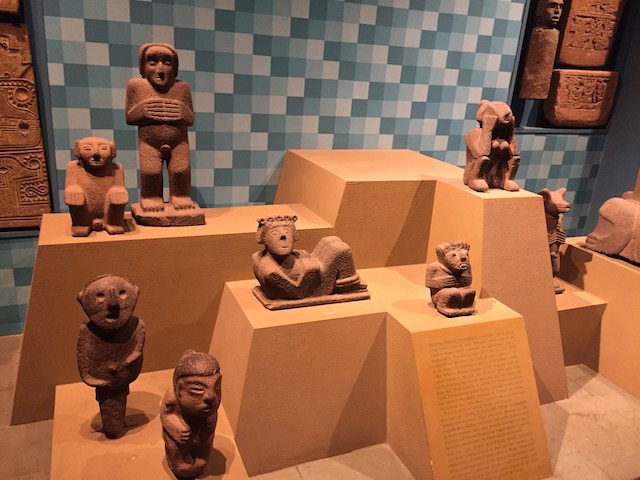 What do you mean I can't take the artifacts back home with me!? Ugh. Fine. I don't have storage room for them anyways.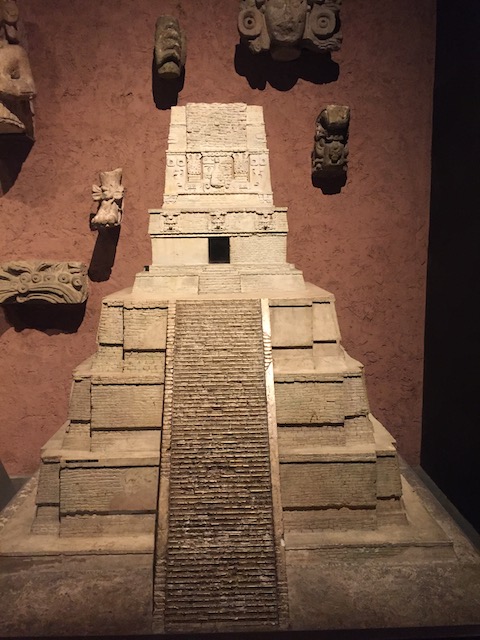 Tell me. Are these pyramids also the result of aliens, or is that just an Egyptian thing?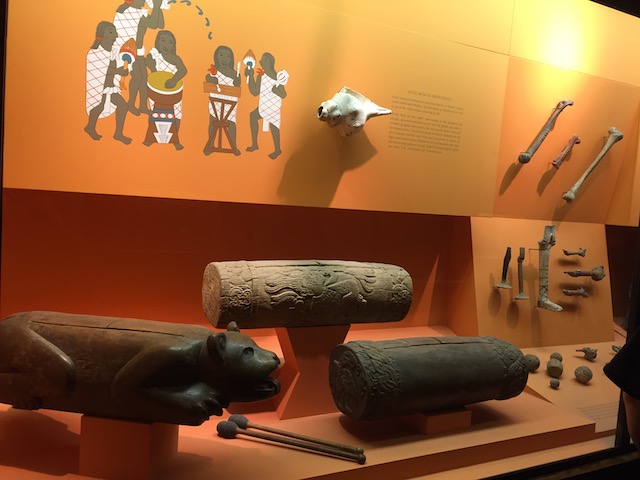 Do you offer music lessons on how to play Indian Flute?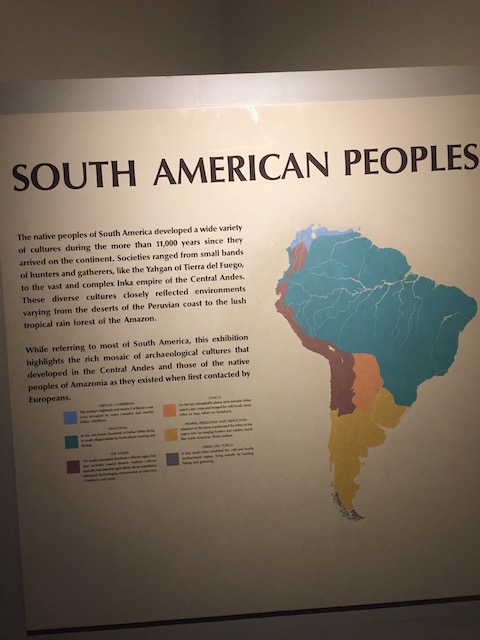 From Mexico and Central America, we have now moved onto South America.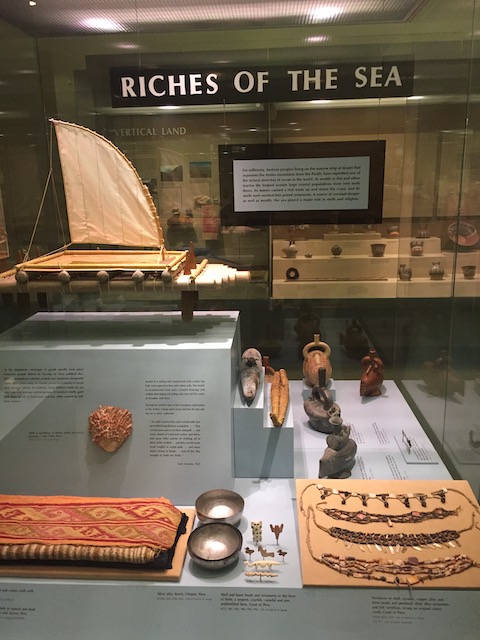 Can I quit my job and just hunt for treasure in the sea?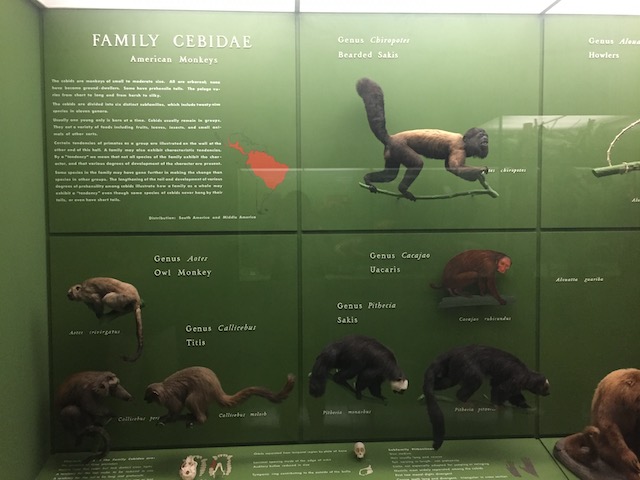 Ooh! Check out the human with the big fluffy tail.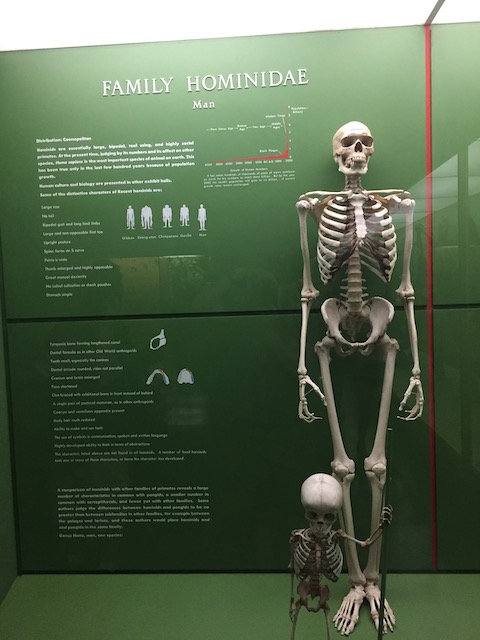 More unfortunate tourists who never found the exit. >=)
Moving onto the Eastern Woodlands Indians.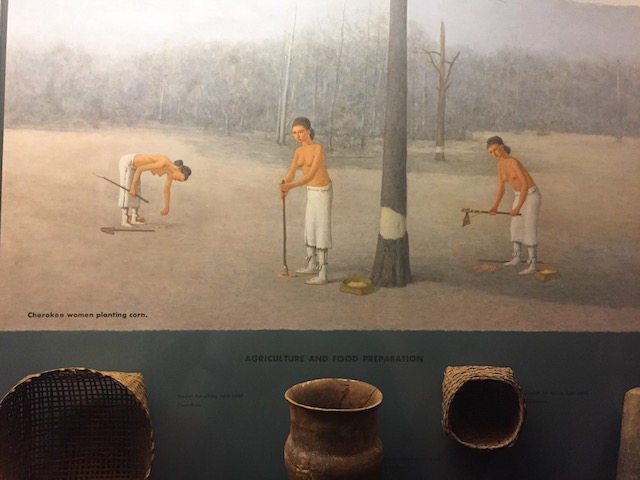 Is farming really that simple?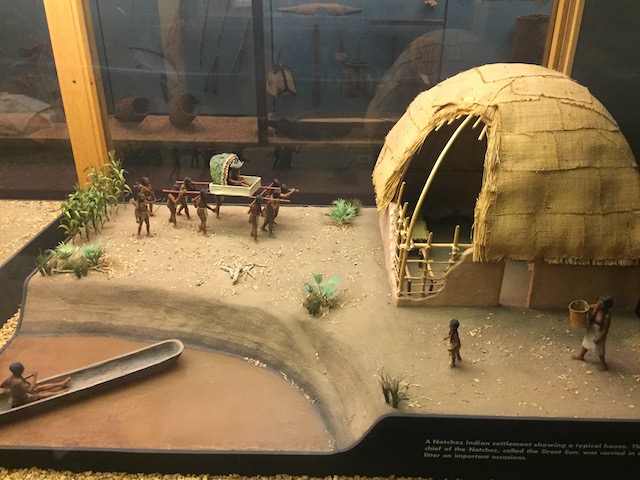 I've seen huts like that before in Williamsburg.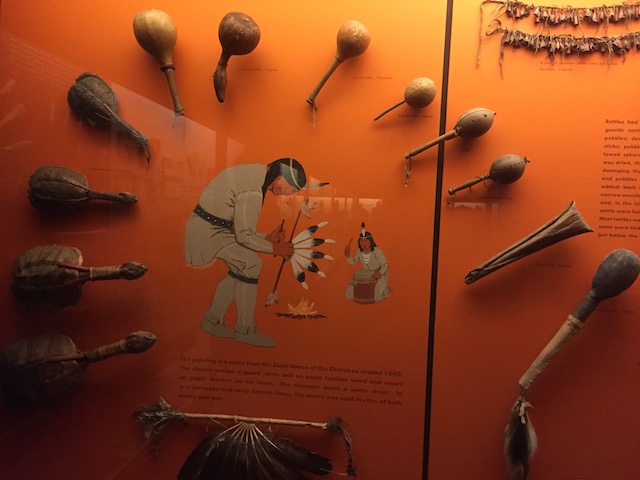 Hey! I've got some good stuff for you to put in your pipes and smoke.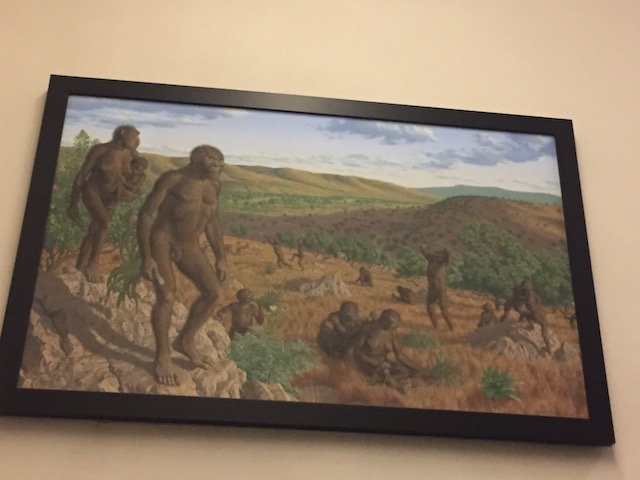 Ahh! Evolution! Censor it!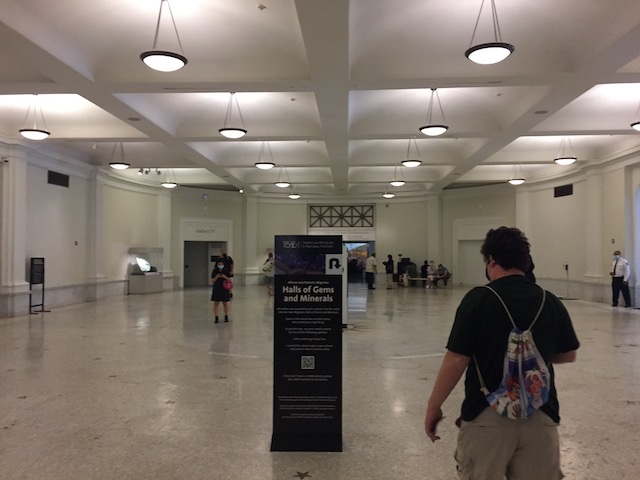 Moving onto the next exhibit. We now move on from people and different cultures, to learning about rocks.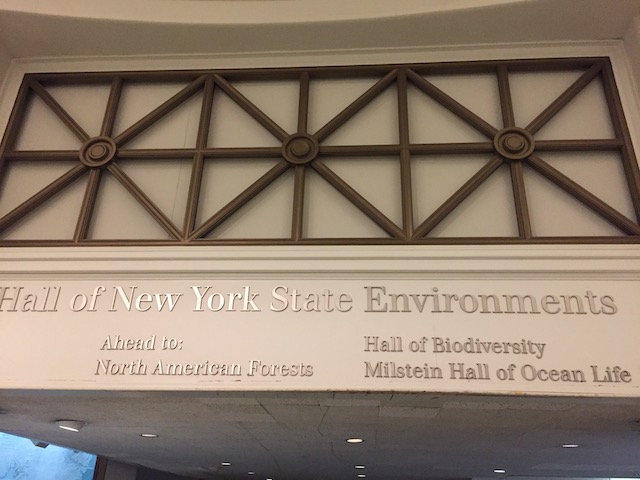 Just kidding. We're actually learning about different environments.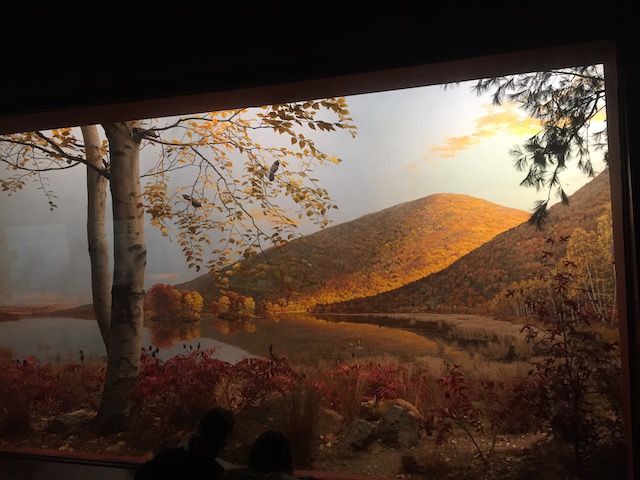 Hmm. Not sure which place that is, but it does look really nice.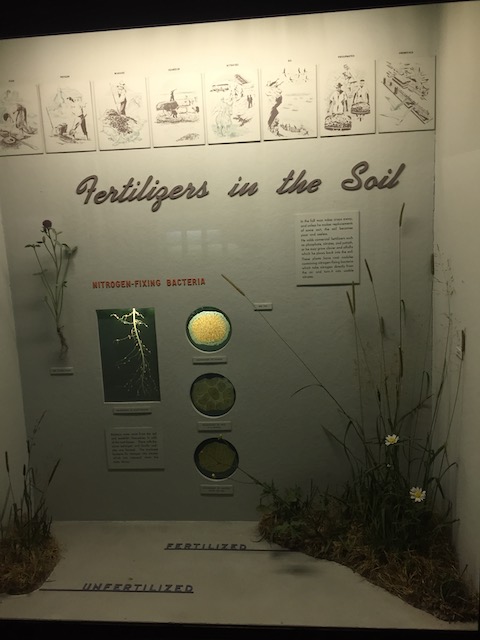 The soil here is good. Unlike all that filthy foreign soil. >=(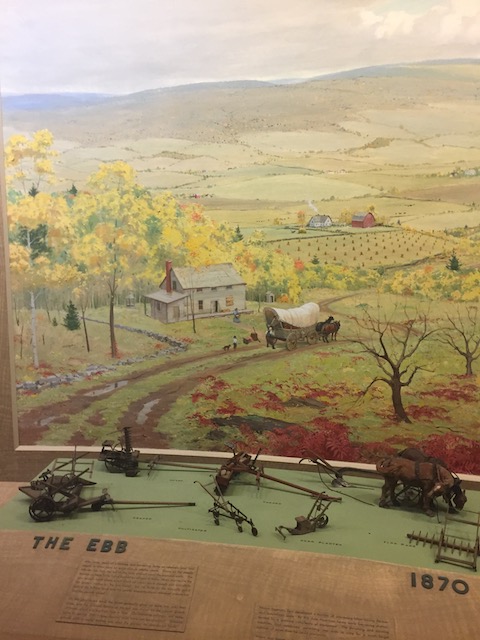 Just in case you don't know how people lived back in the past.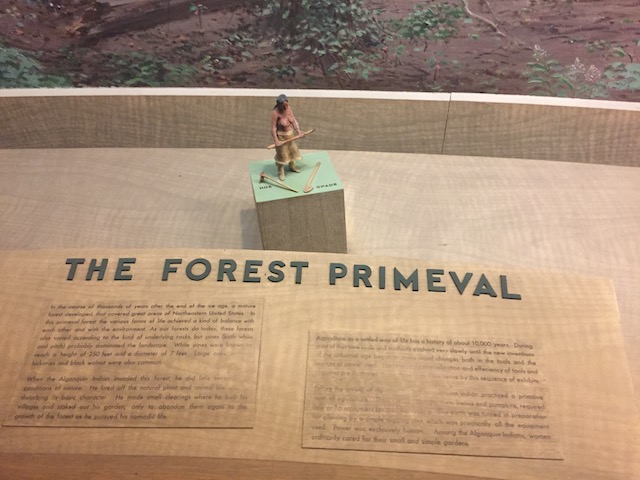 The Forest Primeval, despite the name, is not primitive.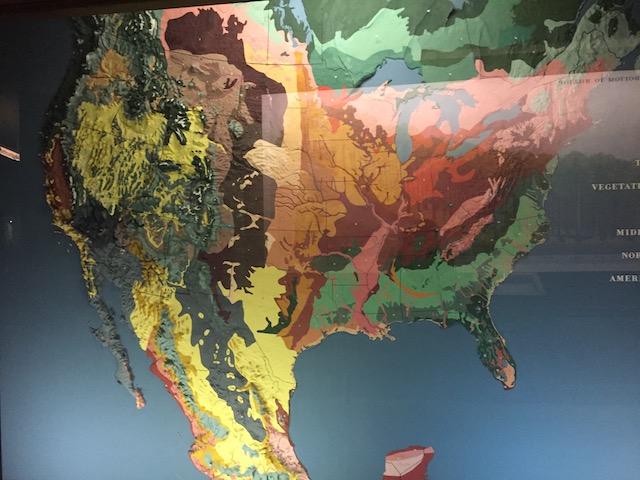 America as defined by geography.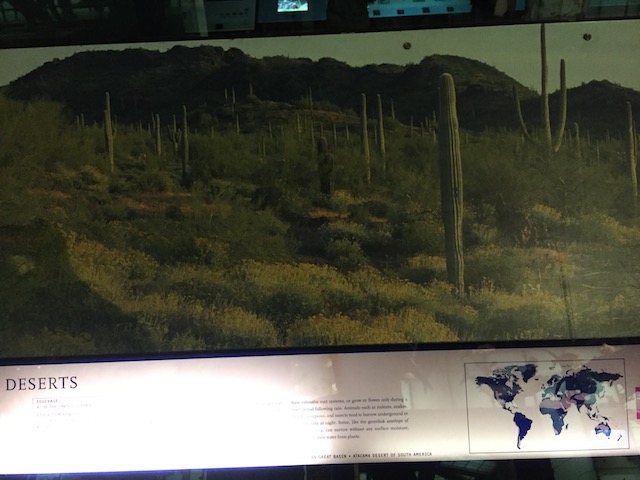 Hello Arizona. How's it going?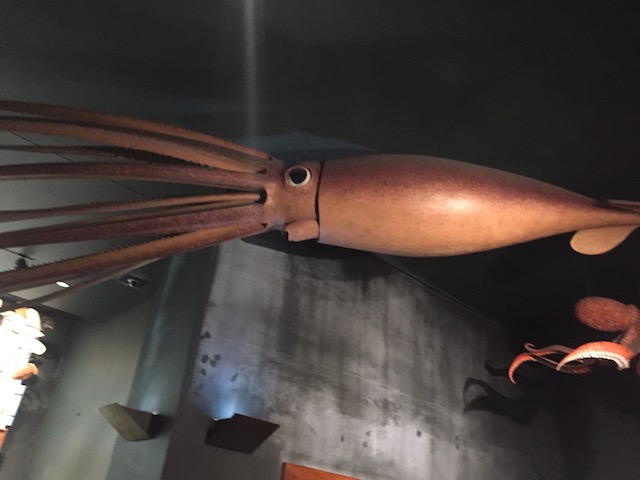 I guess we've moved onto Marine Life now with the giant squid now in the room.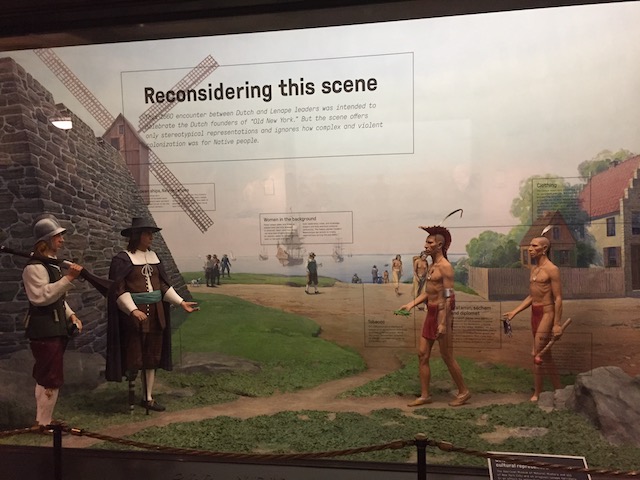 Just to tell you boys and girls. The American Tales you were taught in Elementary School are all lies.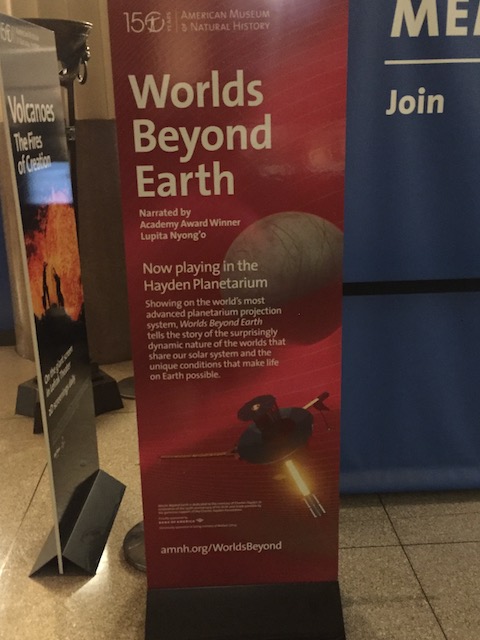 And now we've moved beyond Earth into the Astronomy section. But for as much as my nerdy side is enjoying this, we've got an amusement park to go to. So, farewell for now Natural History Museum.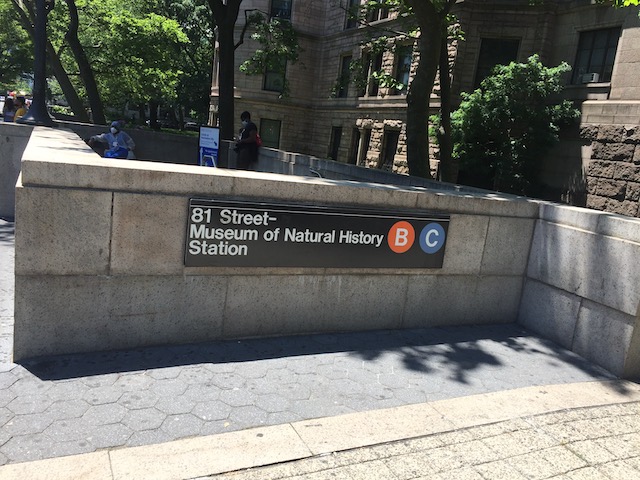 The museum is so big it has its own Subway Stop.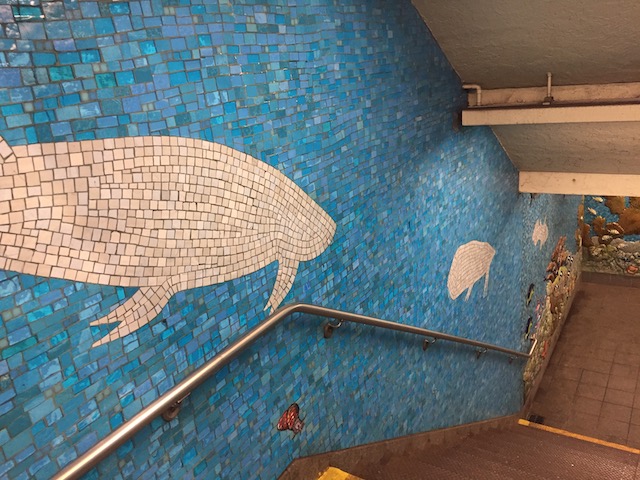 Is it me or does this seem eeriely similar to the Hakkeijima Train Station's art work?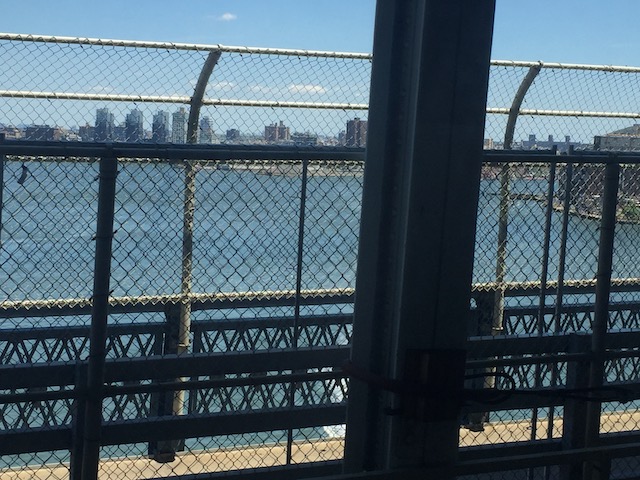 Not sure which bridge we're crossing, but it might be famous.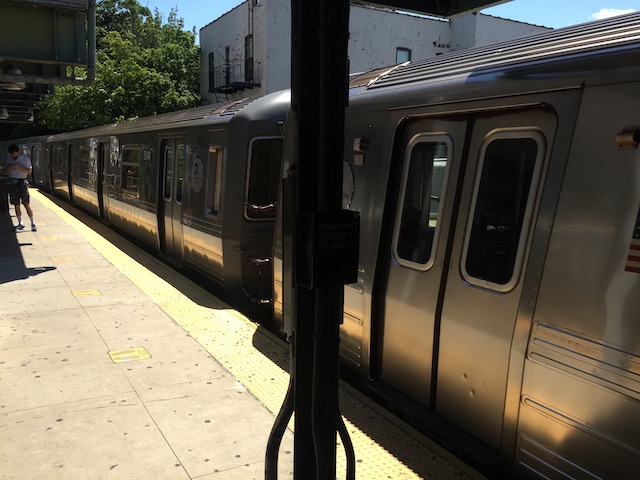 Envy my useable public transportation California. *evil laugh* (Please don't point out Japan).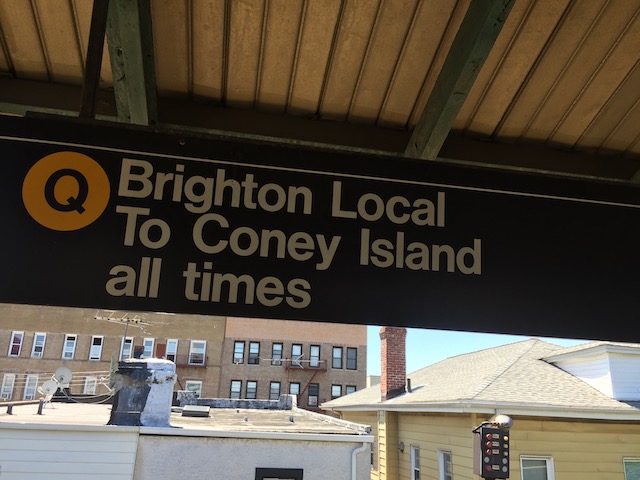 Tell me again. Where are we getting off?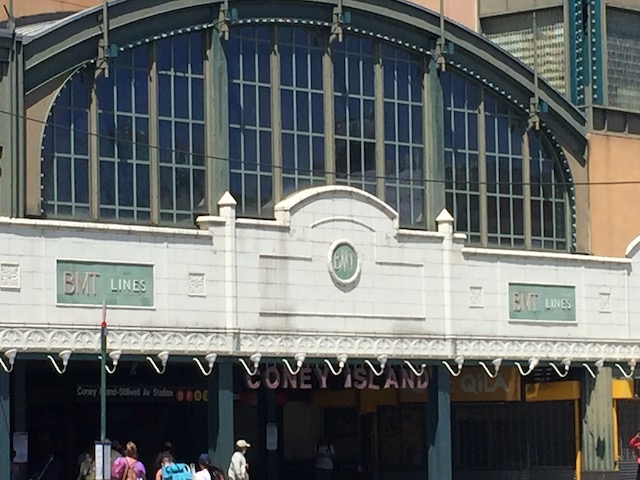 Hmm. The Subway Station here is actually nice.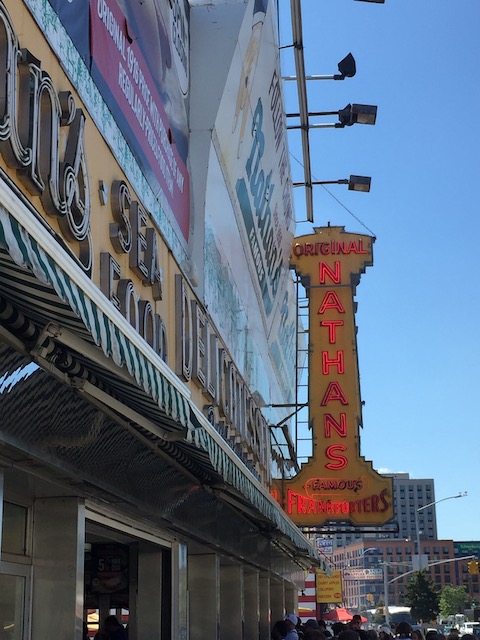 All right. I think I know what we're doing for lunch.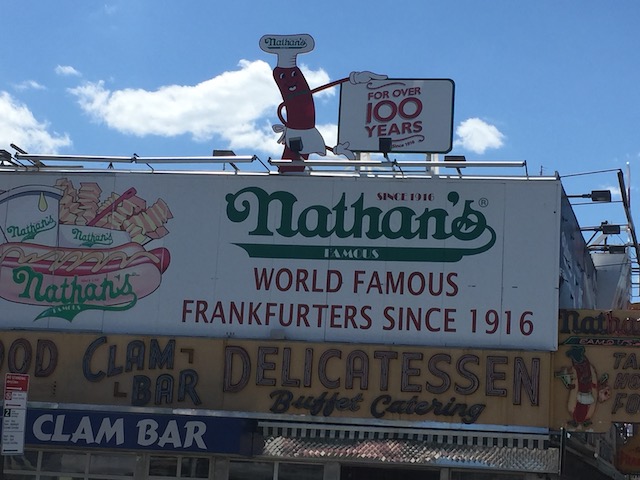 So I've had A LOT more Hot Dogs since my last visit here. And since I had Pinks Hot Dogs just 7 months ago, it'd be a good oppertunity to compare the two and see which Hot Dog place is better.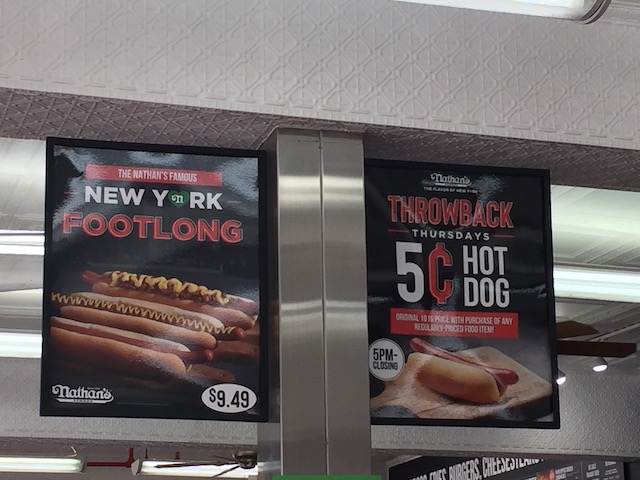 I'm sorry New Yorkers, but Pinks Hot Dogs is better #SorryNotSorry.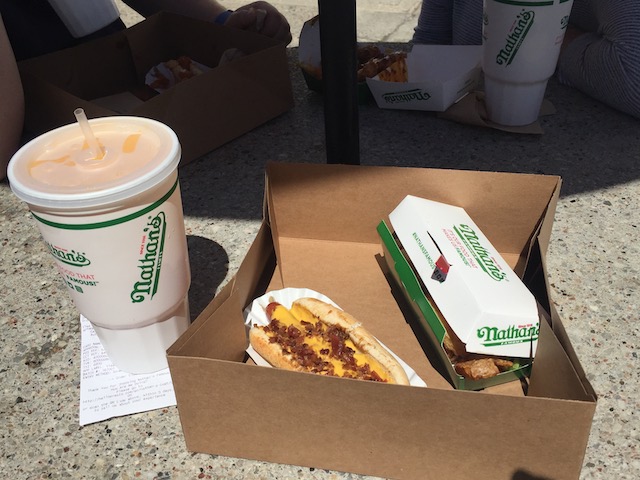 Nathan's Hot Dogs definately seemed....crisper. They had more of a crunch, whereas Pinks seemed thicker. And maybe that's why others will claim Nathan's is better, which...fair enough. But regardless, both are super good hot dog places (And the original versions of both are superior to the clone stands of both),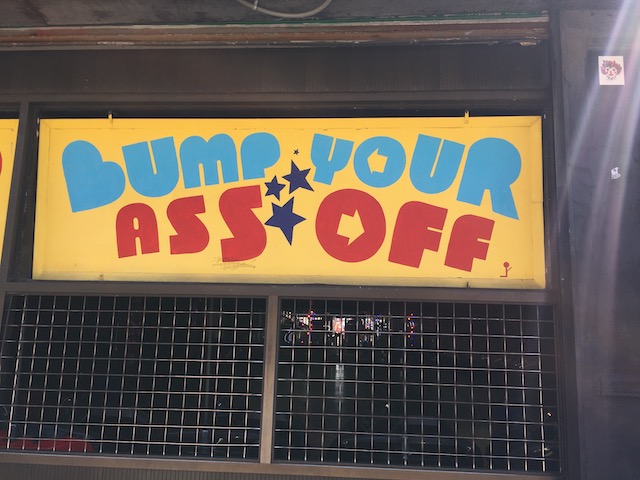 Unfortunately, there was no ass-bumping today. Sorry for the dissapointment.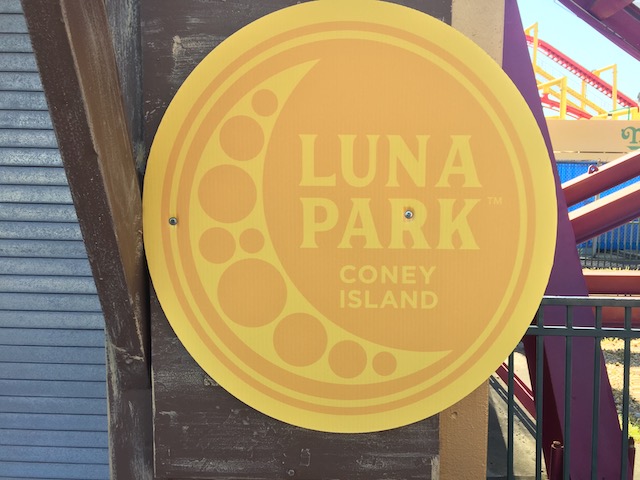 All right. That's enough culture and food. We're IncredibleCOASTERS. Time for some theme park action.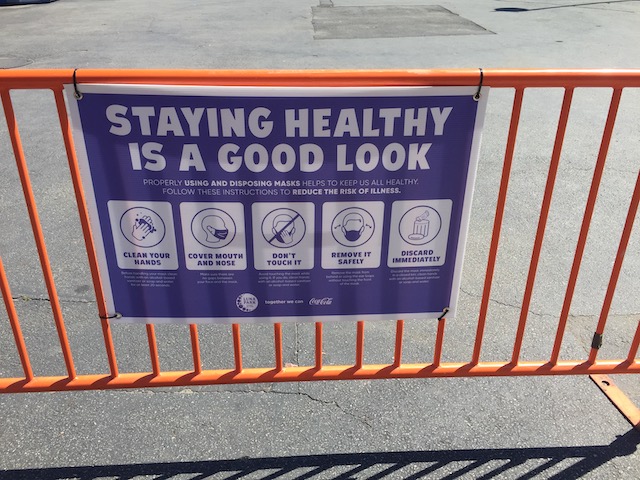 Yeah. While masks were optional at most parks, Coney Island was the one exception that had a mask requirement all throughout the park. Mildly annoying, but if it prevents the lockdown of 2020, I'll take it.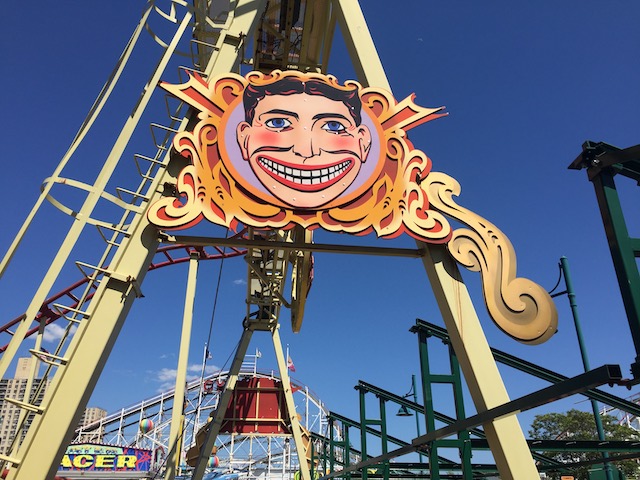 First coaster of the day, surprisingly, we're gonna go with Tickler.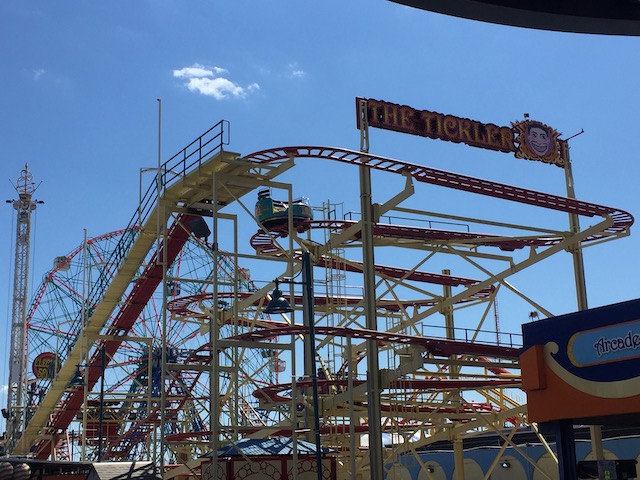 So this ride is unique for being the only Spinning Mouse that spins throughout the entire ride. That makes it stand out among all the other clones.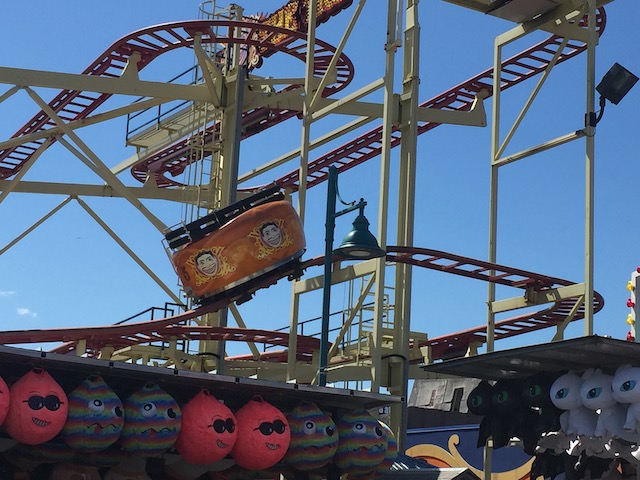 It may not spin the most, but it still is cool to have some spinning on the big drops.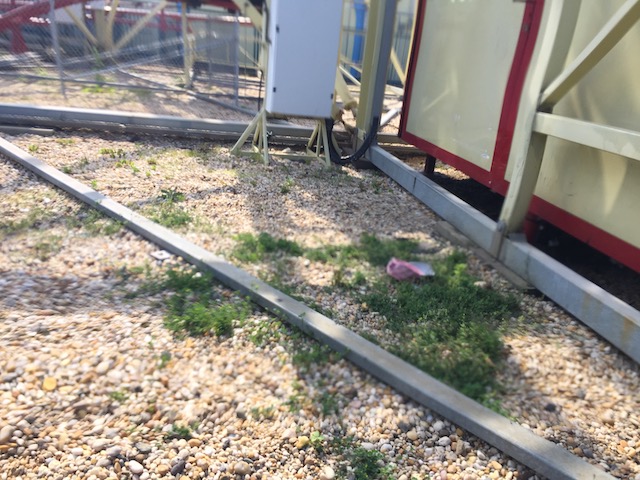 However, the trip is not without its tragedies, as Scott lost his Wonder Woman Hat on Tickler. R.I.P Scott's Hat.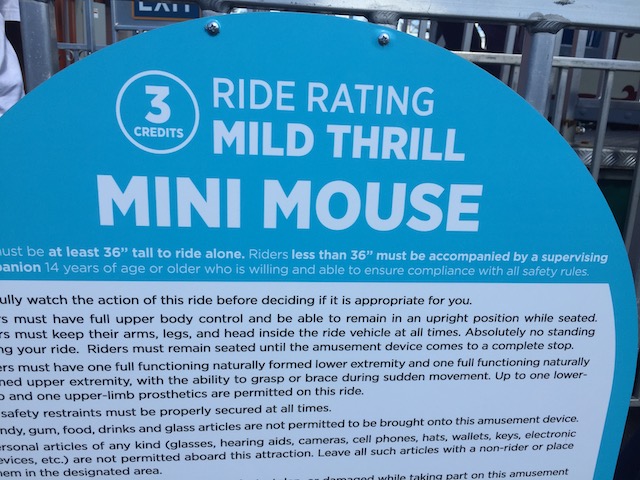 Hmm. This wasn't here last time. Is this a new credit?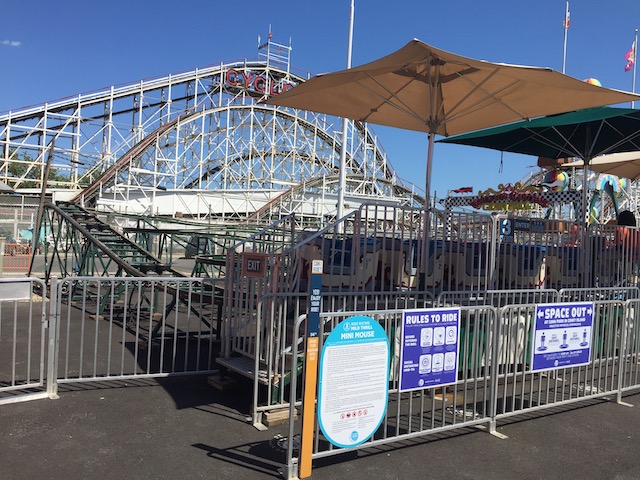 Nope. This was the Mini Mouse that was at Victoria Gardens. However, that place closed, and....I guess Coney Island decided to buy a new coaster on a discount. I personally don't care, but all you credit whores can rejoice at still being able to get the credit.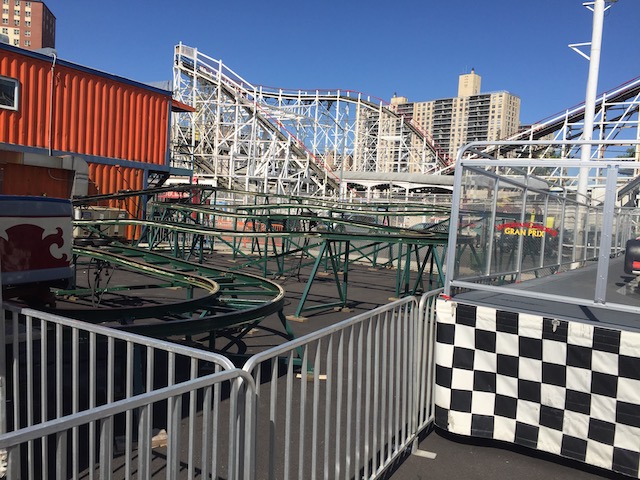 I have this credit. And yet....I'm riding. A F*CKING MINI-MOUSE!!! THESE THINGS ARE BARELY CREDITS TO BEGIN WITH AND EVEN BY KIDDY COASTER STANDARDS, ARE SH*T!!! WHY DID I BOTHER RIDING IT AGAIN!!!?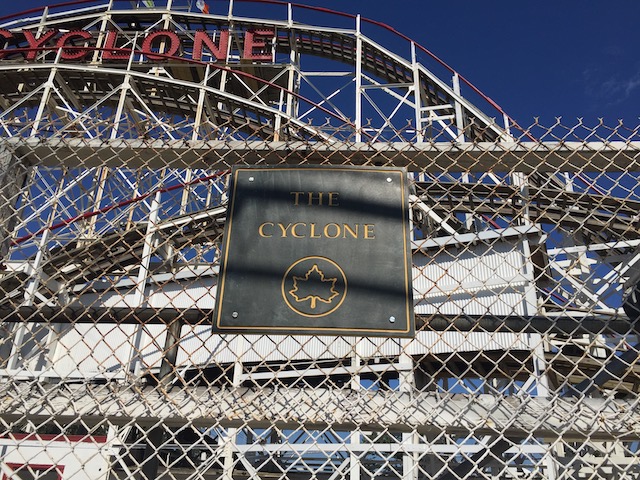 OK. We've f*cked around long enough. Time to get to the really good stuff.
Yeah. This isn't a coaster that is only famous for being old. It's still a really good ride.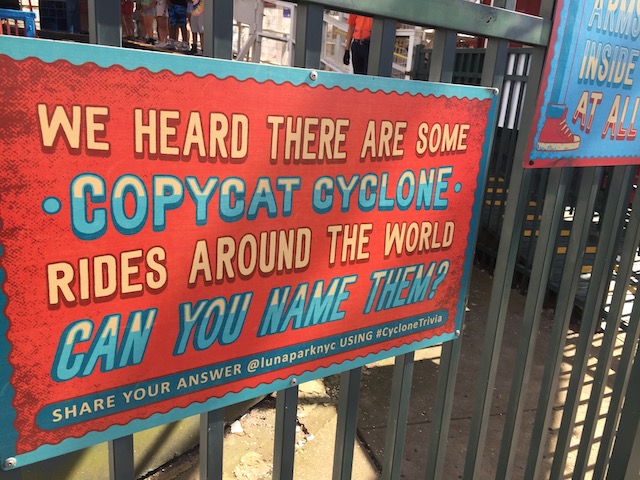 I think a better question would be "Can you name the Cyclone clones that are still standing to this day?".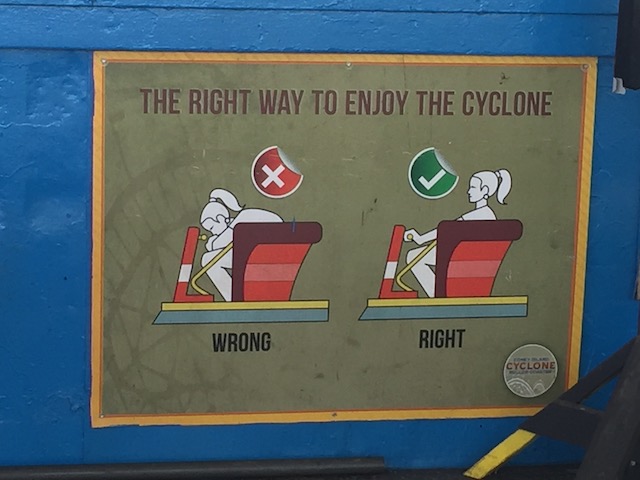 Hey you! No sleeping on the Coney Island Cyclone!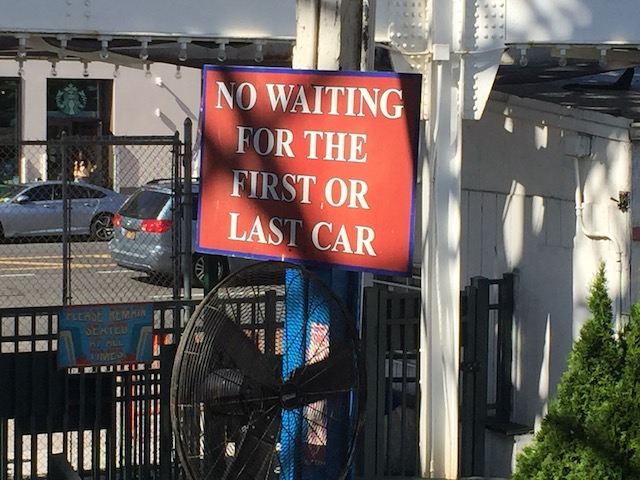 BOO!!! LAME!!!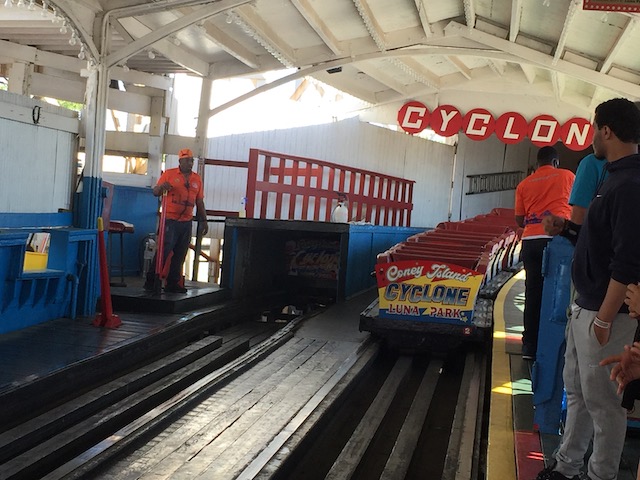 Come on guys. Time to get on one of the most famous coasters ever. Don't worry. That padding is just for comfort. It's not truly necesarry at all.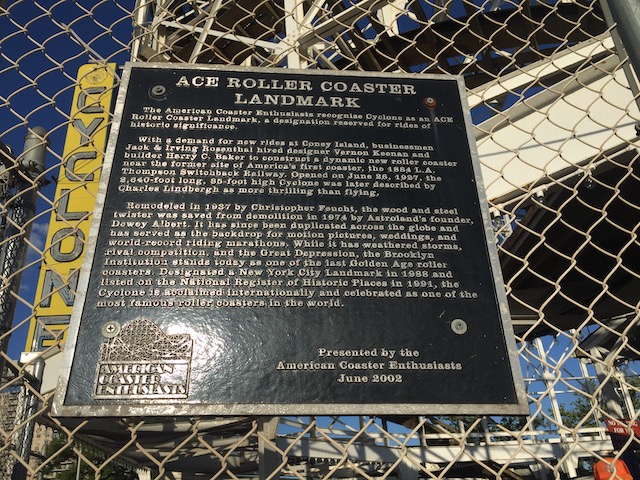 One of the most obvious candidates for this award.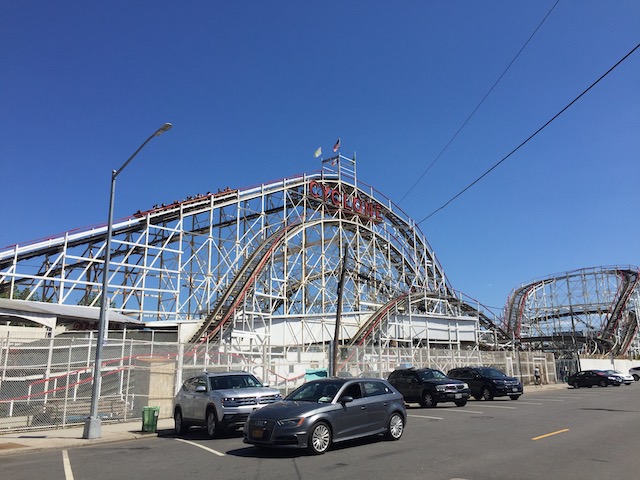 I know most of the clones (that have been torn down) have really bad reviews. But this original one is actually really good. Trust me!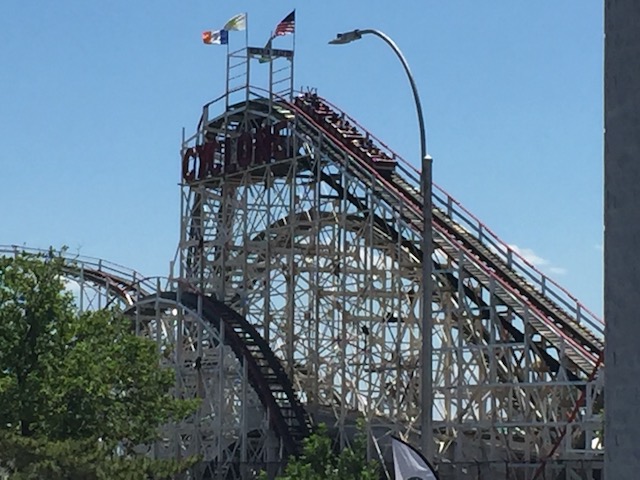 Yeah. This thing is rough. But in a good way. It sort of.....bounces. Plus, the cushioning really does help make it more enjoyable.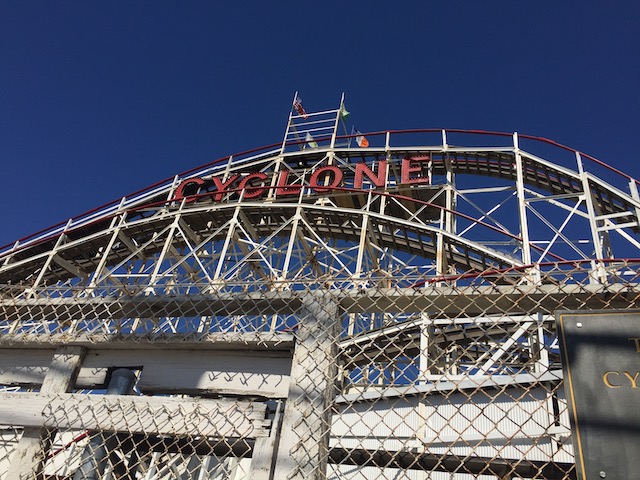 Yep. This thing still kicks ass.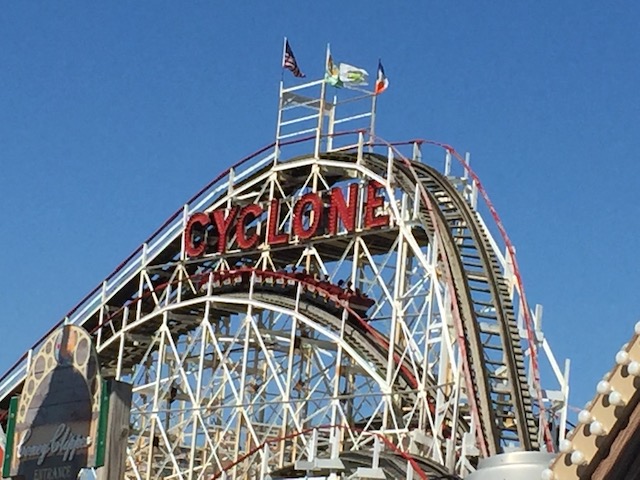 Still the star attraction of Coney Island, and something that you really should stop on and check out if you're in New York City.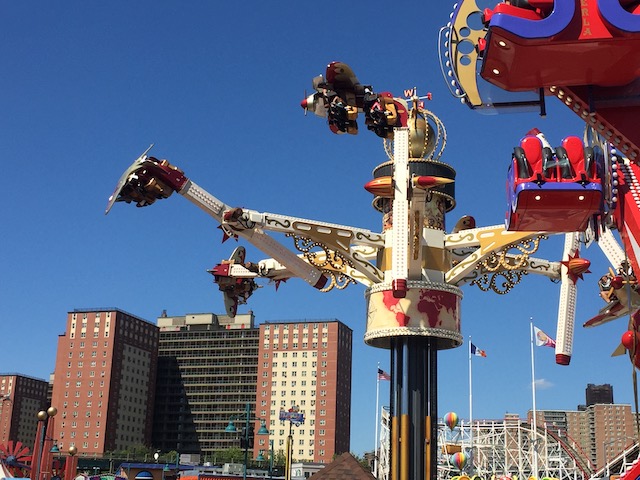 Aww. I remember this being my first Air Race and being blown away at how good it was. While these are far more common rides, they still are a really cool flat ride.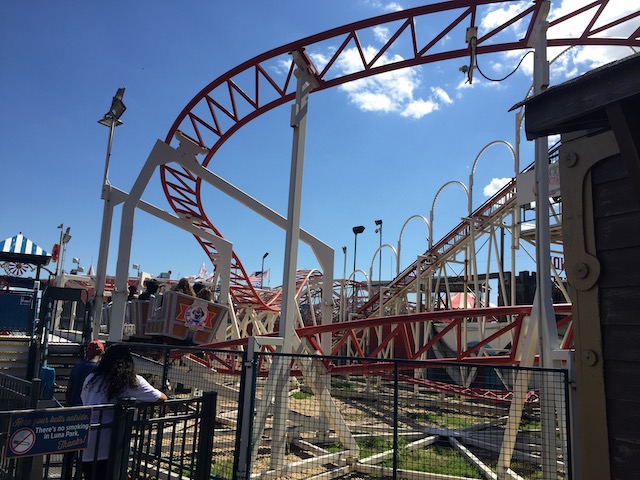 Tell me again how you skipped this credit in 2011 AJ? ;) Though seriously, this actually is a decent kiddy coaster worth reriding (unlike the stupid Mini Mouse).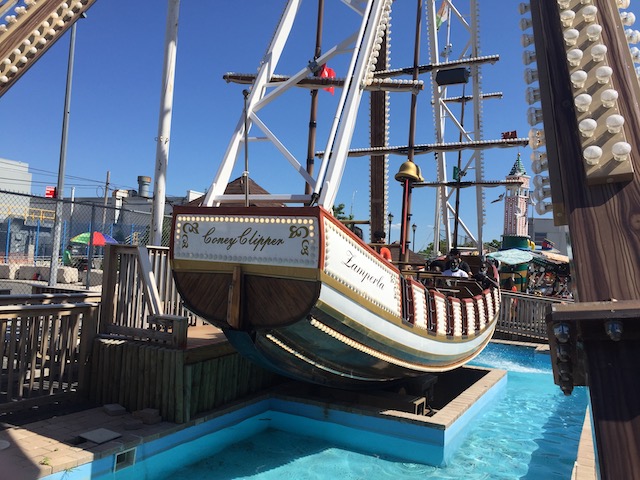 Nothing special about this pirate ship. But hey. We did have fun on it at least.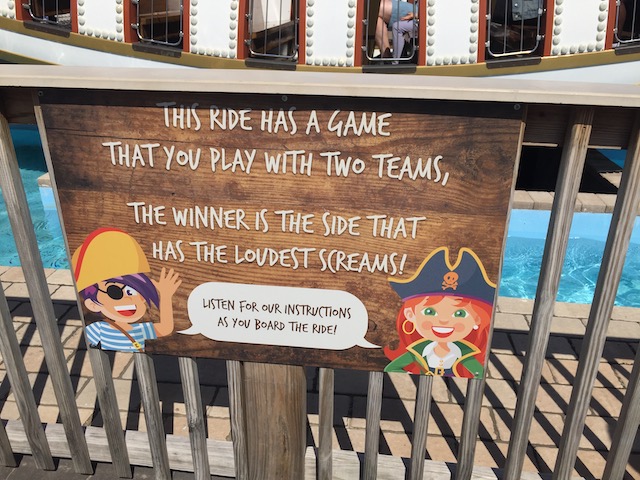 Arr! The losers must walk thy plank!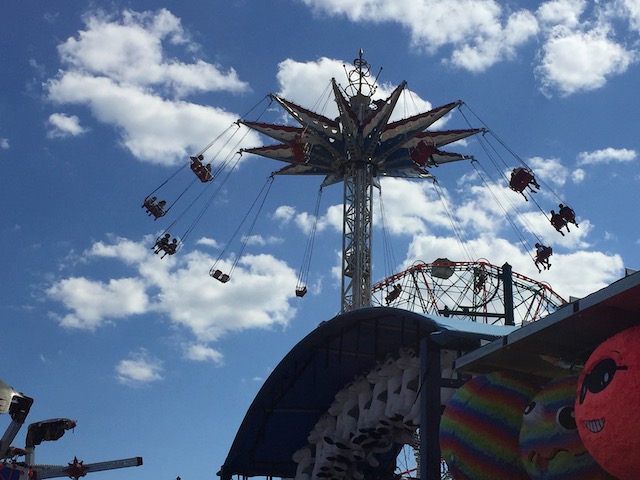 Even when this was my first Starflyer, I wasn't too impressed. But I still enjoyed it for the view of the ocean and NYC. But between riding so many more Starflyers, including the one with the stunning view of Copenhagen and the 400 ft one we rode earlier on this trip at SFNE, this one isn't worth our time at all.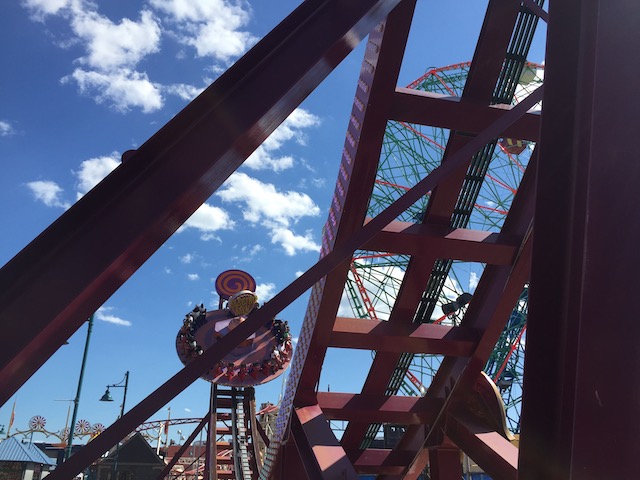 Fun ride, but the stupid kids acting like obnoxious little sh*ts kind of ruined it for me.
The exit leads to death.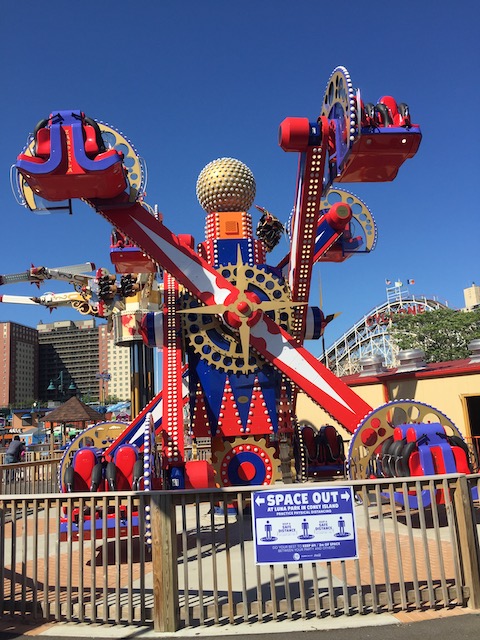 In hindsight, I regret not riding this. But....oh well. Next time.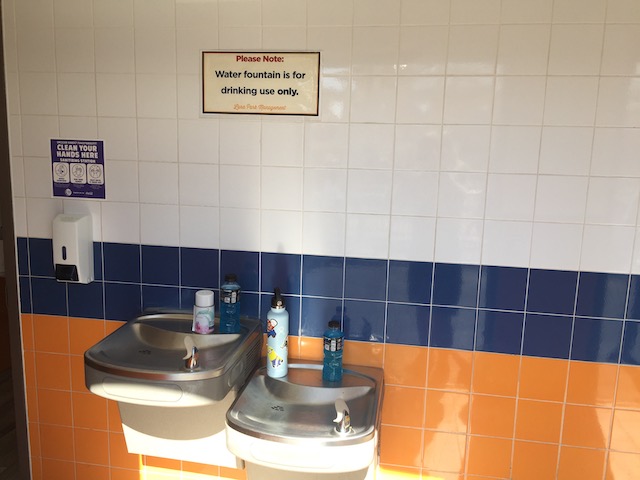 This is a more polite way of saying "Don't wash your freaking feet here!" (Seriously, please don't).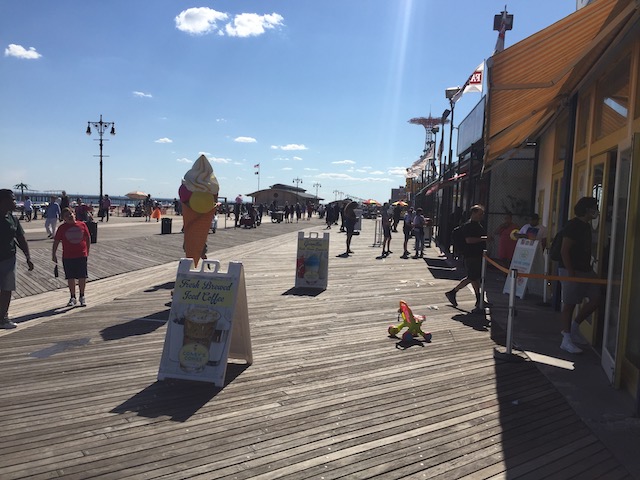 All right. Time to head to the more thrilling part of Coney Island.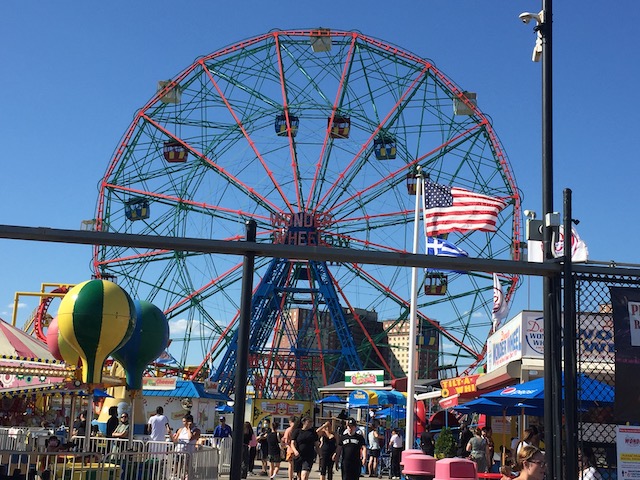 Please build more Ferris Wheels like this! This and the Pixar Wheel at DCA should NOT be the only two swinging Ferris Wheels in the world.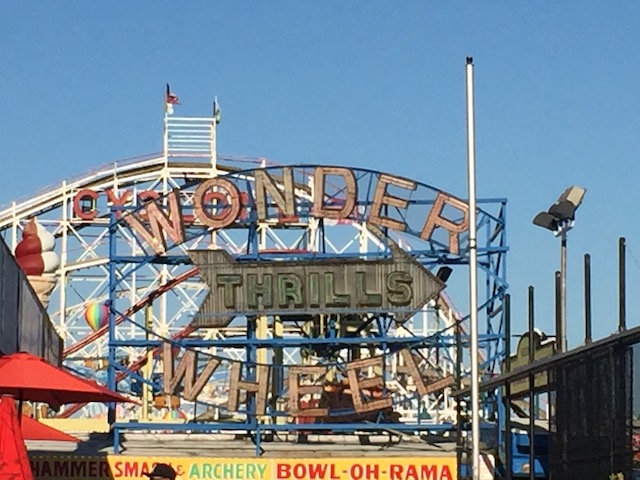 Yeah. Sorry Scott & Steve. But no Wonder Wheel for you on this trip.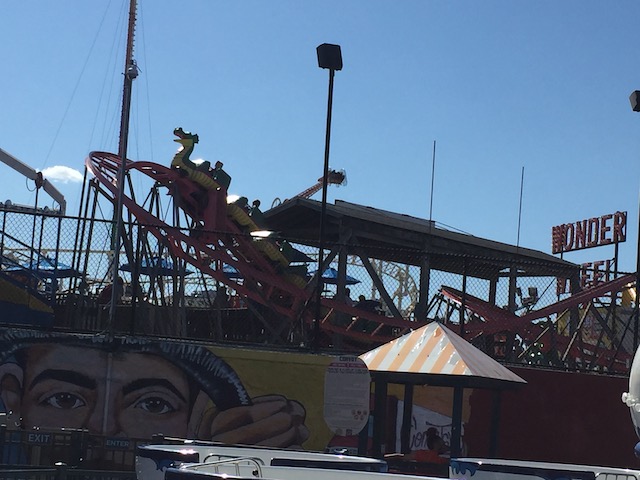 We ain't paying to go in with Phoinex not ready (Spoiler Alert), so....yeah. No credit for you two today.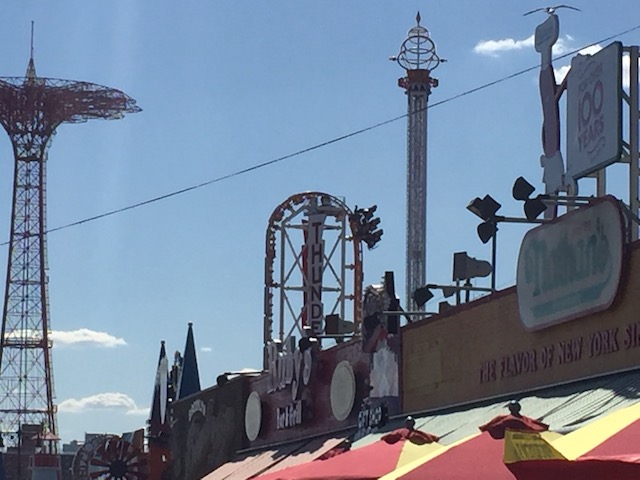 Hmm. I believe that there's a new credit for me here as well. Just have to put my finger on it.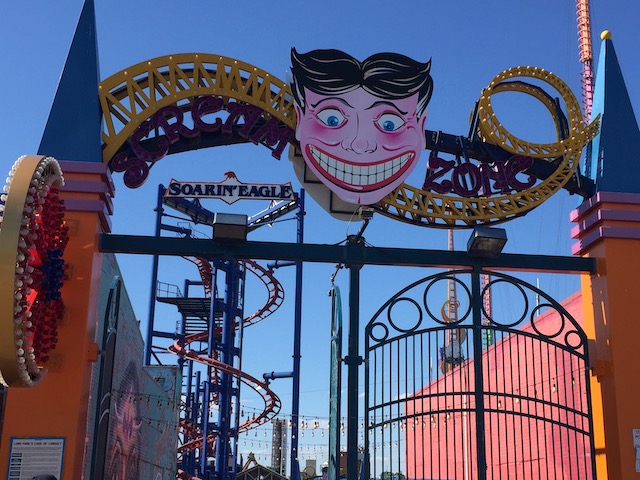 Well, we're here at Scream Zone (the part of Coney Island where all the thrill rides, except for Cyclone, are).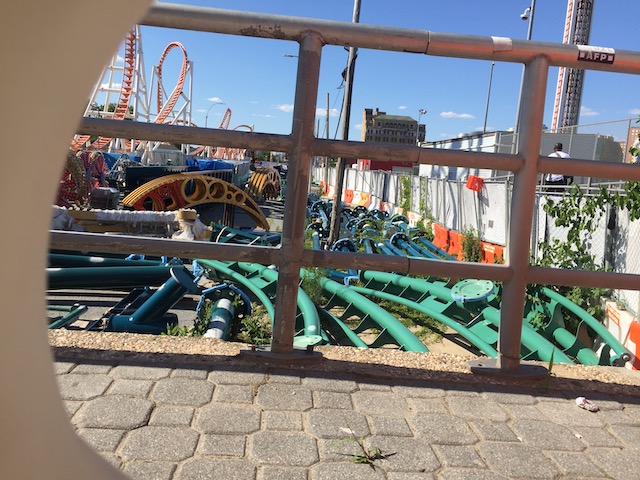 I spy with my little eyes, a future new credit.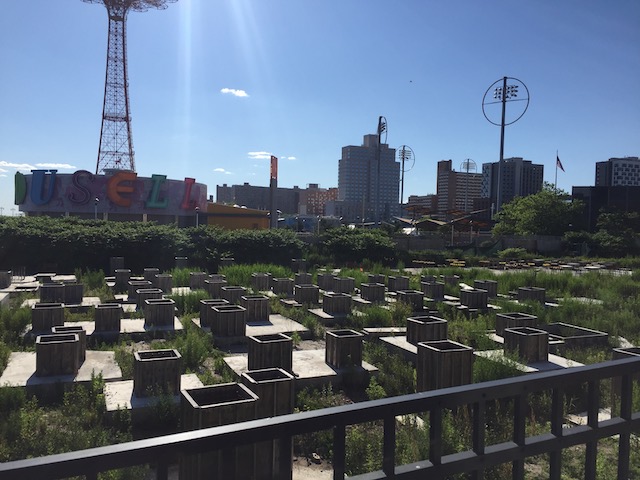 While this is only going to be a....kiddy or family coaster (something about the size of one of those Big Roller Skaters I think), I'm sure it'll be a fun little ride.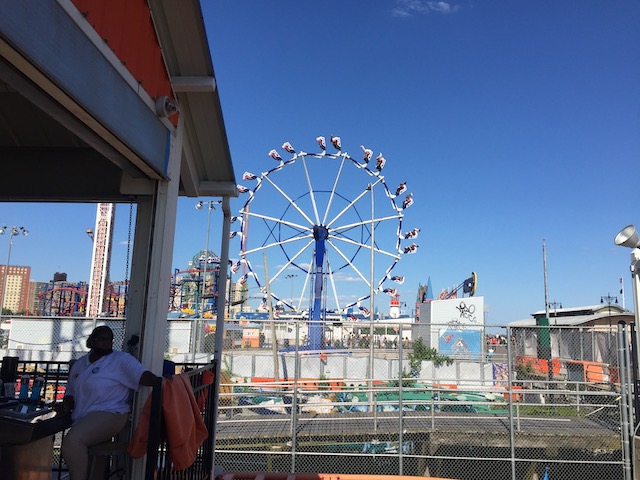 Hello Modern Enterprise. How's it going?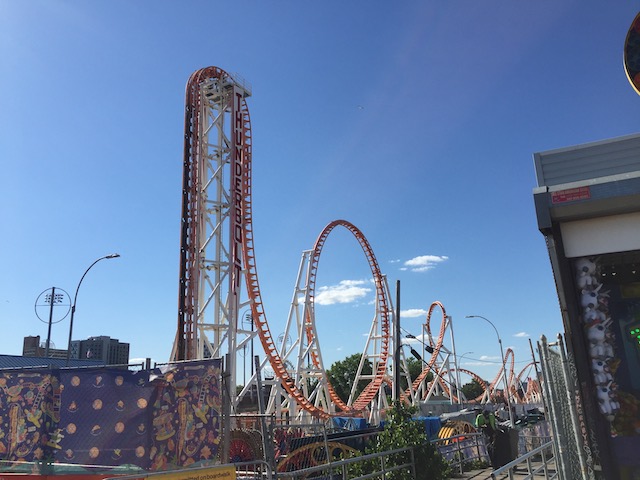 *Sigh* We can't ignore it anymore. Time for me to finally ride Thunderbolt.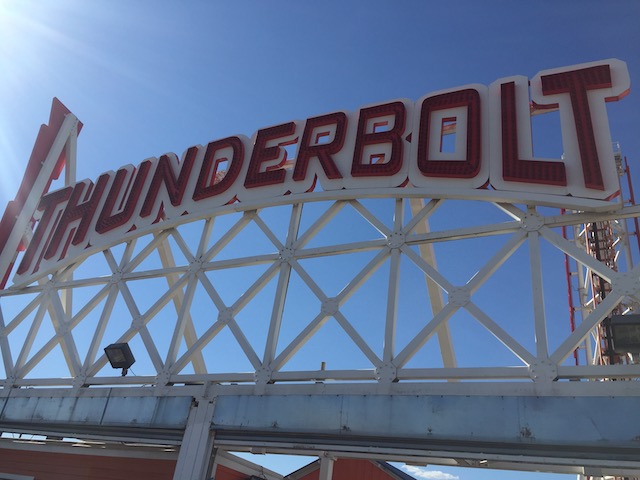 I have heard A LOT of bad things about this ride, and....I am NOT looking foreward to this ride.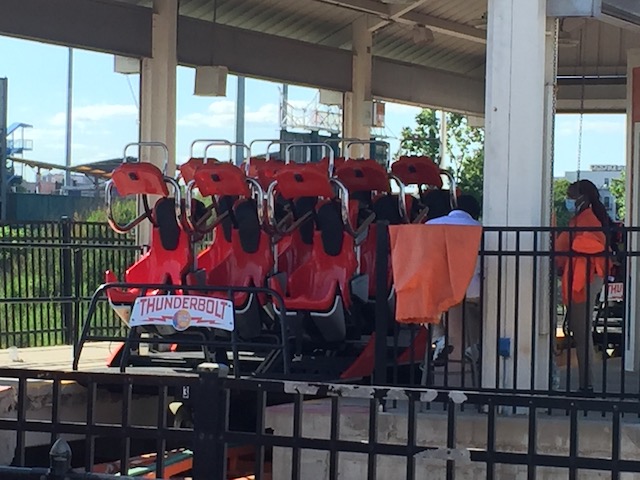 Quick note. These have to be some of the WORST restraints ever. Even in a stationary position, they pinch me, and just feel....awkard, jenky, and uncomfortable. Zamperla REALLY needs to work on that.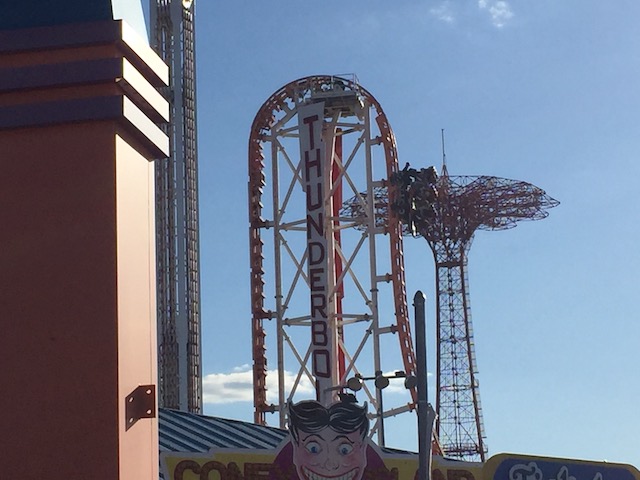 And....yeah. All the horror stories are true. We finally have another contender for our Top 10 Worst Coasters List (BTW, we just updated it. I know A LOT of our lists are out of date. But this is the first one we've managed to update in a long time. Let alone the new ones we want to make, but don't have the time to do so. Oh, and we also have a review out of this abomination).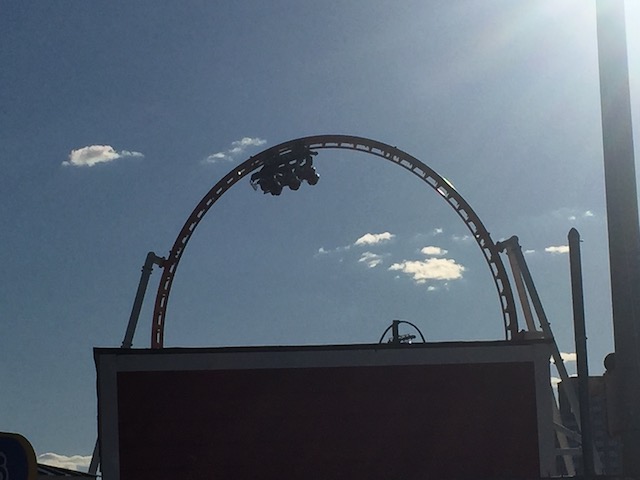 The first drop and loop are bad, but not unbearable. It rattles a lot, and the restraints are like that of a giant plastic crab pinching you in the thighs, but aside from that, it's tolerable.
However, when it comes to any part with laterals, it gets REALLY bad and practically treats you like a car crash dummy.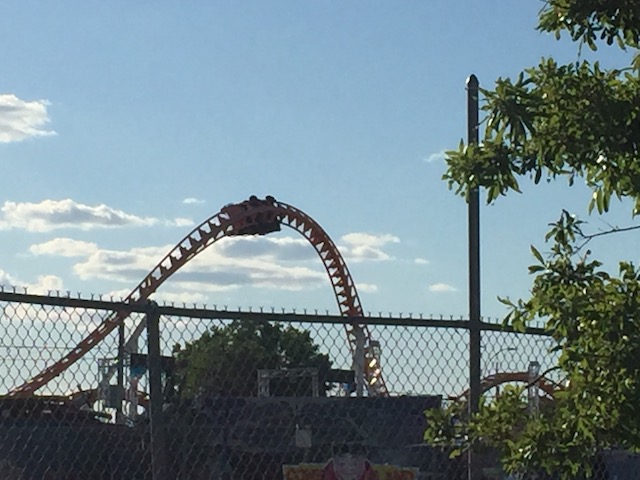 Now the interesting thing I keep hearing is that it's only Thunderbolt that's unbearable and that the clones of this are surprisingly decent. I'll see if that's true when I eventually get to the one in Alabama (I think it's safe to say I'll get to that clone before any of the other ones), but I'm not holding my breath for a clone of a peice of sh*t to not suck.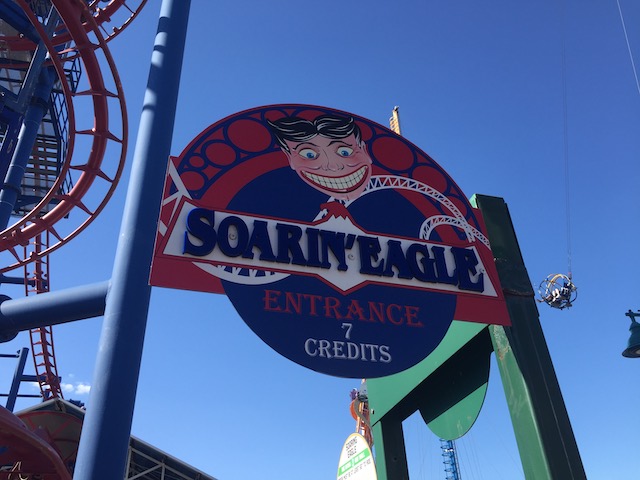 Time for Scott to pop his Volare cherry.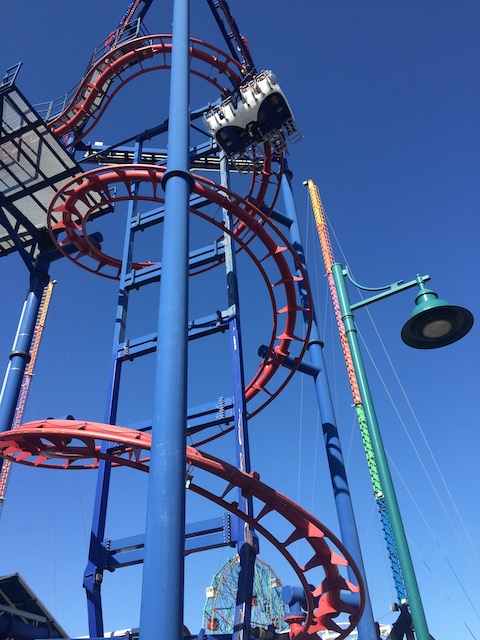 Trust me, it's not as bad as people are saying.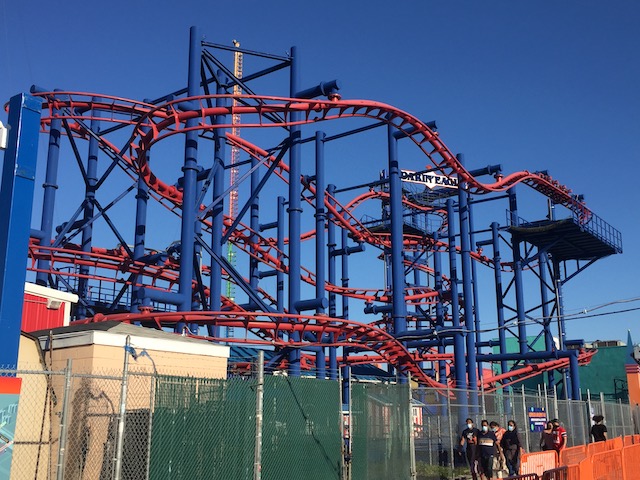 OK. So as you know, I'm one who'll defend the Volares and say they're not nearly as bad as people say they are. But....*Sigh* This ride did NOT age well within the 10 years since I last rode it. While still not as bad people say they are, it's safe to say that it rode far more like the Volare at Sarkanemmi, and is now about on par with your average SLC.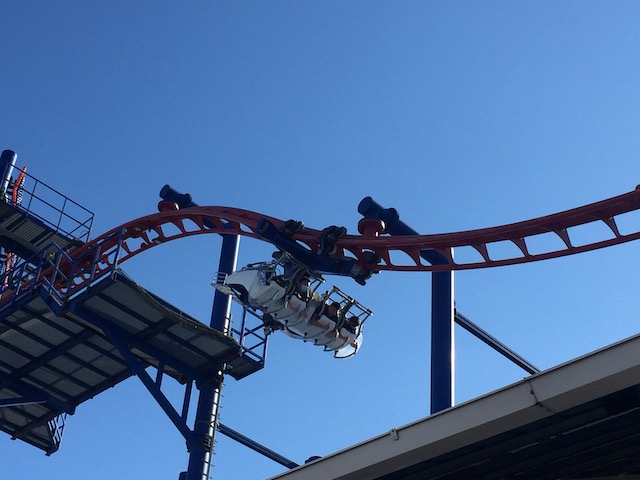 Despite the noticable decline in quality, I will still argue that Thunderbolt is FAR worse. #FightMe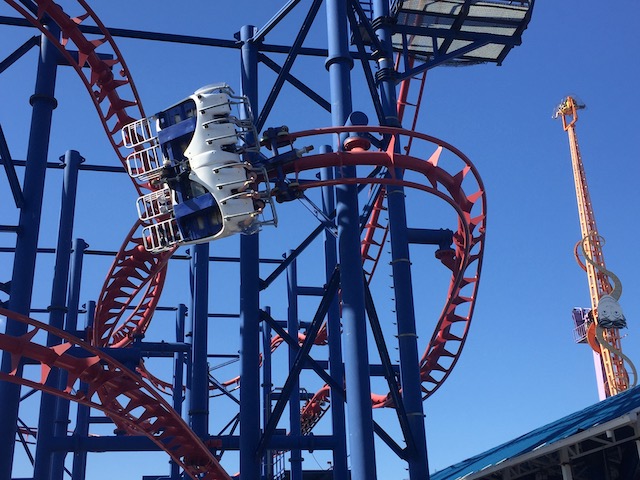 Yeah, it's clunky and awkward, but those inline twists still have some fun hangtime. You say clunk, I say hangtime.
Please do some work on this, because it can be a lot better (I don't have high hopes for Time Warp @ Canada's Wonderland).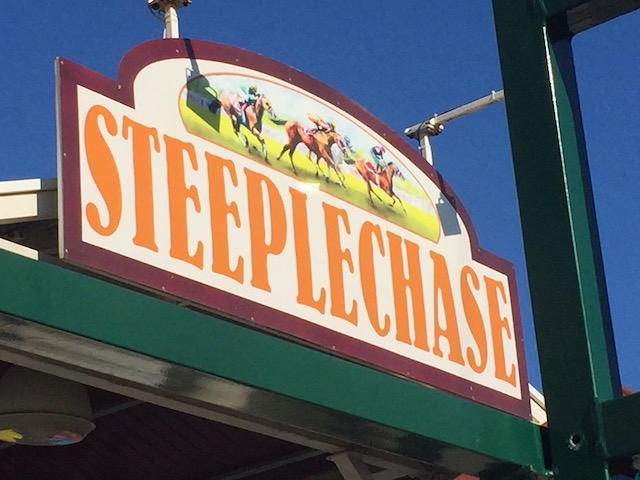 Is it sad to argue that this is now the 2nd best coaster at Coney Island?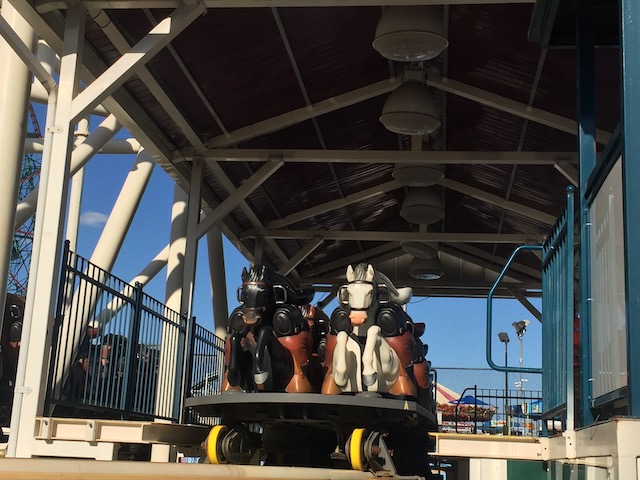 Giddy up bitches!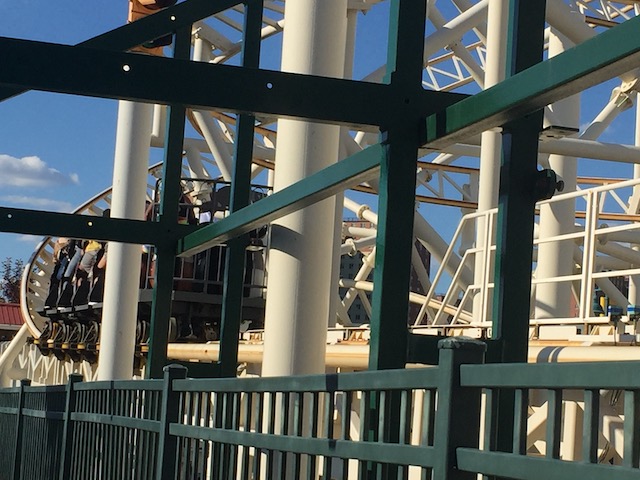 Still kicks Pony Expresses ass.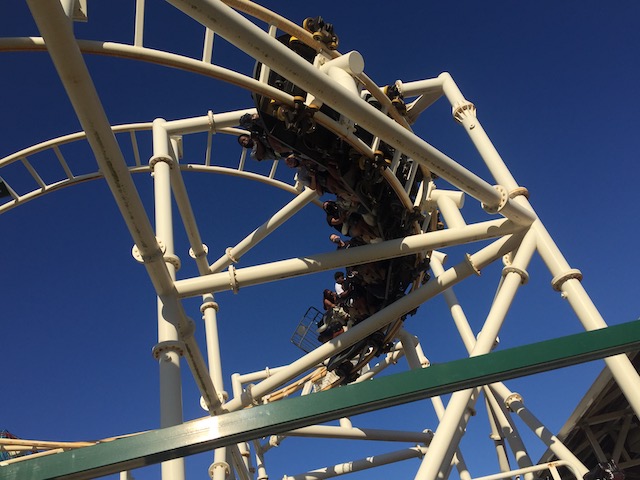 There genuinely are some fun laterals up here.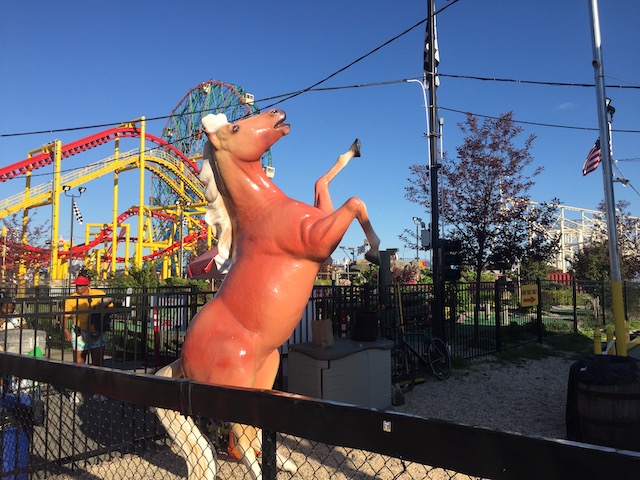 Hey guys. I think one of the horses from Steeplechase got loose. You might want to bring him back.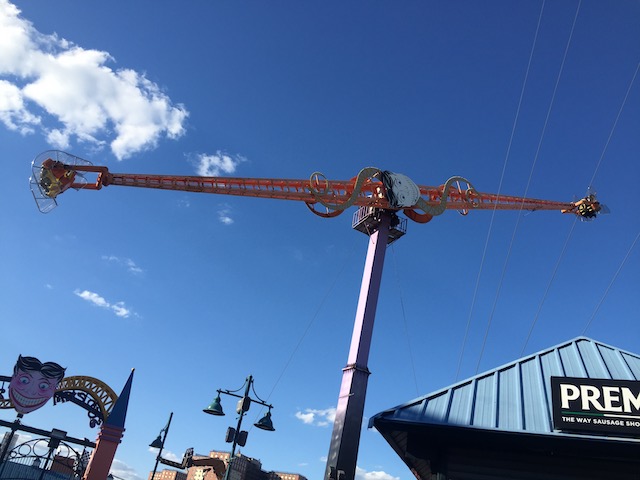 So one upside of Coney Island is that they allow you to get a single ride on the normally upcharge rides, such as the Booster and Slingshot. This is great as....they're really fun rides. But...yeah. You get reminded that the capacity is horrible.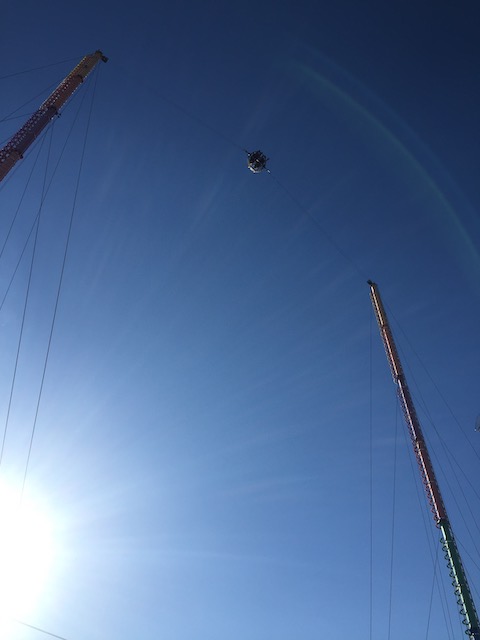 Getting on the slingshot, was a bit more of a challenge since....nobody else wanted to ride it, so I had to wait for another single rider. Eventually, I found a group of 3, and rode with them. Fun ride and makes me miss the days where I could ride this at SFMM for free back when Cody and I worked there. But the most intersting part was learning that they were from LA (this is one of the few out of state parks you can admit to being from CA without outing yourself as a coaster enthusiast since....famous landmark in NYC), and then after mentioning them planning on doing Thunderbolt next, convincing them to do Coney Island Cyclone instead as that's much better.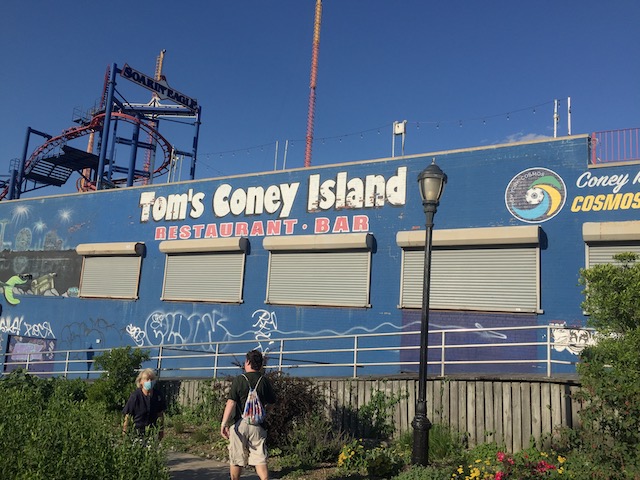 You wish you were as good as Nathan's Hot Dogs.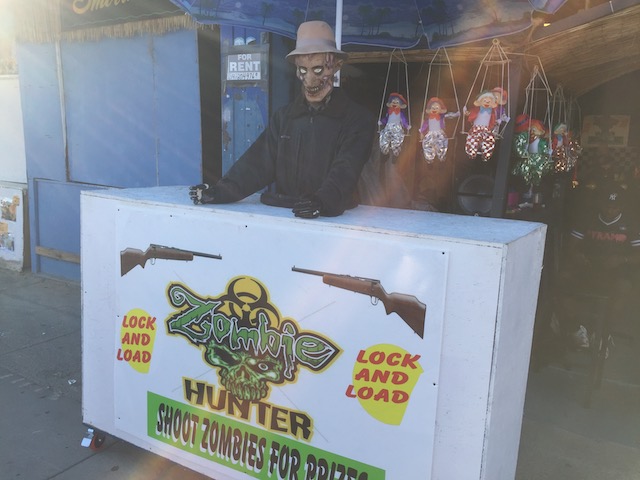 Only $10 to shoot the locals!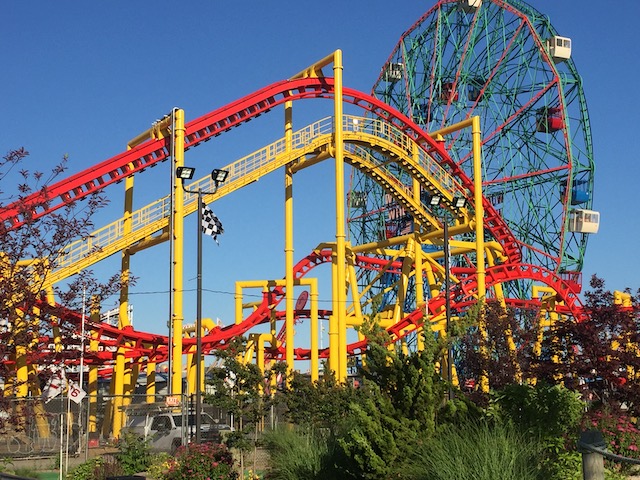 Unfortunately, Phoinex, the new for 2021 coaster for Coney Island (technically Deno's Wonder Wheel) is not ready for us, and won't open until about a week after the trip is over. So....*sigh* Came just a little bit to early for you.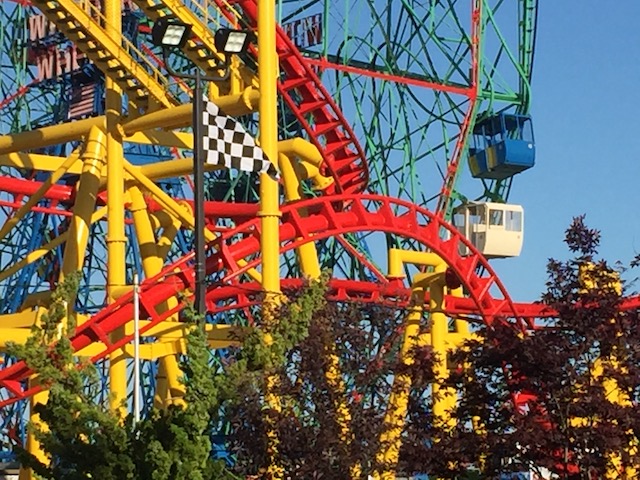 And I gotta admit. This thing looks pretty decent by family coaster standards. I have a feeling that this'll beat Orkanen as far as family inverted coasters go.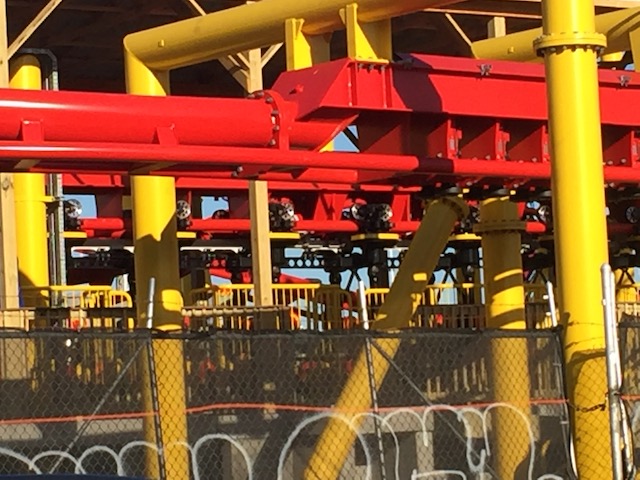 Next time I'm in New York City, I'll be riding you and seeing just how good you really are.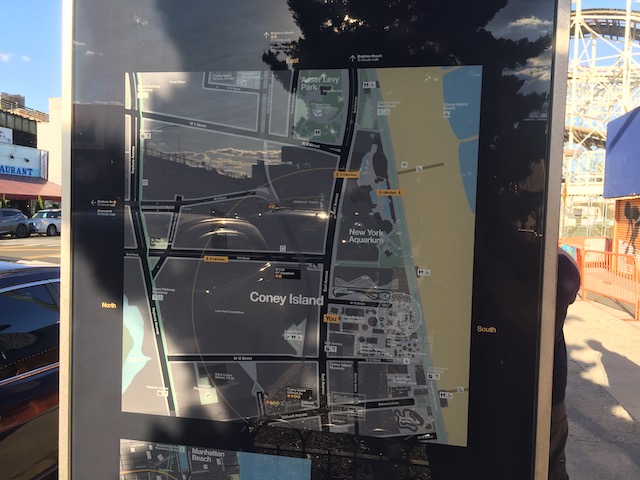 Well, despite the new for 2021 coaster not being ready, we still had a really fun time at Coney Island. Looking foreward to riding the new coasters on my next trip to New York City.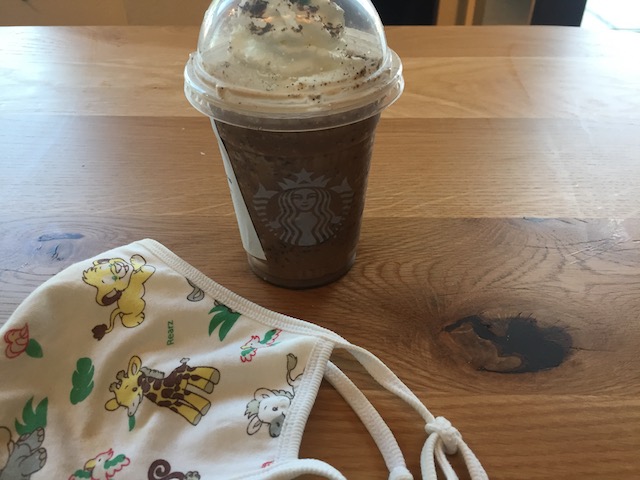 Starting to go through caffine withdrawls. Gotta get my fix.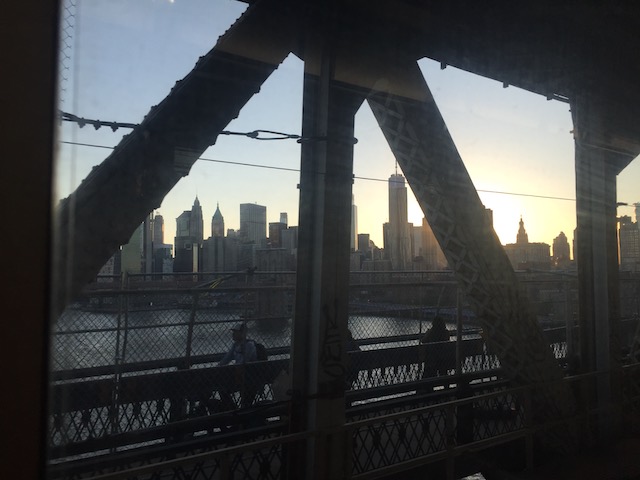 Heading right back into downtown Manhattan.
Caution! These streets are too dangerous! You may not pass! Please ignore everyone else on the other side of the closed barrier.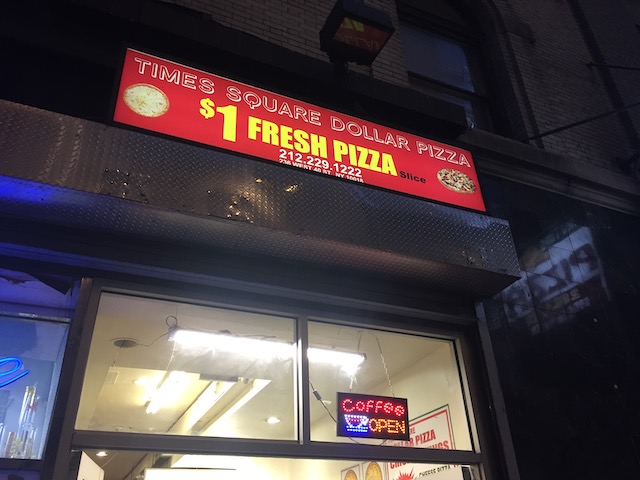 And of course, on our last in NYC, we gotta try more New York Pizza.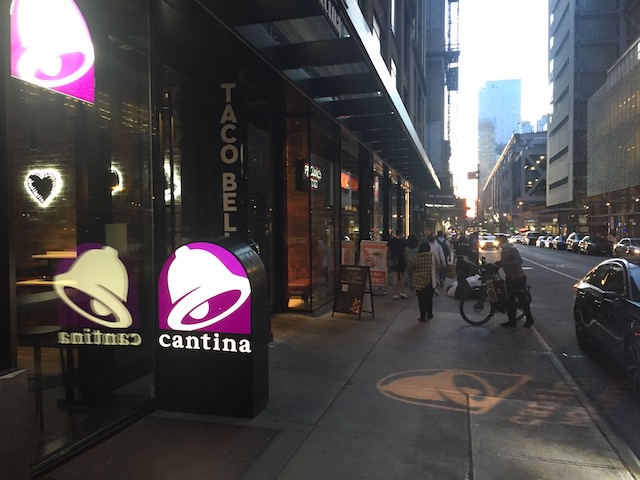 Not tonight Taco Bell. You may be fancy and have booze in NYC, but we've got freaking NYC Pizza tonight.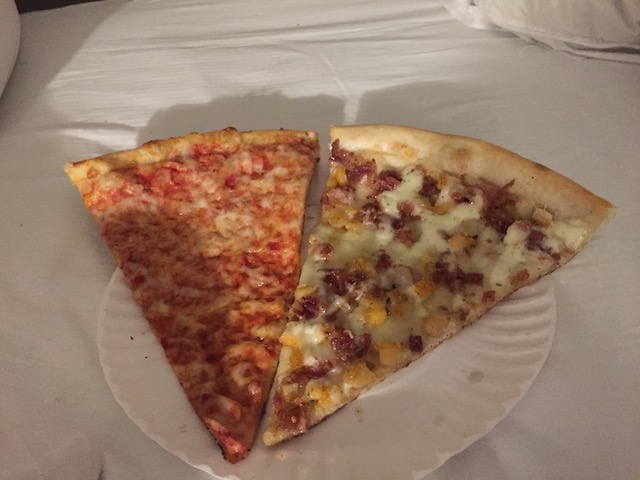 Unfortunately, this place was not that good. *Sigh* I mean, it wasn't bad. I mean, there's no such thing as bad pizza. However, this was NOT the NYC Pizza I rave about. I can think of several pizza places back home in SoCal with better pizza than this place. I've got a funny feeling that Scott's Pizza Tours doesn't stop here.
Six Flags Great Adventure
Home